The storied Caioti Pizza Cafe in Tujunga Village began over 20 years ago as the solitary restaurant along the boulevard in Laurel Canyon. Since moving to the walkable and trendy Tujunga Village neighborhood about a decade ago, Caioti continues to serve the creative pizzas made famous by the restaurant's founder Ed LaDou.
LaDou is the creator of the California-style pizza, first garnering notice at Wolfgang Puck's original Spago, and later as consultant for California Pizza Kitchen. Caioti has long been a favorite with Angelenos.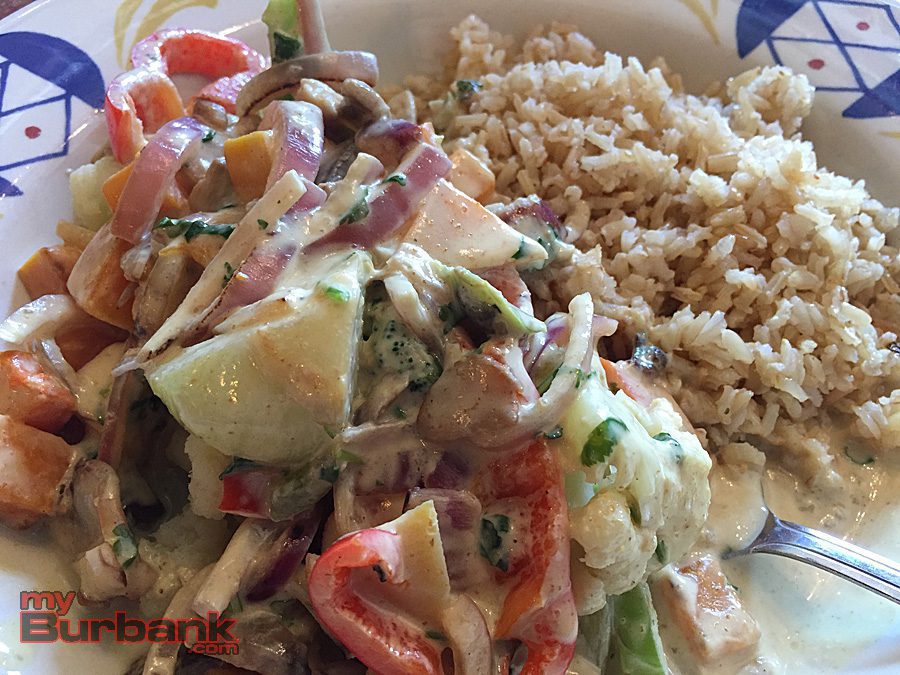 Caioti is also known for The Salad – a salad of romaine, watercress, walnuts and gorgonzola topped with a balsamic vinaigrette – that many expectant and overdue mothers swear by to begin labor.
We visited Caioti recently, and found the food, ambiance and service to be excellent, eclectic and enjoyable.
LaDou's Barbecue Chicken pizza was perfection in a bite, the thin crust topped with red onion, cilantro, mozzarella, smoked gouda, chicken and a smoky sweet BBQ sauce.
The Vegan Veggie Curry Bowl was fantastic – chock full of vegetables and brown rice, all brought together with an excellent slightly spicy yellow curry.
The delicious Spinach Salad was topped with bacon, hard-boiled egg, sliced mushrooms and toasted almonds and tossed with a hot Italian vinaigrette.
While not as crowded as Aroma cafe next door, Caioti does brisk business. It's a popular way station for the denizens of Studio City and surrounding neighborhoods.
Tujunga Village, with its charming shops and multiple notable restaurants, cafes and sweets shops, is a wonderful, laid back little nook, here in the Valley, located on Tujunga Avenue south of Moorpark.
So Get Out of Town! Burbank, and check out the lovely Tujunga Village and the wonderful Caioti Pizza Cafe.
Editor's Note: While there's always a lot going on in Burbank, myBurbank's "Get Out Of Town!" highlights some of our favorite activities and events outside the town borders.