After serving the citizens of Burbank for 20 years, voters decided on Tuesday to enact their own term limits and denied Dave Golonski, the current mayor, another four year term on the City Council.
Dr. David Gordon, who has long been seen as the nemesis of Golonski, was re-elected as the leading vote getter in the general election. Along with Gordon, Councilman Jess Talamantes was also given another four year term.  Both were also elected to their first four year terms in 2009.
Gordon arrived at City Hall around 10 p.m.  Gordon saw his re-election as vindication of his positions that often are at odds with the other council members, especially defeated councilman David Golonski.
It was apparent from the first returns of the night that both men were established as early favorites with only the early vote having Talamantes over Gordon until about the half way night when late votes dropped off Tuesday then put Gordon on top.
Talamantes arrived at City Hall from the Club House Grill where he commented on the attack ads against him that were sent out by the United Food Workers Union. "The UFW messages were seen as 'outside' interests trying to influence our election," said Talamantes, adding, "Burbank people don't like those kinds of tactics."
It would appear that the ads backfired.  Instead of turning voters against the incumbent councilman, they may have caused a backlash that got him more votes.
Challenger David Nos, gained ground after the Primary election, but still fell short, falling just 202 votes behind Golonski in a strong fourth place showing.
Unlike the Primary Election, City Clerk Zizette Mullins ran this election since she was not involved, having been elected outright during the Primary.  Results from previously mailed ballots started to come in right after 7 pm and results came at a much quicker pace then before, where all precincts were first put together, verified, and then counted, which took close to 2 am.
In the school board race, Larry Applebaum, who just nearly missed outright election in the Primary,  easily won re-election to the Board.  The current School Board President fought hard to return to the Board, after helping to champion the recent Measure S Bond Measure which passed during the recent Community College election..
Responding to being the highest voter getter in the election among all the candidate for both School Board and City Council, Applebaum said, "I'm honored and feel privileged that the community has given me a third term."
Charlene Tabet won election to the Board and will replace John Dilibert, who was appointed to the Board when the City Council appointed for Board Member Debbie Kukta as Treasurer.
Tabet credited her experience with PTA, as having prepared her for her new post.  "Dealing with parents, teachers and students through PTA has given me a head start on what to expect as a school board member."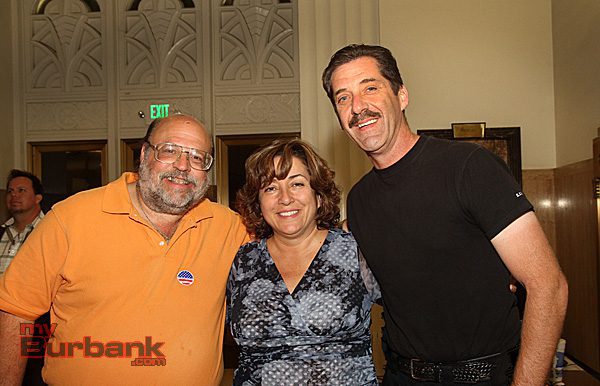 Dilibert, who has done a solid job on the Board and was not a candidate in the election, will now continue his career as a Burbank Police Letiuent, came by City Hall to show support and watch the final results.
"I'm very pleased the with results.  Larry Applebaum is an outstanding choice, as is Char Tabet.  The voters looked at all the choices and elected two people who can continue on in the fine tradition of service and looking out for the best interests of the students in our school district.",said Dilibert.
Current board member Ted Bunch expressed his approval of the selection the voters made, citing the qualification of the both Applebaum and Tabet.  "I'm pleased with the selection the voters have made."
Bunch's term on the board expires in 2015, and he does not plan to run again.
Measure S, a 2% tax on refuse and sewer services to provide discounts for senior citizens and disabled residents was rejected by Burbank voters by a margin of 44% to 56%. The initiative required a 2/3rd majority to pass.
Final results, including provisional ballots cast, and others requiring verification by the Los Angeles County Registrar of Voters, will be tabulated and available from the City Clerk later this week.
The two Council winners will join Bob Frutos, who was elected outright in the Primary, May 1 when they will be sworn in and a new Mayor and Vice-Mayor will be chosen.
myBurbank's Managing Editor, Stan Lynch, contributed to this story
Preliminary Results for the 2013 City of Burbank General Election: City Council (two receiving most votes)
Name                                       Votes
David Gordon                          5,411               Elected
Jess Talamantes                      5,268               Elected
Dave Golonski                         4,557
David Nos                               4,355
Burbank Unified School District Board of Education (two receiving most votes)
Name                                       Votes
Larry Applebaum                    5,858               Elected
Charlene "Char" Tabet            4,955               Elected
Steve Ferguson                      4,595
David Dobson                         2,809
Measure S : Special Tax to Fund Refuse and Sewer Customer Assistance Programs (66.67% required to pass)
Yes                                          3,795
No                                           4,910               Measure Fails