Several hundred joined together at The De Luxe Banquet Hall next to Burbank's City Hall to give thanks and present gifts to outgoing City Council member Dave Golonski.
Burbank's new Mayor Emily Gabal-Luddy, was the MC, inviting several guests to speak about their time serving with Dave Golonski. One of the speakers who served with Golonski was current airport commissioner Bill Wiggins, who shared several funny stories of their time working together.
He reflected on several of the great projects Golonski spearheaded, such as the Elmwood Focus Neighborhood. When approached on the council, he then met with gang officer Ed Skarvina, who told them the problems with the block, drug deals, shooting, robberies, etc.
Golonski teamed up with the Police Department, Public Works, City Attorney's Office, and Redevelopment, and when they were all done, the neighborhood was so safe that Council member Wiggins recalled he visited the neighborhood one day, driving his new convertible Jaguar.  When he returned to his car, which he left the top down, not a thing was touched. The neighborhood now is a model for cities across the nation.
Congressman Adam Schiff flew in from out of State to wish Golonski good luck and thanked him for so many projects he completed over his 20 years of public service.
Then there was a video presentation of Golonski's 20 years on the City Council – from the first argument at the podium with the then Mayor Robert Bowne – to pictures of him wearing a Santa Claus suit during one of the Burbank On Parades to get attention on a matter that was close to his heart. The video also had several former Mayors speak and former City Manager Robert Bud Ovurm, who truly felt that Burbank is a better place with Dave Golonski serving the past 20 years.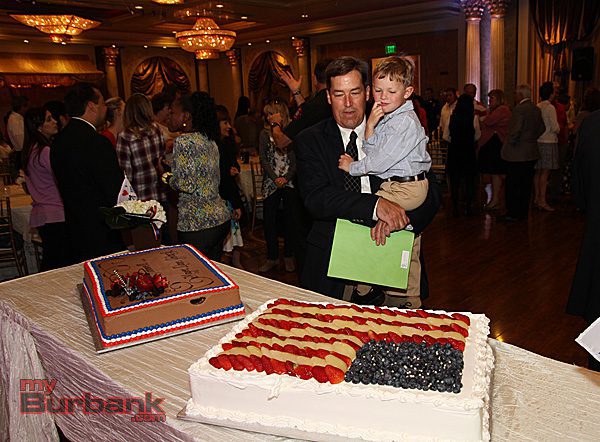 Proclamations were presented along with plenty of gifts, including an over-sized thank you card that everyone in attendance got to sign.
Golonski got the chance to thank everyone in attendance including his wife, Barbara Sykes and his family. He received a standing ovation as he ended and greeted everyone as they left.