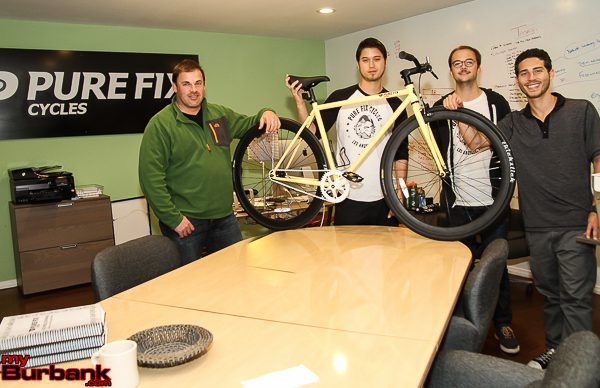 myBurbank is always on the lookout for innovative companies and entrepreneurs based in Burbank. This week we found Pure Fix Cycles, a young innovative company with a vision for producing a product that is a "celebration of bicycling" providing people with "transportation, health, and righteous good times."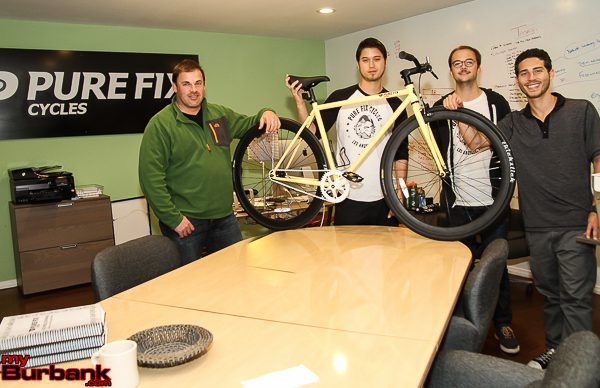 Pure Fix Cycles is tucked between the old Arte De Mexico warehouse, an indoor go-cart track, and Victory Blvd. along the old railway tracks that have now been converted to the, ironically, Chandler Bikeway.
Any conversation which begins with "we are not the spandex crowd" when discussing bicycle riding will kick off with a positive first impression. Thus Jordan Schau began to describe Pure Fix Journey.
The journey starts with friends growing up near each other in the San Fernando Valley. Off to university, with some heading to the wilds of Wisconsin, and Jordan off to Columbia in New York. Keeping in close contact, the "team" participated in similar activities, such as business plan competitions and other life / business training projects.
But how do you get from tearing up the Midwest and bringing culture to Manhattan to start one of the most innovative cycle companies in the industry, and then settle in Burbank?
According to Schau, the real reason they jumped into the cycle business was pretty simple, "we saw a bike culture growing, and it was just too cool not to join."
So, following graduation in 2012, the team worked their way back to the 'valley, set up in one of the group's family properties in North Hollywood, and began producing designs and prototypes for the product. Schau emphasized "we could have thrown a dart and set up operations anyplace in the country, however we all grew up here, and it was not a question we'd all return."
Pure Fix Cycles originally intended to serve a Midwest market. However, that was not to be, as the first shipment of product was quickly grabbed by local bicycle retailers, paving an initial local business direction for the team.   They sent a few samples out to their university friends in Wisconsin and New York, but really developed the business in SoCal.
Given the viral enthusiasm for the Pure Fix Cycle's product, they soon moved to their current Burbank location, offering lots more office and warehouse space, and went into full production. And went global.
Pure Fix Cycles produce their bikes in China and Taiwan, in part due to the simple cost of production, but also taking advantage of family ties to manufacturing companies in China. The bicycles come to Burbank, and a recently added second office in Rotterdam (Netherlands) in containers, and are reshipped around the world from the US and NL warehouses.
The company focuses on the "fixed gear" niche, avoiding the super high end Italian carbon fiber, or super light frame market. Schau continues to reinforce the point that "we are just trying to be the best life style bike" on the market, with a product that is not "super technical," and makes their customers happier by giving them a simple, very cool bike to ride.
They also have a second line of bikes called Pure City Cycles, which is more directed towards an age group which may not be comfortable with the "geometry" of the Pure Fix line, better meets the needs of an older age demographic, or simply find the Pure City line cooler than the Pure Fix line.
Schau does put a bit of his own skin into the design process, emphasizing that "I look at myself as the target market. If I wouldn't want to ride it (one of his bicycles), then why would I want to produce it?"
The Entrepreneurial Spirit
Walking into the Pure Fix Cycles office is an interesting experience. One of the first things you notice is every available surface in the office is either covered with white boards or chalkboards. Tables and desks with giant computer monitors take up every remaining bit of horizontal surface, and there is a bicycle parked in front of nearly every work station.
"We are a young company, with a strong startup mentality" beams Schau when asked about their company culture. "Our culture is about having fun. Everybody does a lot of different things, and wears a lot of different hats."
With just 25 employees, Pure Fix Cycles logged more than $4 million in sales during 2012, and while not able to disclose their current run rate, given the rapid expansion of their facilities and product production, including clothing lines, parts, and accessories, is clearly on the upside of the hockey stick chart.
Does Schau believe a young innovator have to graduate from the University of Wisconsin, Columbia, or Stanford to be a successful entrepreneur? "You definitely do not have to graduate from Columbia to be an entrepreneur" says Schau. "Most of my heroes never graduate from a university (Jobs, Gates, etc.)."
"Definitely take the risk."
One aspect of a new company prying their way into the major leagues is the need for constant innovation, and an insane dedication to quality and service.
"We are constantly innovating" stresses Schau. "Our bikes go through a continual improvement process, every day. Every day. We are looking at everything from packaging, to the paperwork process, to IT systems, to dealer support.
As they are a small company, with everybody working in close proximity, the team is "very collaborative – we are constantly talking. We all have an input (on decisions)." The key to their product success is constant innovation, and their collaboration and open environment appears to be serving that vision very well.
Jordan Schau, his fellow founders, and the 25 members of Pure Fix Cycles embody the energy and creativity of innovation, and the entrepreneurial spirit needed to drive an idea from vision to successful implementation and sustainable growth. Burbank welcomes Pure Fix Cycles, congratulates them on their success, and strongly encourage entrepreneurs, young and old, to take the risk and help make the city and world a better, and more interesting place to live.
You can learn more about Pure Fix Cycles at their website, or grab one of their staff riding along the Chandler Bikeway and ask about cycling.