Approximately 50 different careers and colleges were represented at the annual David Starr Jordan College And Career Exploration Fair held Monday, November 9, in the BUSD middle school's gymnasium.
During lunch period, many of the school's 1100 students talked with people from a range of careers, including an architect, a firefighter, a dental hygienist, a former city mayor, a biologist, a fashion designer, a photographer and more.
"We hold our College and Career Fair and host individual speakers at lunch in the library to support the development of early career awareness in our students," explained Jordan Middle School counselor Hallie Fleischman.
"We also share internet web resources and weave other activities through the curriculum to help our students gain self-awareness of skills and abilities and their relationship to careers and the world of work."
"Eighth-grade students will be meeting individually with counselors to register for high school and discuss planning for college," Fleischman added. "We are excited to have participants from our community come and share about their professions, the path they took to become who they are and the skills they deem necessary to be successful in any career."
Sixth-grader Allison Gomez visited dentistry, beauty and engineering representatives.
"I like this career event," she said. "It's very helpful. Dentistry was my favorite because I've always been interested in it."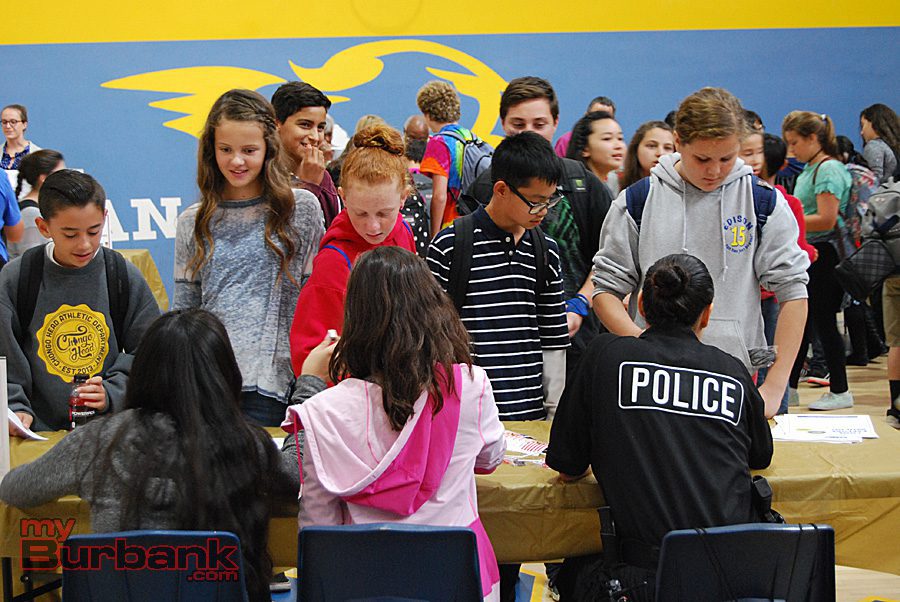 Joshua Calero, also in sixth-grade, stopped by information technology, L.A. Valley College and the electrical technician tables.
"They were all pretty interesting," added Calero, who said he was really interested in computers. "The information technology table more focused on the brain of the computer and how to fix problems with computers."
"Middle school is the perfect time for students to explore their interests, begin thinking about career and college pathways and dream about their future," commented Principal Stacy Cashman. "I am so proud of our counseling department, Mrs. Fleishman's leadership and our Burbank parents and community for giving students this opportunity."