Olive & Thyme has been open for just a few months in their new, larger location at the corner of Riverside Drive and Maple Street in Burbank and the word has gotten out. Lunchtimes can be incredibly busy and occasionally chaotic, but the reliably excellent food keeps the people coming back.
For a range of plates from light and healthy to decadent, stick-to-your-ribs fare, Olive & Thyme presents a lot of options for breakfast, lunch, dinner and dessert. Bright, fresh salads, whole grains and fruit are complemented by macaroni and cheese, short ribs and steak.
Salads are so hearty, that we usually take home leftovers for a late afternoon snack. I wished I had ordered extra dressing on the Cobb Salad, it was so delicious.
A favorite sandwich at Olive & Thyme recently has been the Braised Short Rib – horseradish creme fraiche and carmelized onions layered with delicious short rib meat make for a tender, gooey burst of complex flavor, punctuated by crisp toasted sourdough bread.
During breakfast and lunch, patrons order at the counter and find their own seat, which is not a good plan during the always very busy lunch period. The scurry to find seating for one's party at lunchtime is stressful. Counter, community table and regular table seating inside and out is always full during those midday hours and would-be diners patrol the premises like sharks, scoping out tables that might be vacating soon.
All of that stress could be alleviated by a simple sign-in sheet that many restaurants employ to help servers seat diners according to table size and arrival. Then, two people don't hog a table for four, with their bags spread out on unused seats and patrons can relax that they will be seated before their food arrives.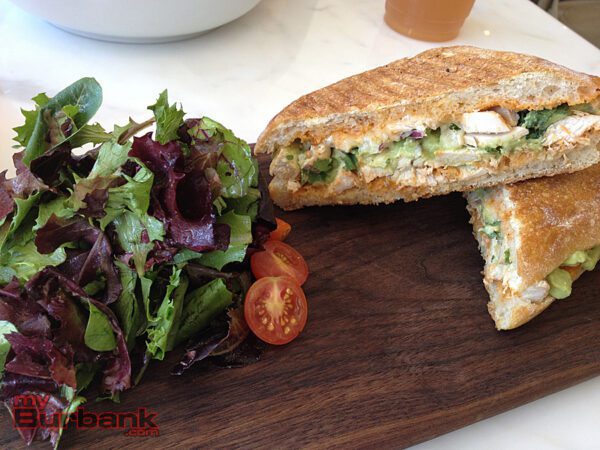 Seating issues aside, Olive & Thyme is lovely. The open and airy space is filled with light during the day and the stacks of packaged goods and cases of pastries and dishes lend a country market feel to the place.
The food is solidly good, with daily specials to change up the regular menu offerings. While we have not tried the dinner menu, we have taken many of their delicious sandwiches to go in our Hollywood Bowl picnic basket.
The plethora of servers are friendly and helpful, especially in sorting out seating for a party of four or more. Tables are cleared and wiped promptly and the facilities are clean.
Street parking on Riverside Drive in this part of Burbank next to Toluca Lake is generally packed. Be prepared to walk a few blocks or valet park on Kenwood Street.
I want to give Olive & Thyme a Tops In Town, but the seating stress during lunch is a big drawback. Most people don't mind waiting for a table when assured of getting seated in an orderly fashion. Many people do order takeout at lunch, too.
One might see recognizable faces eating at this Burbank restaurant, both for the food and the proximity to local studios.  The sundries, baked goods and specialty items are a treat to peruse and make for great gifts. Overall, Olive & Thyme is terrific place and we always enjoy a great meal.
Restaurant Info: Olive & Thyme is located at 3821 W. Riverside Drive, Burbank 91505. 818-557-1560. Olive & Thyme is open Monday through Friday 8:00 a.m. to 4:00 p.m. and 5:00 p.m. to 9:00 p.m. and Saturday from 9:00 a.m. to 4:00 p.m. Closed Sunday.

Olive & Thyme receives: On The Marquee

myBurbank Ratings:
Tops In Town (Outstanding)
On The Marquee (Really Good)
Could Use A Rewrite (Average or Slightly Below)
Don't Quit Your Day Job (Roadkill)