Burbank businesses Fleet Feet Sports and Tony's Darts Away joined with Golden Road Brewing and the L.A. River Revitalization Corporation (LARRC) to hold the Los Angeles River Run Greenway 2020 on Sunday, November 2. The 10 kilometer, or 6.2 mile, race attracted more than 700 participants in its second year.
"I have always put an emphasis on supporting programs and events that help build a create a better community we as a store participate in," commented Fleet Feet Sports owner Colin Klein. "The Greenway 2020 10K does just that, bringing together our running and walking community while raising money to better the outdoor spaces we all use and love every day."
"In particular, the L.A. River is a treasure that I believe can and does offer a huge amount of enjoyment not only to our runners but our community as a whole," Klein continued. "Having the opportunity to sponsor and support a race that believes these spaces should be made available and better to all in this community is one I am proud to be part of."
Participants started the race at the Greenway Bike Path entering from Ferraro Soccer Field in Griffith Park. From there, runners and walkers headed along the L.A. River towards Atwater Village, crossing the river on the Los Feliz bridge.
On the northeast side of the river, participants went towards Glendale, making a u-turn at the Colorado Boulevard overpass and then jogged through Atwater Park and along closed city streets. The final leg of the race followed San Fernando Road to the finish line, just south of Golden Road Brewing.
Race participants, family and friends recuperated at Golden Road Brewing for the after-race party, Sunday morning.
Top female finishers were: Carly Johann (39:26.4), Jillian Riehl (41:59.3) and Sarah Randle (44:50.1), while top male finishers were: Nicolaus Jakowec (31:45.5), Tetlo Emmen (34.03.0) and Moses Ramirez (36:53.0.)
The L.A. River Run Greenway 2020 in its second year was "barely viable from a financial standpoint," explained race coordinator Rob Rice, as he noted the race organizers needed to recoup investment costs from the 2013 race, the inaugural year.
"What we're focusing on is providing an A+ experience for our supporters and raising awareness," said Rice. "We do a lot more than the 10K. We also have monthly night runs and are also planning more events for 2015."
"Our goal is to eventually donate money to specific projects along the river, be it a bench, a bridge, butterfly farm or bird sanctuary," added Rice. "I don't know, but hope that the 10K will raise enough money to do more than that."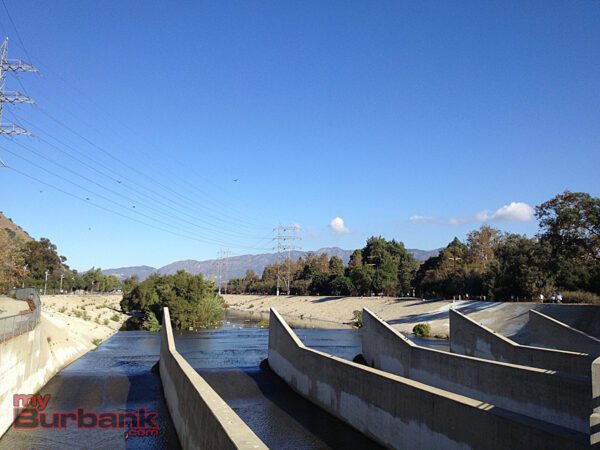 "The Greenway 2020 10K was a great success for bringing people to the river and builds momentum around making the 51-mile Los Angeles River a great public resource for the region," commented Omar Brownson, CEO of the LARRC. "The L.A. River is the only place you can walk, bike, run, kayak or ride a horse in LA. We hope that by 2020, we can create one continuous experience from Canoga Park to Long Beach."
"We were working with Omar on helping him promote his vision of what the L.A. River could be," said Tony Yanow, owner of Burbank's Tony's Darts Away and co-owner of Golden Road Brewing. "The result of that work was 2020 IPA."
"We were also working with Rob in helping him to create and launch a 10K that would end at Golden Road," Yanow also said. "The race was right along the river, so connecting Omar and Rob was an obvious fit. Golden Road is honored just to be a part this mission and this race in our small way."
"Omar handed me a study not too long ago on the immediate effects of having nature nearby in urban areas, specifically citing water bodies in densely populated areas, and said that mental health is overwhelmingly improved by having nearby 'nature retreats' for residents," commented Rice.
"The stress of living in dense urban areas is systemic to a host of mental and physical health issues," he went on to say. "Just living in L.A. causes increased stress and going to the river once a day might cure that? That's huge. That's why the river is so important."
"I call it 'instant nature' because after working on Skid Row in DTLA all day, which I do, I can step out onto the Greenway, hear the song of birds, the rush of water and look at the intense greenery and instantly connect to what I personally long for every minute – nature," Rice explained.
While Rice admits some residents may not feel the L.A. River has something they can enjoy right now because it's mostly used by bikers and runners and few hikers currently. However, he encourages people to vist the LARRC website to see all the events being held on the weekends on a regular basis that aren't just for runners and cyclists.
"As we concluded the second year on November 2, I personally feel it's a big lead into next year where we plan to add a half-marathon," Rice concluded. "Our goal from the beginning has been to grow the distance of the run to a full marathon by 2020."
"But, there's a couple of us who think we can go even farther than that," Rice said, alluding to eventual plans for a 51-mile event from Canoga Park to Long Beach along the L.A. River in the future.