By Rick Assad
Sports Editor
Experience and youth helped carry the Burroughs High girls' basketball team to a 54-16 thrashing of visiting Pasadena on Friday night in a Pacific League encounter.
Senior guard Jordan Meltzer poured in a game-high 15 points and sophomore reserve center Marin Grote tossed in 10 points as the Indians are 2-0 in league action and 9-7 overall.
"We know what we're supposed to do," Meltzer said. "We made some mistakes in the opening half and coach was mad. We tried to remain focused because in the long run mistakes against really good teams are going to hurt us."
Burroughs, which hit 22 of 50 shots from the field for 44 percent, blanked Pasadena (5-10 and 0-2 in league) 11-0 in the opening quarter and then outscored the Bulldogs 26-7 in the second quarter.
The Indians made 14 of 35 attempts from the floor (40 percent) in the opening half and outrebounded the Bulldogs, 39-31, who converted four of 37 for 10.8 percent.
"We did a lot of good things in the first half, but there were some things that we didn't do well," Burroughs coach Vicky Oganyan said. "I'm always looking for perfection, but that's the coach in me."
Oganyan was pleased with the overall defensive attitude.  "I'm happy with the defensive energy," she said.
Meltzer scored on a three-point shot in the opening quarter while Grote nailed a single free throw.
Meltzer really shined in the second quarter as she scored nine points as the Indians made 10 of 14 from the field.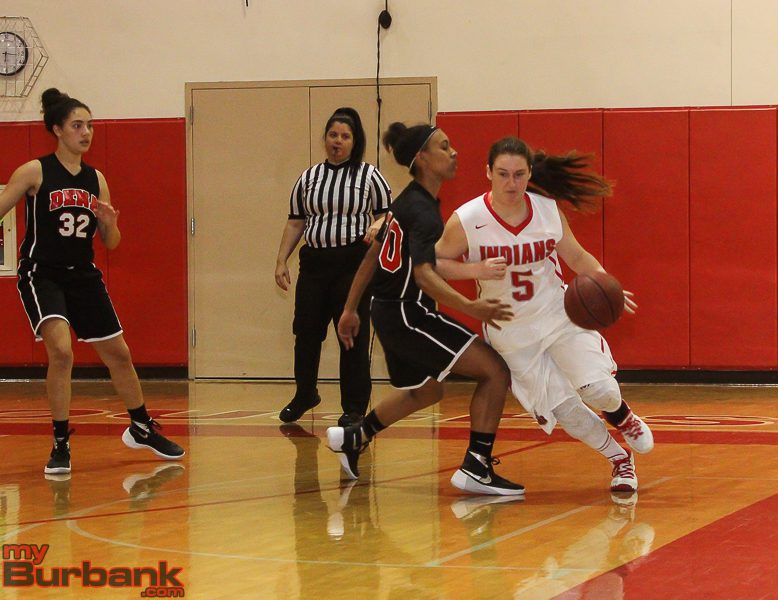 "I could have done way better like have a little more assists today," Meltzer said.
In the same stanza Grote, a standout volleyball player, muscled her way to seven points as she tossed in two buckets and three free throws.
Senior guard Abbey Ibarra, who finished with eight points, also showed off her talents by scoring five points.
Ibarra hit a three-pointer in the second quarter after drilling a trey in the first quarter.
Junior forward Haley Wilson dropped in four points in the third quarter after scoring one point in the second quarter and finished with five points.
"My top eight are the ones who are going to lead the way for us offensively," Oganyan said.
After three quarters the Indians were comfortably ahead of the Bulldogs, 50-10.
Freshman forward Nicole Rumfola had a strong outing as she had six points, with four points coming in the fourth quarter. Rumfola also scored a hoop in the third quarter.
Senior guard Brooke Radcliff, junior guard Kamryn Cardenaz, senior guard Melissa Garcia, junior forward Jocelyn Rieken and freshman guard Ayumi DeHerrea all scored two points.
Senior guard Victoria Agundez led the way for Pasadena with five points followed by sophomore forward Mariah Cathcart with four points.
The Indians will visit Arcadia on Monday in a league match. Tipoff is 5:30 p.m.