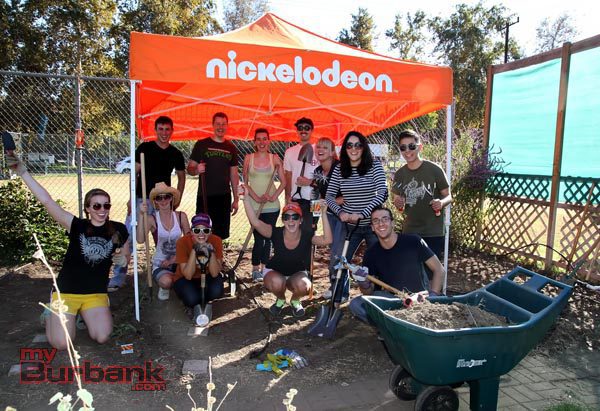 Disney Elementary's school garden had been overgrown and under-utilized for years, until some very motivated fourth-graders got involved a year ago, in 2012. "We were doing area and perimeter measurements in the garden last year, and my students noticed the area was neglected and in disrepair," commented Dillon Ross, Disney Elementary fourth grade teacher. "The children wanted to do something about it, and their enthusiasm, desire and belief they could make a difference inspired me to take on responsibility for the garden."
So last year, Mr. Ross organized clean up parties and planted vegetables and herbs and created a plan for twice yearly cleanup and plantings. Nickelodeon's Veronica Esquivel and Carson Smith found out about the need for some extra help and organized a garden spruce-up project for the animation studio's Fall 2013 group of college interns, which the studio proudly refers to as Nickterns. Nickelodeon's internship program draws juniors and seniors from colleges across the nation and was recently rated one of the top best overall internships for 2014 for the fourth consecutive year by Vault.com.
On Thursday, November 14, about 10 Nickterns, plus Ms. Esquivel and Mr. Smith, headed over to Disney Elementary to lend several helping hands. "Every semester we do a philanthropy project and we knew this garden was in need, so the interns went out and got donations and studio donated money for supplies and soil," explained Ms. Esquivel, who oversees the studio's internship program and recruiting. "Students took off time for the day to work here. The entire intern class contributed in some way to the project."
"One of the great things about our program is that we infuse camaraderie and giving back," added Ms. Esquivel. "Interns spend time on their assigned show, and we offer a number of free educational classes for our interns and give beyond just the standard internship experience in many ways and in giving back to community."
With donations from Village Nurseries, Home Depot and Starbucks, armed with shovels, trowels and rakes, the Nickterns descended upon the garden, clearing out old growth and spent plants in the morning and prepping garden boxes with fresh soil. School children from Mr. Ross' fourth grade class came by to help out too, along with some parent volunteers.
"We love the garden and are happy to help clean up," commented Vanessa, Jocelyn, Jazmine, Karmello and Mason, all fourth-graders. The youngsters were kept busy pulling weeds and loosening earth with trowels and hand rakes.
Principal Melissa Kistler stopped by to check on the progress during morning recess. "When I was a child growing up near Sacramento, I grew a squash in the school garden. My mom stuffed it and made an Italian-style vegetarian dish out of it and we were able to eat it for Thanksgiving that year," said Principal Kistler. "I will never forget that squash and I will always remember the experience my school garden gave me."
As Common Core rolls out, teachers and administrators see an opportunity for connecting Nutrition, Science and Math programs, among others, with the school garden and its crops.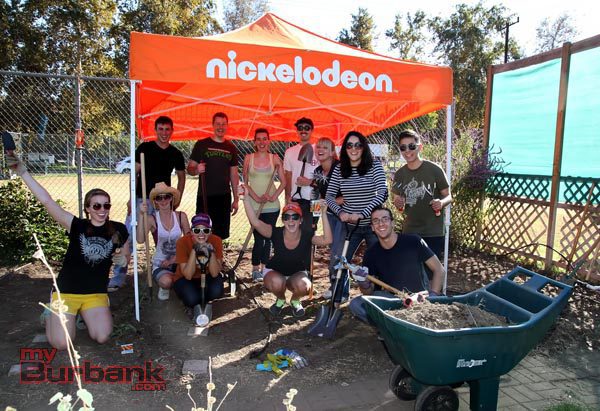 "My kids used to go to Disney," added volunteer and PTA Arts Chair Shannon Blaney. "I'm still here involved with planning for the arts and being involved wherever I can and am thrilled to help with this garden."
By the end of the school day, the Nickterns, Disney students and volunteers had cleaned up the garden and planted a host of herbs and winter vegetables, including squash, green onion, cabbage, lavender, rosemary, peas, cherry tomatoes, Brussels sprouts, eggplant, chard and thyme.