All About Poke has been open for about six months in Burbank's Magnolia Park area, and the small chain restaurant's fresh poke bowls have become a big draw. Lunchtime crowds line up daily for their customized bowls of fresh fish and vegetables.
The poke spot works assembly line fashion. Choose your size: small – 2 scoops each of rice/base and protein ($9.15), medium – 3 scoops ($10.85) and large – 4 scoops ($12.45). Then, choose your base – white rice, brown rice, salad or tortilla chips. Add your protein – tuna, spicy tuna, salmon, albacore, octopus, scallop, shrimp or tofu.
Pick your dressing – mustard shoyu, yuzu ponzu, wasabi mayo, honey miso, gagnam or spicy mayo. Add in your toppings – white onion, scallion, cucumber, jalapeno, cilantro, pineapple, corn, cherry tomato, mandarin orange, flying fish roe, avocado ($1 extra) and mango ($1 extra.)
Sides ($1 for two) to add include seaweed salad, crab meat, sweet egg and edamame. The servers toss everything together and then the diner can top the bowl with crispy onion, crispy garlic, mixed nut, furikake, sesame seed, masago, ginger and wasabi.
The options are just about endless for a unique and flavorful bowl every visit. Miso soup ($1.75) is also available along with a wide selection of Japanese sodas and flavored teas.
The fish and vegetables offered are fresh, tender and of very good quality. All About Poke makes eating healthier easy and fun, with its attention to flavor and color.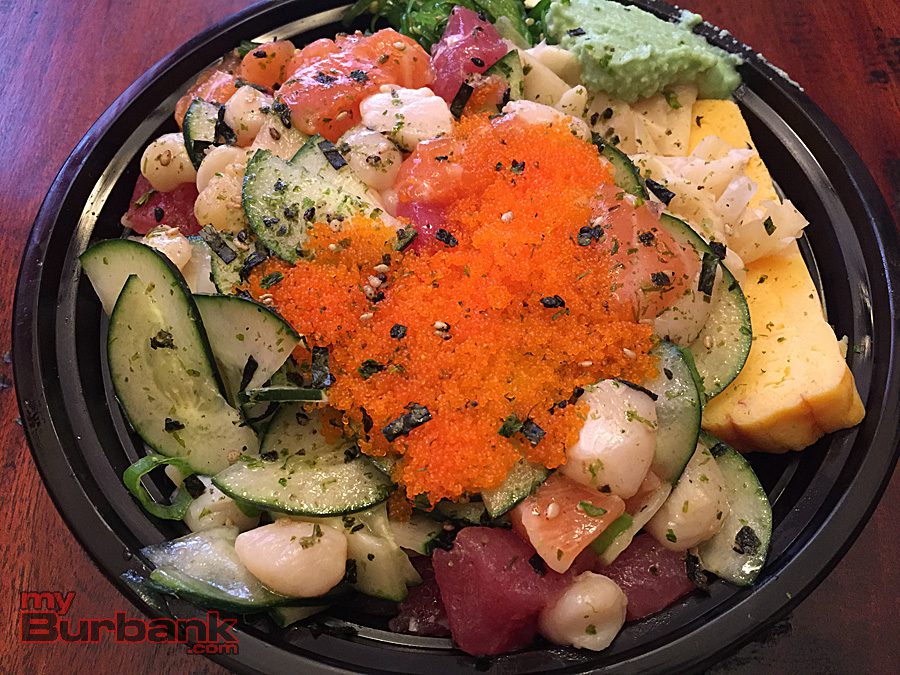 Those watching their diets should already know to be aware of the sugar and salt content of the sauces and condiments. Luckily, All About Poke has plenty of flavorful options for those looking to lower the salt, sugar and fat content of their meal.  For those who want to go crazy though, you can do that too.
With five locations in Southern California – Burbank, Studio City, La Cañada Flintridge, Eagle Rock and Rancho Palos Verdes – All About Poke's Hawaiian fusion concept continues to spread as people discover the fast service and custom menu.
For fresh, quality food and friendly atmosphere, All About Poke gets On The Marquee.
Restaurant Info: All About Poke is located at 3503 W. Magnolia Blvd., Burbank, CA, 91505. 818-559-9619. All About Poke is open Monday through Sunday 11:30 a.m. to 9:00 p.m.

All About Poke receives: On The Marquee

myBurbank Ratings:
Tops In Town (Outstanding)
On The Marquee (Really Good)
Could Use A Rewrite (Average or Slightly Below)
Don't Quit Your Day Job (Poor)