"Without evidence, we don't have a judicial system."
Law enforcement may be defined as any system by which designated members of society act in an organized manner to promote and enforce adherence to the law by discovering and punishing persons who violate the laws governing that society.
In order to punish violators and offenders, law enforcement needs to collect and maintain facts and evidence.  Failure to do so correctly may result in the release of a guilty person, or possibly worse the arrest and incarceration of an innocent person.
Robert Giles, past President and a current Boardmember of the International Association for Property and Evidence, Inc. (IAPE), is on a mission.  That mission is to ensure law enforcement offices and citizens have the knowledge, procedures, and recommendations to ensure evidence and property is correctly managed, ensuring that evidence is available to all within the judicial system.
"How can we tell some people they are not doing something right if we are not also telling them what is the right thing to do?"
Ultimately the objective is to manage and protect the evidence available to convict the criminal, and release the innocent as quickly as possible.
Burbank N Beyond's Innovators and Entrepreneurs caught up with Giles on Thursday, following a Property and Evidence Management course IAPE held in Burbank.
Burbank N Beyond:  Tell us a bit of your background, how did you get into the training and standards business?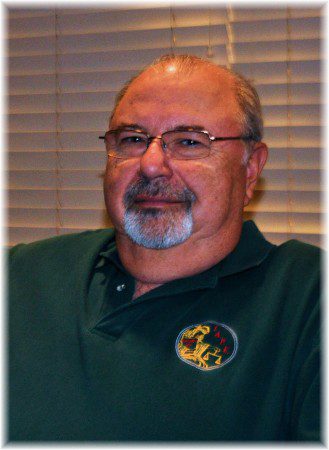 Robert Giles:  Well. I am a retired 32 year Lieutenant with the Burbank Police.  My colleague (in IAPE) Joe Latta, who was instrumental in starting this venture was also a police lieutenant who retired a few years senior to me.
In 1997 it was a very small operation.  The woman who started it (IAPE), Robin Trench, very tragically contracted cancer and passed away.  She had been in contact with Joe Latta, who had been teaching property and evidence classes for the state Police Officer Standard and Training (POST).
In that vein Joe had the vision, wisdom, and the forethought that this could propel property and evidence into a visible endeavor.
We formed a new board and set up our own bylaws and how we wanted to operate.  And as a small incorporated business we had to have board officers.  We wanted to do everything right, so we tapped other knowledgeable persons who we knew to be qualified to be on the board.
We had a lot of roots here in Burbank, however our organization has now grown nationwide, and to Canada.
IAPE is a non-profit research and education organization, dedicated and committed to provide education and training pertaining to all aspects of the handling, storage, maintenance and disposal of law enforcement held property and evidence. The knowledge is provided free of charge on our website, but we charge for the management training and other related materials to cover our costs.
We have trained persons from the USA, Canada, Trinidad, China, and we are expanding to other locations.                                            
Burbank N Beyond:  Why Burbank?  What role can Burbank play in the global property and evidence management field?
Robert Giles:  Burbank is among the larger agencies nationwide, however when you compare us to the major cities we are kind of a flyspeck.  Thus we know there are more than one way to do it (the job of managing and maintaining property and evidence).  In Burbank we knew there was one way to do it, and it worked real well for our size agency, and we tried to pass that along (to other agencies).
You know there are lots of different ways to do things, and some ways work even better than what we do.  And we have grown along with our exposure to the way others may do the same function. So historically that's how we got to where we are.
The IAPE Board of Directors is charged with the duties of advancing the scope of knowledge and enhancing professionalism within the field of property and evidence management. To help achieve this goal, the IAPE has adopted professional standards in a number of important property and evidence handling procedures.
Adhering to these standards should assure any agency that reasonable steps have been taken to obtain a secure and efficient property and evidence management system. Not adhering to these recommended standards will increase the likelihood of problems associated with the operation of the unit. (IAPE.Org)
Giles went on to discuss some of the IAPE activities, as well as recent cases involving mismanagement of evidence, as well as even mentioning recent cases where law enforcement officers and custodians had tampered with, stolen, or rendered evidence unusable.  In these cases the guilty may go free, or even worse, the innocent may be held for a crime they did not commit.
Robert Giles: When events like this happen it makes all law enforcement officers look bad.   We want to make sure we are doing our bit to make sure the law enforcement agencies have in place internal controls that prevent that sort of thing from happening, or would at least detect that it has happened.
"Even within the United States there is a great disparity between law enforcement agencies, and how they store, manage, and process evidence."
Robert Giles:  We're in a situation right now here we might go around the country and find a small room that is just overflowing with old evidence.  The people (law enforcement agencies) are scared to get rid of anything because new laws are being passed left and right saying you have to keep certain categories of evidence for "X" number of years, or keep evidence collected in homicides forever.
Some states might say as long as you have a prisoner in custody you must maintain the evidence, or as long as the person is alive who has been accused you need to keep the evidence (that was used to convict them).
There are a lot of well-meaning legislators who have passed terrible laws.  We'd like to see some common sense brought into some of those laws.
Burbank N Beyond:  What made you decide to stay active, rather than simply enjoy retirement?
Robert Giles:  I wanted to stay involved and apply all the officer knowledge and experience I had (to this cause), and stay productive in the law enforcement field.  You know I really enjoyed my job over the years.
Ten years later I am still involved, periodically going to different locations across the nation to put on a class (IAPE certifications and general knowledge).  We are able to conduct training across the country and serve other law enforcement agencies throughout the country and help them out so they can get their act together (in reference to evidence handling and management).
There are very few resources out there in the field of property and evidence management.  There are maybe 3 or 4 instructors nationwide, and none of them have the resources available that we have, such as access to our standards, and the strength of the organization we have behind us.
They may only have resources such as a book to refer to, and do not have access to a 4500 member organization like IAPE behind them (for support).  They have not taught 400 classes over the past 15 years, or access to about the 10,000 people we've taught.
IAPE has become the "gold standard" for how to manage property and evidence.
Burbank N Beyond:  It is 2012, approaching 2013, why is it today after so many years, why it is law enforcement still has trouble with evidence management?
Robert Giles:  Does the medical field have issues with doctors that are not the highest caliber or have the most integrity?  Do prosecutors often go out and compromise the integrity of the prosecution so they can win a case and go on to bigger and better things (career ambitions)?
Law enforcement is just like any other profession.  We've brought people in from the human race, and there are different levels of education, different levels of morality, and those are the exceptions, not the rule.  And you have different parts of the country where entering law enforcement (is a compromise) to low level employment.
So to answer your question of why it has taken law enforcement so long to come up to a higher standard, it is because of too few resources, lack of education, too little attention being given to it (property and evidence management) given to it by the media which often does not do its "watchdog" function.
Many times we find out about corruption from sources other than the media, which surprises me because to me, what you (Burbank N Beyond) are doing right now is wonderful because you are telling people there is a need for law enforcement to watch out for the way they handle their evidence.   If you do not manage your evidence, then your agency is not up to task.
The media should be publicizing this for others to read.
Burbank N Beyond:  Why Burbank?  It is a big country, lots of opportunities to set up shop in any location.  Why Burbank?
Robert Giles:  We did start out in Burbank, but we also spread ourselves out and have members, board members, and contributors from Chico, Minneapolis, Long Island – we are spreading ourselves around the country.
Burbank N Beyond:  You are part of a strong organization today, but when you started with IAPE it was small, and presented you a level of risk.  How do you feel about entrepreneurship in general, or striking out on your own if you are midway through a career, or just starting a career?
Robert Giles:  People coming out of the military have a lot of skills, and are the best and the brightest.  I love it when a well-qualified vet comes in and wants to get trained or certified in property evidence.  The military guys have a lot of experience they can bring to not only law enforcement, but other fields.
You have to be able and willing to move around to find the jobs and opportunities.  You need to stay current in your field, getting professional certifications, learn the standards, and get qualified.
Or if the job market doesn't meet your needs you have to be willing to strike out on your own.  It is a lot tougher to start your own business than it is to work for somebody else, but that is the answer for a lot of people.
Sometimes you freelance, and sometimes you have to volunteer to get known, and then apply for a job.