Last Sunday I saw a concert film that washed away all the dispiriting news of the past few weeks. The music was super. The speakers were inspiring.
It was a concert about genocide. Specifically, about a future without genocide. Sung and spoken by people that insist on making a difference.
And conceived and produced by a remarkable woman, Emmy award winning composer DENISE GENTILINI, and her partner LYNETTE PRISNER.
Perhaps it was inevitable, given the Armenian half of Denise's  heritage.
As a child, Denise heard stories about the early lives of her maternal grandparents, Kourken and Malvine Handjian.  Very understated stories. "When I was a kid, I didn't really pick up on just how terrible they had it."
It was horrific. The Handjians were survivors of the Armenian genocide of 1915-1923. Survivors at great cost. Kourken's father was poisoned. Malvine watched the Ottoman Turks forcing her father onto a railcar, never to be seen again.
If Kourken had been a bit taller, he himself might have been shipped off to his death, or summarily shot where he was. Malvine and her mother narrowly escaped rape and torture, the fate reserved for Armenian women. Somehow they survived a forced relocation that was a death march for hundreds of thousands.
And somehow, in spite of the atrocities that had scarred their childhoods, Kourken and Malvine found each other. They fell in love, and their love defiantly blossomed and ripened into children and grandchildren of their own, born into a far kinder world than that of the Ottoman Turks.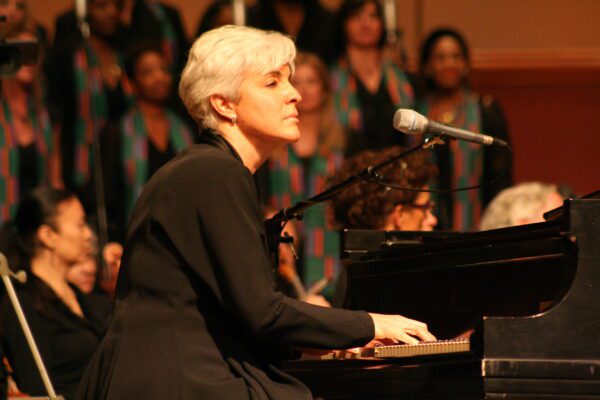 As an adult, Denise was very aware of the Armenian genocide. She felt a responsibility to convey to others the magnitude of such a great evil. But how?   Stalin, who starved to death millions of Ukrainians, had cynically stated, "One death is a tragedy; one million is a statistic."  Somehow, the numbers had to be presented without numbing the listener.
And so Denise produced a documentary, The Handjian Story: A Road Less Traveled. "For many Armenian refugees," Denise observed, "a stranger can coax more details out of them than a family member." And so it proved when interviewer and videographer MIRELLE KALOUSTIAN began asking them questions, and their nightmare memories tumbled out from haunted hearts.
Denise wrote the original music for the documentary, music that won her first Emmy. "I was always interested in instrumental music," Denise said. "It was a natural progression for me to go into movies. I like the power that music has in film."  And, she added, its power to underscore the strong emotions inherent in a gripping story.
Denise's second documentary, Conviction, tells the story of three Dominican Sisters so alarmed by the proliferation of nuclear weapons that they made a personal stand of civil disobedience.  Her original music for this documentary won Denise her second Emmy.
Though modern warfare could make genocides a matter of microseconds, human beings have been erasing whole peoples since ancient times. Wikipedia has so many entries, along with hundreds of references, that a hefty dead tree book would be needed just for a decent summary overview of each instance of genocide.  Much of this information has been easily available to the general public only recently.
Denise pointed out that Hitler had said back in the 1930s, "Who today speaks of the annihilation of the Armenians?"  The world's forgetfulness so soon after the Armenian genocide emboldened Hitler to launch the Holocaust against the Jewish people.
The appalling panorama of history's genocides and the searing close up of her grandparent's suffering stirred something within Denise. She was determined to use her knowledge and her musical gifts to awaken her audiences to the genocides that are still occurring throughout the world.
In October 2009 at the University of Denver, Denise put on an event, We Are Voices: For A Future Without Genocide (We Are Voices (Reg.)).  It began with a very personal look at the past. The Colorado Chamber orchestra, conducted by DR. VICKI BURRICHTER, performed the music from the documentary about Denise's Armenian grandparents. The screen gives us a succession of matter-of-fact paragraphs of their story. The words leave it to Denise's music to convey the utter grief in the wake of unchecked, monstrous evil.
The event then moves from mourning to present and future hope in the power of decent people armed with awareness. Emcee TAMARA BANKS, an Emmy Award winning journalist in Denver, introduces us to singers alternating with speakers, including DR. SHEILA PORTER, FRAN STERLING and PASTOR HEIDI McGINNESS.
Dr. Porter spoke about how groups descend to genocide and then deal with the aftermath, using Rwanda as an example. How can someone forgive a person who may have massacred their family? And yet, that is the challenge still facing Rwanda today, where former killers may now be neighbors. Fran Sterling shared how classroom education is beginning to grapple with the dark, genocidal chapters of history—including our own. And Pastor McGinness, who speaks from personal experience of "saving one person at a time" in Darfur, assures us that "individually, you and I are making a difference."
It seems that Denise has been on a spiritual journey that Dr. King would have recognized. She has steadily enlarged her empathy: from her Armenian grandparents, to all the Armenian people, to the other groupings of humanity that are suffering genocide.
Denise composed and orchestrated all the music for the concert. She performed nine of her original songs featuring Denver's top star vocalists, BETH AVEDIS, SHERYL RENEE and HAZEL MILLER. A six-piece band and an eleven-voice choir backed them supported by a 41- piece orchestra.  The music was gorgeous. And for anyone who thinks the classic American songbook got completed long ago, go to YouTube and listen to Maybe Next Time (4:43).
…in another life, in another world you will be mine…
As I listened to the lyrics of this masterfully crafted song, I thought to myself, "How many great friendships, how many great romances may have been—may be— realized in a world without hatred, division, and genocide. At least Kourken and Malvine had successfully defied the odds. (And so did, in another sense, Denise and her spouse Lynette Prisner, who had "stolen her away from LA" and whisked her off to Colorado.)
(I had a chance to ask the song's co-writer, LISA NEMZO, how the wrenching hook, "maybe next time" came about. Lisa said, "My background is jazz and I was hearing Denise play these marvelous chords and I said, 'How about, maybe next time?'")
Fast forward to September 29, 2013, at Hollywood's Egyptian Theater, where We Are Voices appears as a concert film at the 16th ARPA International 2013 Film Festival.  The audience catches the excitement, applauds after every song. The cutaway interviews of the performers make it clear that We Are Voices was everyone's labor of love.
In the Q&A that followed the screening, someone asked Denise why she had chosen "a gospel format" for the concert.  Denise "loved the choir. It brings power to the message."
The English essayist G.K. Chesterton once said that America was "a nation with the soul of a church." If we can broaden "church" beyond the boundaries of sect and creed to the ethical concerns engaging all people of good will, then the We Are Voices concert embodies the American soul at its best.  It's a soul we must reclaim, and can reclaim…one voice at a time.
Maybe this time.
TO THE ARMENIAN COMMUNITY.  2015 will arrive sooner than you think.  Glendale will surely be the American epicenter of remembrance of what happened beginning in 1915. I was thinking how wonderful it would be if there were a local version of the We Are Voices concert in Glendale. Go to www.wearevoicesproject.com and decide for yourselves.