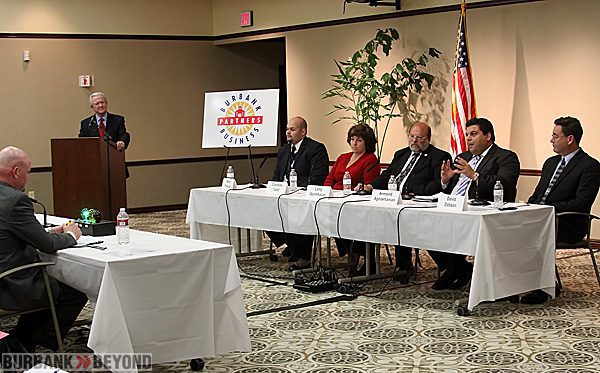 Five candidates, running for two available seats on the Burbank Board Of Education, gathered in the auditorium of Buena Vista Library Thursday evening for a candidates forum put on by the Burbank Chamber of Commerce and Burbank Business Partners. The standing room only audience of attendees ranged from business professionals, to educators, teachers, and parents.
The evening's master of ceremonies,  Chamber CEO Gary Olson, introduced candidates Armond Aghakhanian, Larry Applebaum, David Dobson, Steven Ferguson, and Charlene Tabet. The moderators for the evening, Elena Hubbell and Richard Raad, both former Burbank Board of Education members had plenty of questions for the candidates. One of the hot topics on which all the candidates voiced agreement on and supports for, is the upcoming bond issue that will be appearing on the ballot as Measure S.
Each of the candidates were given time to promote their candidacy prior to the start of the questions. They covered a large range but the common thread was the declining school budget, with each candidate having their ways to bolster it if elected.
At the conclusion of the forum the candidates lingered, speaking  to several in the audience who remained.