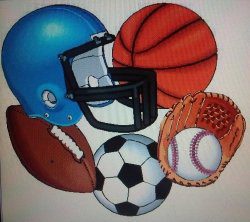 By Tom Crowther
BurbankNBeyond Sports Editor
Anding Injury Hampers Tribe
A partially collapsed lung did what no defense has been able to do thus far this season — stop Burroughs running back Zander Anding.  Chasing a piece of school and state history, Anding didn't even suit-up Friday night in a crucial contest against Muir High.
It turned out the soreness in the chest area that the 6-0, 180 pound running back had been feeling since last Thursday's win at Crescenta Valley was a slightly collapsed lung. After sitting out practice all week as a precaution, Anding was a late scratch from the line-up on Friday Burroughs head coach Keith Knoop and Athletic Director Jose Valle confirmed. Knoop added only that Anding had, "wanted to play."
So the quest for the school single season rushing mark and a fifth straight 300-yard game — which would place him next to former Ventura High star Tyler Ebell as the only player in state history to reach the milestone will have to put on hold for at least another week.
Assuming he is able to dress, both milestones would be all but foregone conclusions next week against Hoover. Truth be known, Hoover's defense has about as much chance of slowing Anding and the Indians ground game down as the school's volleyball team would — almost none.
More upsetting to Knoop and his squad is that what was a Pacific League race that the Indians were in firm control of gets interesting again as the Tribe was blasted 28-0 on Friday without Anding and eventually without his back-up, Israel Montes. Burroughs had just 60 yards of offense in the first half and did little right with the ball on the evening.
Arcadia, Pasadena and Burroughs are all 4-1 in league — Burroughs has beaten both teams but would share the league title and only hold the top playoff seed in the event of a tie.
Indians' Volleyball Clinches Pacific League Title
The Burroughs Indians girls' volleyball team, now 17-3, 13-0 in league, clinched the Pacific League title with a 25-21, 25-15, 25-16 sweep at Hoover on Thursday — the program's second Pacific League championship and first league title in four years.  Burroughs got 11 kills from Laura Howard and eight from Megan Stephenson.
The Indians are ranked No. 4 in the CIF-Southern Section's latest Division II-A poll.   Although they dropped a game for only the second time in Pacific League earlier this week, no one complained when they beat the Pasadena Bulldogs in four games, 25-17, 25-11, 23-25, 25-15 to clinch a share of the title.
Stephenson led the way with 18 kills and four aces for Burroughs and Caitlin Cottrell added eight kills,Catarina Emerson contributed 19 assists and Keana Figueroa 17 assists.
Last week the Indians swept defending champs Arcadia in three games, 25-14, 25-11, 25-19 to end any real suspense in the league race. They conclude their season on November 1 against crosstown rival Burbank High.
Bad Opening Act Does in Burbank Football
A pair of early turnovers helped stake Crescenta Valley High School to a three touchdown lead as the young Burbank Bulldogs team dropped its third straight Pacific League game, 35-14, to fall out of the playoff picture.
Burbank is 3-5 overall and now 2-3 in league. The loss drops the Bulldogs out of a tie for fourth place and into the back half of the league standings. For the second straight week mistakes were costly early. An interception and a fumble hampered two of three first quarter possessions for Burbank who also had 120 yards in penalties.

Daniel Martinez scored on an eight-yard TD run for Burbank early in the second quarter, but the Falcons counter-punched with a connection from Zac Wilkerson to Nick Ruiz with 5:04 remaining in the quarter to take full control of the game.