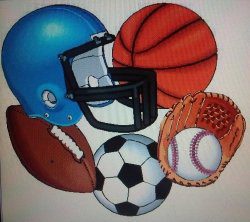 Burbank Baseball
Ricky Perez was 3-for-4, hit a homerun and had five RBI and teammate Hector Rodriguez was 2-for-2 with a homerun and three RBI as the Bulldogs walloped Rolling Hills Prep, 21-0, as part of the Chet Brewer RBI Tournament in a game played at Burbank High.
Burbank scored four in the third, seven in the fourth and eight in the fifth before the game was called after the top of the sixth due to a 10-run mercy rule.  Eleven players had hits for Burbank.
The Bulldogs are 4-6 overall this season.
Softball Teams Stay Dominate
Set your calendar for April 19 when the Burbank and Burroughs softball teams will battle each other for the first time this season in a match-up that will ultimately determine the Pacific League title. Burroughs is 11-1, while Burbank is 9-1 and has won nine straight after dropping its first game of the year.
Both teams are unbeaten in league play. The Bulldogs rallied from a 5-run deficit to beat Crescenta Valley, 7-6, on March 29. They also have a win in the books against Pasadena and will play Glendale on April 5. Burroughs blasted Muir, 26-0, and Glendale, 11-1, last week and is off until a nonleague game against Kennedy on April 11.
Both teams have been impressive, although Burroughs has been more so as it has played a tough schedule compared to the Dogs light one. Burroughs has wins against Oaks Christian, South and Notre Dame this season, while Burbank's most impressive win was the CV comeback and redeeming their opening day loss to Charter Oak with a 9-6 win in a rematch on March 10.
Burroughs has won the league the last two years, but Burbank's coach Nicole Drabecki has suggested with her team's talent they should be the favorites in the league this season.
Brinton, Burroughs Battle On
Burroughs boys volleyball coach, Joel Brinton, has his team off to another amazing start, 13-2. It is hard to believe his program is the youngest in the city in only its fifth year of existence.
The Indians are also 6-0 in Pacific League matches and have not lost a game in 18 chances this year.
Last season, the Indians were 34-5 before losing in the CIF SoCal Championships Semifinals in Chula Vista to Otay Ranch in four games.