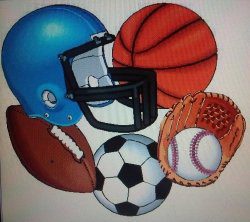 Burroughs Pounds Pasadena
The Indians wound-up drawing a home game April 12 when the Pasadena Bulldogs' field proved to be too damaged by rain the night before. All it meant was one fewer chance to do damage as Burroughs dominated Pasadena, 12-1, in a game called after five innings because of the ten-run mercy rule.
Aimee Rodriguez was 3-for-4 with a RBI and Haley Schulman, Megan McKenna, Michelle Santiago, Brice Edrington and Davina Del Castillo had two hits apiece for Burroughs. Edrington had a game-high four RBI.
Burroughs, who had 13 hits, is now 12-1 overall and 4-0 in league. The Indians play what should be an easy win against Hoover on Tuesday next week before a huge contest with Burbank High on April 19.
Burbank Keeps Pace
On April 11 the Bulldogs did what they needed to do, beating Arcadia, 3-0. Katie Hooper had three of the Bulldogs six hits and Caitlyn Brooks threw a two-hitter in the win.
With the win Burbank won its 11th straight game after a loss to start the season. The Bulldogs are 11-1 overall and 4-0 in league. Thursday's game at Olive Park, Burbank will look to beat Burroughs for the first time in three years and make a major statement that it is the team to beat in the Pacific League.
Volleyball Update
Burroughs awaits its next league contest, April 18 versus Burbank, with the Pacific League firm in hand. The Indians are 14-3 overall and 7-0 in league play. Claremont is 5-1 and Crescenta Valley 5-2 in league, but the Indians show no signs of slowing down — the Indians have not dropped a league set this season, 21-0, in seven matches.
Burbank fell to Arcadia for the second time this season — 25-14, 25-16, 22-25, 25-14 — on April 11. The Dogs played at the Junior Varsity level last season and have managed to have a decent showing in its varsity campaign this season — 5-13 overall and 1-6 in league.
Elijah Coward led Burbank's effort against the Apaches with eight kills and 12 digs.
Track News
Burroughs' Anthony Monroy ran the third fastest time in school history in the 3200 during the Arcadia Invitational April 6 and 7 with a time of 9:14.20.
On April 12 the Indians Varsity girls' track and field team defeated Muir, 98-25, while the boys' team won, 82-51. The Indians host a meet against Burbank on April 18 with Pacific League Preliminaries starting April 27.