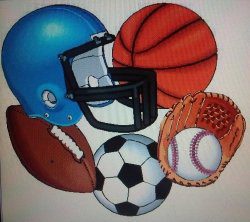 Tribe Rolls
Burroughs boys' volleyball made short work of cross town rival,Burbank, 25-14, 25-11, 25-13, in a Pacific League match at Burroughs.
Daniel Jacobs led the Indians with nine kills. Robby Rutecki added five digs and seven aces while teammate Ike Nwachie had six kills and four blocks. BJ Lagmay had 25 assists.
The win puts Burroughs at 16-3 overall and 9-0 in league. It plays Friday, April 20 at home against Crescenta Valley at 5:30 p.m.  Burbank's 3-11 overall in its first season at the varsity level in the sport.
 Softball Showdown Set
Rumor has it that Burbank softball coach Nicole Drabecki made a call to Burroughs High earlier this week to make sure that the Indians' would have a batter's box chalked out for tonight's crucial Pacific League game at Olive Park.
The reason? Burroughs has several slap hitters and Drabecki wants to limit the possibility they will
be able to get out of the box prior to contact and gain an advantage heading to first base.
Batter's boxes aside, the April 19 contest between Burroughs (13-1 overall and 5-0 in league) and Burbank (12-1 overall and 5-0) is one of the most highly anticipated match-ups of the season. The two rivals put together remarkable nonleague seasons and they have dominated Pacific League opponents as they both wind down the first round of league play.
Clearly the only threat to either team is one another. Although Burroughs has won the league consecutive seasons, Drabecki proclaimed her Bulldogs the team to beat with the arrival of Caitlyn Brooks.
The freshman standout is 7-1 this season with a 2.94 ERA in 50 innings pitched. She is also hitting .455.
Veteran Katie Hooper is batting .472 and Laina Do is batting .485 to lead the Bulldogs' offense.
Burroughs Shannon Trujillo continues to make her case at the league's best offensive player. The senior catcher leads the Indians with a .486 average and four home runs.
Additionally, pitcher Haley Schulman is 9-1 with two saves and 65 strikeouts. She is also batting .474, second on the Indians only to Trujillo.
Baseball Battle Brewing
As is typically the case the eight teams in the Pacific League could really be divided into two four team leagues consisting of the "haves" and the "have-nots."
As the midway point in the league schedule arrives April 20 with the Burroughs and Burbank baseball teams battling one another it is pretty clear that both teams will stay in the upper portion of the league the rest of the way – even if they continue to look-up at Arcadia and Crescenta Valley in the standings.
Arcadia is 14-3 overall and unbeaten in league, CV is 13-4 overall and also 5-0 in league play. Burroughs, who fell to CV only 2-1 in the league opener on March 27 and missed several chances to pull-off the upset, has won four straight and is now 7-9 overall but 4-1 in league.Burbank is 6-7 overall and 3-2 in league.
The rest of the league –Pasadena,Hoover, Muir and Glendale– have combined for only three wins.
Burroughs pummeled the back half of the league over a two week stretch since its Spring Break. They defeated Muir 14-1,Glendale5-0,Pasadena11-1 andHoover9-1.
The Indians welcomed back clean-up hitter Christian Garia into the line-up against the Tornadoes on April 16.
"We are excited about the possibility of getting Christian back in the lineup. He was a key to our offense before he got hurt," head coach Kiel Holmes said. "A lot of guys have really stepped up to make up for his absence, Chris Peale and Ryan Gordon in particular, but you can't help but be excited about getting a bat like Christian's back at this point of the season."
Garia will wear a specially crafted brace on his wrist the remainder of the season.
Against Hoover, Chris Daviesstole four bases and scored two runs. Peale was 2-for- 3 with a triple
and two RBI and Dylan Goldsack was 2-for-2 with a double, two RBI and a stolen base.
In a less heralded return senior Steven Cseh pitched an inning, his first appearance in a league game in almost three years coming off a shoulder surgery.
"Location was good and velocity is slowly coming back to him," Holmes said. "This was a proud moment for a coach, who has watched a kid who has struggled with injuries his whole high school career, finally get in a game and see some positive momentum."
Peale remains one to watch for on the All-League team at year's end with a .583 average seven RBI, .885 slugging percentage in the five league contests thus far. He was 3-for-4 with three RBI in the April 13 contest against Pasadena.
Gordon was 2-for-3 with a double and RBI in that contest as well.
On the mound, Daniel Barraza continues to impress. He threw four innings against the Bulldogs allowing only three hits and one earned run with five strikeouts. He has given up just those three hits in league play and has a 2-0 record in league with 10 2/3 IP, 0.84 ERA, 17 K and six walks.
Burbank edged out Glendale, 1-0, in return to league action April 6. It was then edged out by Arcadia, 2-1, last week before taking out their offensive frustrations on Muir 12-1 on April 17.
The Bulldogs scored six runs in the first inning and never looked back. Ian McKinnon, Paul Frias, Dylan Mersola and Harrison Hernandez each had two hits.
Hernandez had four RBI – John White and Nate Zavala each had two.