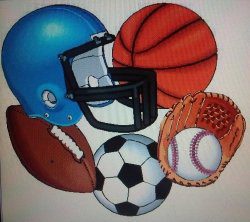 BURBANK GETS MUCH NEEDED WIN
Andre Spight scored a season-high 31 points, matching the Hoover Tornadoes total by himself as Burbank boys' basketball halted a four-game skid with a much needed win at Hoover High, 70-31.
Spight sunk six three-pointers and teammate Caine Brown Kennedy added 13 points in the route. With Glendale's loss against Muir Friday, February 3 Burbank is just one game back of the fourth and final playoff spot out of the Pacific League with two games remaining on the schedule. However, the Nitros swept Burbank this season.
Bulldogs coach Jose Hernandez has said his team could still qualify for an at-large berth, but at 12-13 overall and just 4-8 in league that is far from a certainty.
INDIANS DROP CRUCIAL CONTEST
In contrast, the Burroughs girls' basketball team dropped a pivotal league contest at Arcadia on February 3 , 42-28. The Apaches improved to 8-4 in league and clinched no worse than third place in league, while Burroughs fell to 5-7 in league and now must win its final two games to secure the fourth and final post season spot.
A 10-2 run in the second quarter was too much for the young Indians to overcome.  Aysia Shellmire scored 17 points and grabbed 12 rebounds in defeat. Teammate April Harris added seven points while the rest of the Indians managed just four points.
BURBANK REMAINS IN SECOND PLACE
Not losing focus on a Friday night before next week's contests that include senior night and a February 9 battle with cross town rival Burroughs, the Burbank girls' basketball team blasted Hoover on February 3, 55-32, to move a step closer to clinching the second spot in the Pacific League.
Burbank is 15-10 overall and 9-3 in league.
Damarie Gonzalez scored 12 points, Jamie Gonzalez added 1o and Aja Locke nine for the Bulldogs.
IN OTHER ACTION…
Burroughs girls' water polo finished the regular season in second place and ranked No. 5 in the CIF SS Division V polls after beating Arcadia, 14-4, on February 1. The Tribe was 17-3 overall and 5-1 in league on the season but finished second to Crescenta Valley after being defeated by the Falcons, 16-4, late January.
Burroughs' boys soccer played to a 1-1 tie against Arcadia on February 3, good enough to remain in second place at 7-8 overall and 6-3-3 in league as head coach Mike Kodama continues to clean-up the mess he inherited in his return to the sidelines after a two-year hiatus.