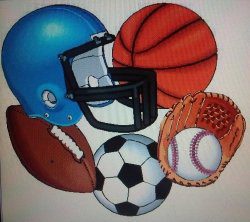 Tribe Trio Named All-CIF
No surprise that Burroughs running back Zander Anding was recognized as an All-CIF selection for his record setting performance on the field this season. It is a pleasant surprise that one of the five offensive lineman who paved the way for Anding were also announced as members of the All CIF team – senior offensive lineman Gus Ferrat.
In addition, linebacker Kody Jensen was also selected. It is the most players the Indians have had named to the All CIF team since 2006. This season the trio helped guide the Indians to a third straight Pacific League Champioship.
Anding rushed for 2,686 yards and scored a total of 30 touchdowns this past season in just 10 games.  He averaged over 13 yards per carry and almost 300 yards a game, however he spent most of his postgame interviews deflecting credit to his offensive line.
The selection of Ferrat is some confirmation that Anding's words were much more than lip service. For his part, Ferrat spent much of the season manhandling and pancaking defenders.
Jensen had 40 tackles and 3.5 sacks , somewhat modest numbers for an All-CIF selection, but Burroughs coach Keith Knoop, the Pacific League representative at the All-CIF selection meeting, stressed there was a huge difference in his defense when Jensen was in the line-up than when he was not. Jensen was ineligible the first three games of the season.
"He made a big difference for us, indicated by our performance," Knoop said.
Standings Watch
Burbank High boys' basketball got back on track with a pair of crucial league wins to move to 10-9 overall and 2-4 in Pacific League play. Burroughs fell to 0-6 in league and all but officially out of the playoff chase.
In girls' basketball, Burbank is 5-1 in league (11-8 overall) while the Indians are 7-12 overall and 2-4 in league play. Burroughs girls' water polo improved to 17-2 overall and is 4-0 in league, joining the Bulldogs' girls' basketball team as the hottest in the area.
In girls' soccer, the Indians moved to 9-5 overall and 3-2 in league play while the Bulldogs sit at 2-3 in league play and 6-6 overall. In boys' soccer, Burbank is 2-3-2 overall while the Indians are 3-6 overall, however the Tribe is 3-1 in league while the Dogs are 1-1-2.