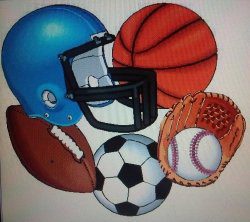 All Good Things Must End
The fairytale season that the Burbank High girls' basketball team enjoyed came to an end on Tuesday at the hands of Summit High.
The CIF Southern Section's Division IA top seed, Summit, advanced by way of their 72-49 win over the Bulldogs — who were the 13th seed in the Division and the only non top seed to reach the final four.
The Skyhawks — six time Sunset League champions — improved to 26-3, Burbank ends its season an impressive 19-12. The Bulldogs finished second in the Pacific League this season, won a record 19 games and advanced to the semifinals for the first time ever.
Summit features three players 6-feet or taller dominated Burbank down low. The Bulldogs tallest player is listed at 5-foot-10. Summit had scored as many as 88 points on the season and had held opponents to as few as eight, so the Bulldogs made a respectable showing, especially in spurts of the second and third quarters.
Senior Damarie Gonzalez, playing in her final game, scored 16 points to lead Burbank. Jamie Gonzalez and Aja Locke each had eight points.
E-Waste
Burbank High baseball committed eight errors in a 9-3 loss at Rio Mesa on Tuesday, February 28 — including four from shortstop Dylan Mersola and two from catcher Paul Frias who are the Bulldogs top two players.
The Bulldogs now have 14 errors in three games on the season, a large reason while they are 0-3.
Rio Mesa had nine hits, all singles, and four players with two hits apiece. It led 2-0 after the opening inning of play, however the score remained unchanged until the fifth when it broke open a close game with a four-run inning.
Burbank had just three hits, one from Frias, Mersola and pitcher Angel Villagran.
Burroughs Falls Flat
The Indians' baseball team hasn't found it any easier thus far this season. Burroughs lost at home to Lancaster, Tuesday, 5-1 and is 0-3 with highly-regarded Crespi looming in the fourth game of the Easton Southern California Showdown on Thursday.
Dillon Disiere threw two scoreless innings of relief and Chris Davies has a single, a walk and a stolen base and was one of the few mentionable offensive sparks for the Indians.
"Just an inexcusable loss for us, a really frustrating one," Coach Kiel Holmes said. "Our effort has gone backwards since the opener and that is not acceptable. We clearly have a long way to go before we are ready for league play we're just going to have to get back to work and figure it out."