Carlen Stepanian turned himself in to Burbank Police on Friday, September 13, at the BPD Lobby. He was arrested for an outstanding warrant for attempted murder and booked at the BPD Jail. He was transferred to the Los Angeles Sheriff's Department County Jail and is in custody.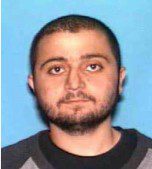 Mr. Stepanian was sought for attempted murder for a shooting that occurred September 5, 2013, on the 900 block of Fairmount Road. He fled the scene and has been the subject of an ongoing investigation.
Police were alerted to the shooting after officers stopped a speeding vehicle on Olive Ave. at 11:37 p.m. near Parish Pl. The vehicle occupant reported to officers he had been shot and was rushing to the hospital. Paramedics were called to the scene and treated the victim for a gunshot wound to his foot and then transported him via ambulance to Providence St. Joseph Medical Center.
Burbank Police have not released any additional information about the incident. Read myBurbank.com's original reporting on the shooting. Mr. Stepanian's bail is set at $1,000,000 and he is due in court today, September 17.