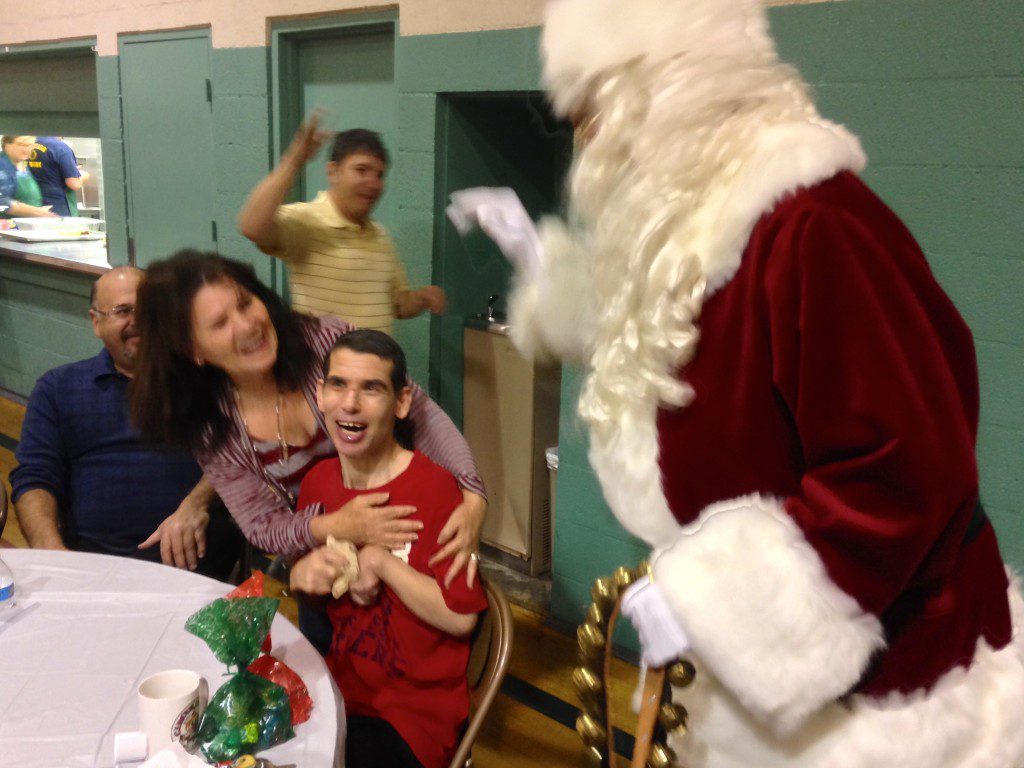 Last week, holiday magic filled the gym at Emmanuel Evangelical Church for over 60 special needs adults served by BCR. They enjoyed an Italian dinner with their families, sang and danced to songs of the season and received presents from Santa himself.
"It's our favorite night of the year," said Burbank Rotary Sunrise President Beth Anderson. "Seeing the joy in the faces of BCR clients reminds me of the joy I felt as a child during Christmas." For Burbank Noon President-Elect Jessa Freemyer, who has a developmentally challenged relative, the holiday event "is near and dear to my heart. Seeing the ecstatic faces of the people when Santa gives them their gifts really means a lot."
The Gentlemen's Octet from Burbank High was a musical highlight of the dinner, as well as perennial favorite Piya Tolani, whose spirited singing always gets BCR clients to put on their happy feet. Piya also doubles as Santa's number one elf when it's time to pass out the gifts.
The breakfast Rotary club and Burbank Noon Rotary have been putting on the BCR Holiday Dinners the past 20 years. For the past five years Burbank Sunrise Rotarian Mary Gilbert has been the event's Chairperson, marshalling Santa's Rotarian helpers to make sure that Santa has something special for every BCR client. Mary became hooked after attending her first BCR Holiday Dinner, when she saw how happy everyone was. "I've had a good life. I've wanted to give back to the community, and this is the best way to do it."