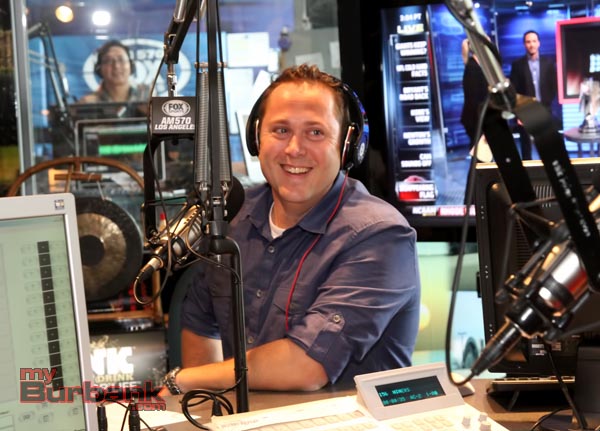 By Dick Dornan
MyBurbank Sports Editor
It wasn't a matter of time if Tim Cates would be successful; it was a matter of when. From the baseball diamond to the studio, Cates has been a smash hit.
The 1996 Burroughs graduate has risen through the ranks of sports talk radio and become one of the elite producers in the profession. He currently produces one of Los Angeles' hottest sports talk radio programs, The Petros and Money Show, on AM 570 Fox Sports Radio.
The foundation for Cates' rise to prominence began during his senior year at John Burroughs High School. He credits playing football under former Burroughs coach Robert Dos Remedios as a major reason for his success. Discipline, focus and hard work were instilled in Cates in the fall and carried over to the spring when he became an All-League and All-CIF performer for the Indians.
As the starting catcher for the Burroughs' baseball team, Cates batted .489 as a senior and drove in 18 runs. Behind the plate he committed only one error while managing a strong pitching staff. His ability to lead by example and be a reliable battery mate foreshadowed a blossoming sports career on the horizon.
Now 17 years later, Cates oversees a show that lights up the airwaves as much as it does on the fourth floor studio room along Olive Ave. here in Burbank.
Alongside talk-show hosts Petros Papadakis and Matt "Money" Smith, studio engineer Ronnie Facio and assistant producer Michelle Gonzalez, Cates is enjoying the best time of his young life.
"I love this job. It's probably the best show I've worked with. We just have a good time," Cates, 35, said. "These guys are great. We all have the same interests and we all like the same sports. They love me and I love them. They are what sports talk radio is about now. They are young, fun and exciting. It's a tight-knit group."
Following the lead of their producer, Papadakis and Smith have captured the imagination and interest of the sports world with their energy, enthusiasm and infinite wisdom of sports knowledge.
Just spending an hour up close watching and admiring two of sports talk radio's most popular icons makes you want to get behind the microphone yourself and share stories and personal opinion.
Cates, Facio and Gonzalez work behind the scenes with all the bells and whistles of a studio room that truly makes you appreciate the amount of time and attention to detail that goes into the production of a show.
The crew is simply a well-oiled machine that takes Los Angeles by storm from 3 to 7 p.m. Monday through Friday.
"The best thing about it is that it's different every day. The great thing about sports talk radio is that sports are happening at night and the next day we are talking about it," Cates explained. "It's constantly changing and it's never a dull topic. Topics are always changing; guests are always changing. That makes it fun."
While it takes a team to come together and bring the show to life, there is no question the backbone of The Petros and Money Show is Cates. His ability to organize the show's daily schedule, set up phone interviews, interact with incoming callers and keep the show running smoothly is a direct reflection of the success of the show itself.
"It's always quality programming and that's in most part due to Tim. He's meant a great deal to the show," Papadakis said. "When Tim came over, we went to another level. Tim is very organized. He cares deeply about the show. In sports talk radio, it's important to have a producer that way. Tim is very detailed-oriented who loves the show and takes a great deal of pride in his work. He's very creative and is a very capable broadcaster in his own right."
"Tim's a great producer. He's great at bringing the show together," Smith added. "He's phenomenal at tracking down guests. He's relentless and will go after anyone. It's not an easy job. A thankless job to some degree. Petros and I will get celebrated for having a big guest that comes on. It's really all on him for bringing it all together. He wants to make sure it's a great show and he's very good at that."
Burroughs Years-
The journey for Cates began when he followed in his footsteps of his father and brother and attended Burroughs. He played baseball for four years but it was in the fall of 1995 when Cates took the leap of faith that would transform his life.
After a subpar junior season where he batted a mere .137, Cates joined the football team and dedicated himself to improving the intangibles that have brought him to this point. With a renewed sense of confidence and commitment to self-growth, Cates became the person and player Burroughs coach Jose Valle expected him to be during his senior campaign.
"It was the greatest improvement from one year to the other for any player that I had here," said Valle. "The transformation was not just the improvement in his numbers; he came out his senior year as a man."
Born and raised in Burbank, Cates looked back at his senior year in high school as the defining moment in his career.
"Burroughs taught me the focus and discipline that you need in this profession. Hard work and discipline; putting my nose down and doing a job. It got me focused and disciplined," Cates said. "In this business, things are always changing. You have to be on top of things.
"Coach Valle and Coach Craig Sherwood were both there and I owe a lot to those guys. I love baseball and I had a great senior year in baseball. When I was done playing, I realized my future wasn't professionally. I kind of lucked into finding sports talk radio, got an internship and the rest is basically history. It's been a great ride and I love it."
Professional Career-
The ride for Cates started as an intern in July of 1997 on AM 1150. Upon graduating from UCLA in 2000, he joined XTRA where he worked as a reporter and weekend update anchor covering Super Bowls, NCAA Final Fours, MLB All-Star Games and NBA Finals.
Does it get any better than that? Yes it does.
For four years, he worked on the nationally syndicated Tony Bruno Show as Executive Producer. In addition to PMS, Cates also currently hosts the pre-game and post-game show for UCLA football and basketball as well as serving as studio host for the Oakland Raiders broadcast for Compass Media Networks.
But it's his devotion to The Petros and Money Show, which debuted in 2007, that has garnered the respect of his peers. Cates has been producing PMS for the last two-and-a-half years.
"Tim is a great guy," said Facio, whose son Julian is a sophomore at Burroughs. "It's a fun show to work on. We have good relationships. How you hear us on the air is generally how we talk off the air.  We all depend on each other."
"Tim is a great guy. He is really good at what he does," added Don MacLean, a weekly basketball contributor on The Petros and Money Show.
Cates' weekly schedule is as demanding as it was mentoring the JBHS pitching staff in 1996. Even so, the number one priority is his family with wife Lesli, and daughters Ruby (10), Layla (8), and Sadie (5) at the forefront of his life.
"He's a great father and husband," Papadakis said. "It's hard to find somebody I've enjoyed working with more than Tim Cates. It's been a pleasure and a lot of fun."