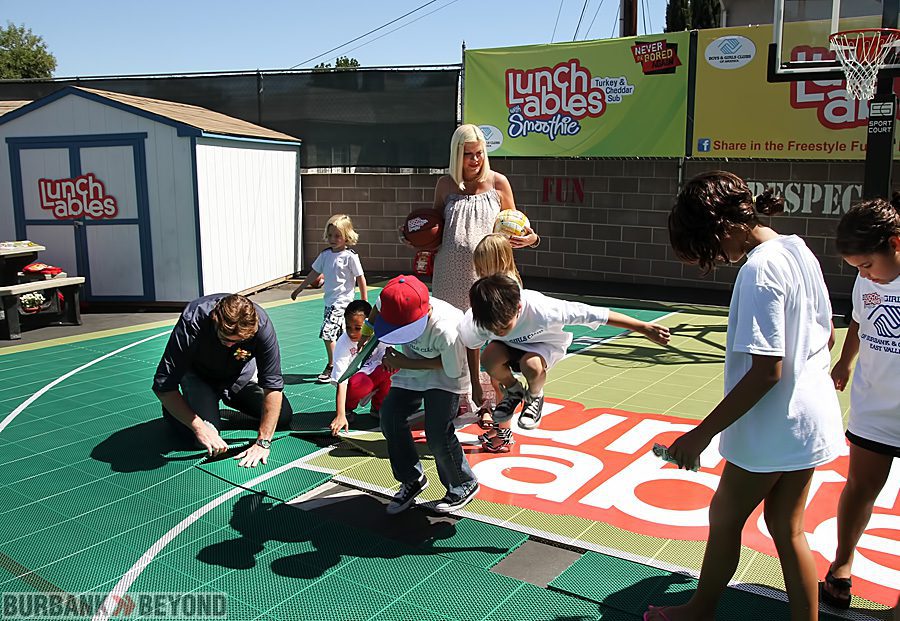 By Juanita Adame
BurbankNBeyond
Temperatures were hot here in Burbank on Tuesday afternoon and while most reporters, photographers, and those attending the "Never Be Bored Again" campaign complained about the heat, celebrity mom and actress Tori Spelling, did not.
Looking cool, collected, and (oh did we mention) very pregnant, Spelling visited the Boys and Girls Club in an effort to help promote the cause and inspire children to live a more active lifestyle.
She told reporters that she feels it is important to keep children active and creative, and said she loves to work on projects and crafts with her children: Liam, 5, Stella, 4, and Hattie, 10-months.
Accompanied by her husband Dean, two older children, Liam and Stella, the mother of three (soon to be four) helped pot some plants, install grid tiles into the newly renovated basketball court, all while talking to the crowd and answering questions.
The campaign will fund up to $100,000 to Boys and Girls Clubs of America and their sport and recreation programs. Spelling and the Lunchables team are inviting families to capture photos of activities that they have come up with to conquer boredom, visit the "Never Be Bored Again" application at Facebook.com/Lunchables, and upload their pictures.
Every photo that is uploaded from August 28, 2012 through October 15, 2012 will generate a $1 donation to Boys and Girls Clubs nationwide. After uploading their photo, consumers will receive a $1 off coupon for new Lunchables with smoothie while supplies last. For more information visit, Lunchables.com