"Home Front" is introducing spectators in Burbank to a moving historical story pertinent to present-day obstacles.

The play, which premiered at The Victory Theatre Center on Jan. 13, follows an interracial couple whose romance begins to bloom just as World War II comes to a close on Victory over Japan Day in 1945. The two navigate their relationship while facing heart-rending prejudice amid a post-war period that was hoped to ring in a new era of freedom.
Tony Award-winning playwright and longtime "Law & Order" franchise showrunner Warren Leight wrote the theatrical piece. The famous "V-J Day in Times Square" photograph, which captured a U.S. Navy sailor kissing a woman on this historic date, influenced Leight's writing as he imagined the potential outcome if an interracial couple had been in this position.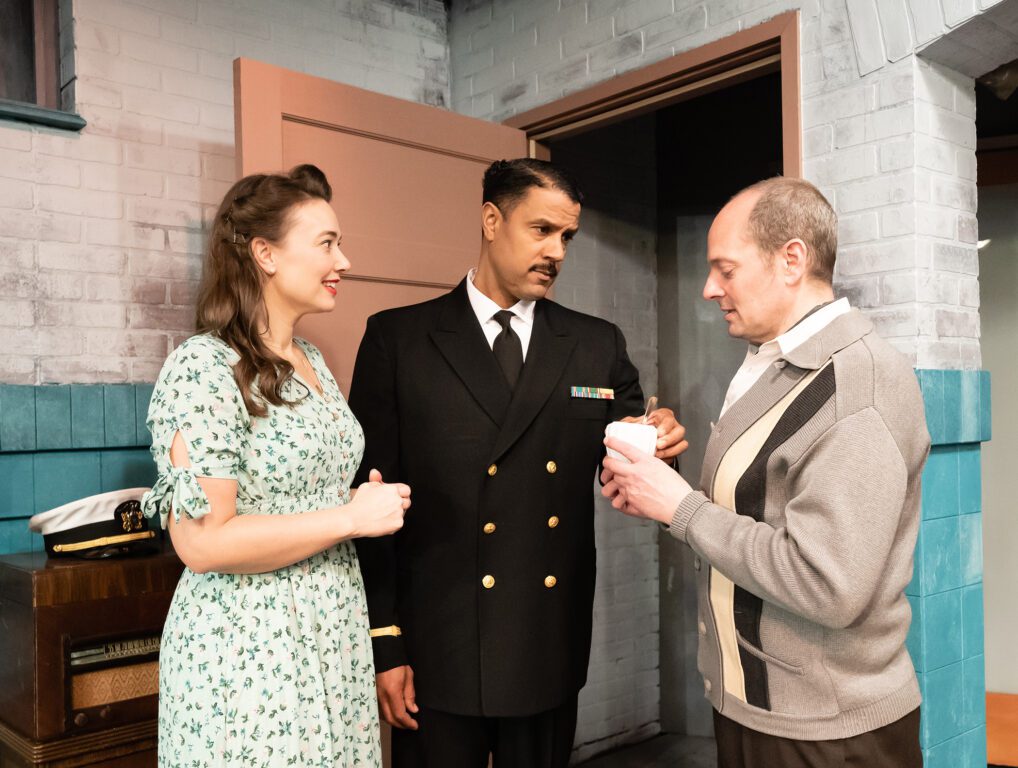 "That's the night of what was perceived to be infinite possibility. It's a night where the world will never be the same. Everything has changed," Leight said of V-J Day. "And I thought about that kiss sometimes, going, 'What would happen to that couple?' And then, 'What would happen to that couple if it was an interracial couple?'"
The pair at the center of the plot is Annie Overton (Austin Highsmith Garces), a white woman, and Lt. James Aurelius Walker (C.J. Lindsey), a Black naval officer. The experiences of these characters were in part inspired by the interracial parents of a childhood friend of Leight's. Edward Glimmer (Jonathan Slavin), a gay army veteran and neighbor of Annie and James, is the final lead character. This role is based on Leight's uncle, a WWII veteran who fought in the capture of Bitche. As Annie and James are met with upsets in their union, Edward provides support and comedic moments while living through encounters with homophobia.
Leight initially penned the story as a one-act play in the '90s, continued to write drafts in the early 2000s, and had a nearly-finished version of "Home Front" by 2004. The play had previous readings prior to coming to The Victory Theatre, including a 2011 reading at the Daryl Roth Theatre in New York City. In 2018, Leight tweeted about a "Home Front" reading taking place in San Diego, which was seen by Garces. The actor sent Leight a direct message in response asking for a copy of the play. In the years following, Garces continuously looked for a West Coast theater where "Home Front" could be produced. Co-founder of The Victory Theatre Center Maria Gobetti later reached out to Garces in search of a script about an interracial couple, and the play found a new home in Burbank.
After a series of Zoom read-throughs and subsequent rewrites, Leight traveled to Burbank for a handful of days in December 2022 to attend cast rehearsals at The Victory Theatre. This time gave Leight, Gobetti, and the rest of the cast and crew the "great gift," Leight says, of thoughtfully analyzing each scene in preparation for live audiences. The professional collaborations between Leight and the "Home Front" Burbank team were consistently harmonious throughout the rehearsal process.
"She was fantastic. She has more energy than I can conceive of," Leight said of Gobetti, who is the director of the project. "And she just kept it focused and kept everything moving forward."
Meanwhile, Gobetti describes Leight as someone who "is so easy to work with and so tuned in." She notes that the cast and crew are "all wonderful," from their three performers to team members like set designer Evan Bartoletti, stage manager Cody Hathcock, and costume designer Carin Jacobs.
"Home Front" touches upon topics that are personal to its stars. Garces is in an interracial marriage with actor J. Teddy Garces, Lindsey was born to an interracial married couple, and Slavin is an LGBTQIA+ activist. Their intimate knowledge of the circumstances and themes explored in the production further contributes to the genuineness of the compelling performances by these actors.
"They're a lovely cast," Leight said before adding, "What I liked is I had people vetting the story from their firsthand experience and experience of their elders. … You want to make sure the voices seem authentic."
Whereas Leight says the subject matter of the script was perceived as distant from life off stage when he completed it years ago, the sociopolitical climate in recent years has resulted in "Home Front" becoming more relevant than ever. The Respect for Marriage Act, which offers federal protections for both interracial and same-sex marriages, was passed by the Senate in November 2022, per CBS News, before being approved by the House of Representatives and signed by President Joe Biden in December. The now-law was accepted through a 61 to 36 vote by senators, with 60 votes being required for it to move forward to the House. Leight questions why this victory was achieved with such a narrow margin and concludes, "The reason it comes that close is this country still can't get past a lot of these issues." The post-WWII timeline of "Home Front" is germane to displaying how systemic racism and homophobia have shown themselves to be all too persistent in nature.
"The play takes place when the pendulum is swinging back, and it's swinging when the South is turning, Jim Crow is strengthening, and discrimination is strengthening," Leight said. "And we're going through another one of those horrible pendulum swings now. So if anything, the play resonates much more now than it might have 10 years ago or 15 years ago."
Through Leight's diligence in writing with historical truth, Gobetti adds that "Home Front" has sparked conversations regarding the past, the current state of human and civil rights, as well as what the future holds for social equality.
"Well, history is interesting, and this is pretty accurate," Gobetti said. "Warren really wrote a historically accurate piece, even though it's very, very dramatic and very funny. But history can repeat itself, so I think that's important for audiences to take a look at. By the end of the show, you really want people to stand outside talking, and that's what I'm seeing. They're lingering in the lobby and on the street and talking about the play. So I think it has a lot to say that has some social significance."
"Home Front" has been a hit with locals so far. It saw a sold-out opening night, three consistent nights of standing ovations over the course of its debut weekend, and continues to draw in crowds. The thought-provoking drama steers clear of instructing its viewers and is instead attentive to telling the story of its characters. Thus, observers are able to walk away from the show having gained an impactful outlook as each role represents marginalized groups in our culture.
"To be aware of sacrifices people made and are still making for just the extent of discrimination in our society – great if people think about that. But it's not a preachy play," Leight said. "It's a story of three people who are not members of the powerful in our country. And I think a lot of people can relate to that. … For people to see the story of these three characters, and then if they want to take these characters' stories and empathize and relate them to things going on now, that's great."
"Home Front" is playing at The Victory Theatre Center on Fridays, Saturdays and Sundays through Sunday, Feb. 19. Get tickets here.
To learn more about The Victory Theatre Center, visit its site here.