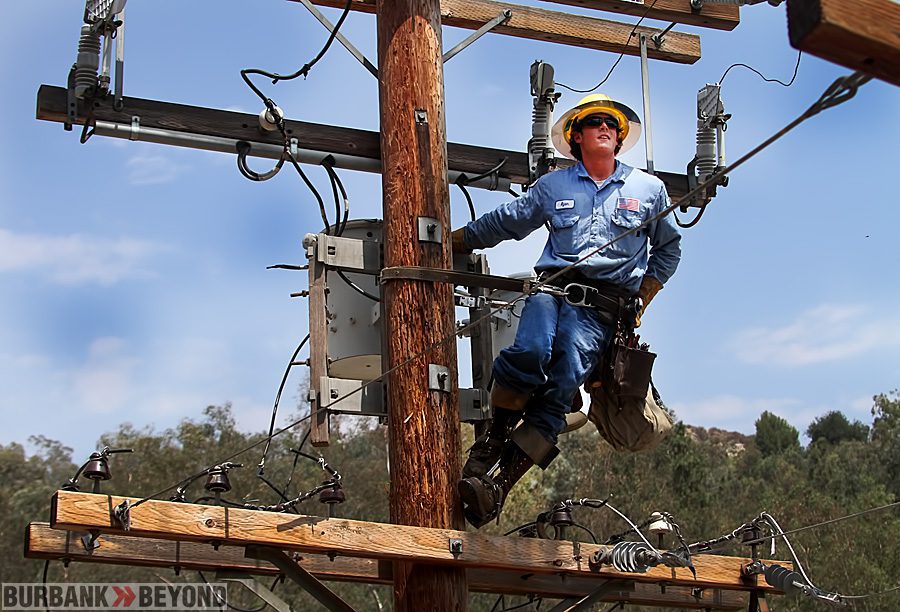 By Dick Dornan
BurbankNBeyond Sports Editor
High risk equals high reward. Each year lineman from throughout California strap on their jeans, leather gloves, hard hats, and steel spikes to test their skills in a competition of speed, accuracy, safety, and intelligence in the Los Angeles Lineman's Rodeo. It used to be ranch versus ranch, now it is power utility versus power utility.
Burbank Water and Power (BWP) employees can claim bragging rights after taking home several trophies, including several first place finishes in the "Apprentice" competition, at the Annual Los Angeles Lineman's Rodeo. The winners were recognized at a recent ceremony at Burbank's City Hall.
"The guys take it seriously and have fun doing it. There is a lot of pride involved," said Tom Wilke, Electric Distribution Supervisor for BWP who also oversees the apprentice training program. "A lot of practice goes into it. Every event is based upon what could happen out on the field."
The electric lineman is the image we see tethered to a pole high above the ground in windy and rainy conditions, harnessing the power of electricity and corralling it into a wire. These are the people who make sure electricity is being transferred from the generating plant to our homes and businesses.
More than 25 teams from across Los Angeles converged upon Los Angeles Department of Water and Power's (LADWP) Truesdale Training Center in Sun Valley on April 28 to determine this year's champions.
Hosted by LADWP and International Brotherhood of Electrical Workers (IBEW) Local 18, the annual event showcases the extraordinary skills and physical abilities that power utility workers, such as those who work for BWP, use every day to keep power on for residents and businesses in Southern California.
The event is divided into two categories: Apprentice and Journeyman competition. Judges determine the score for each event based upon time completion and efficiency.
The Apprentice competition includes workers who are currently in training at their respective jobs. To become a journeyman at BWP, apprentices must train for three-and-a-half years preparing to deal with 4,000 or 12,000 volts on a daily basis.
"Our guys go through a pretty strenuous program," Wilke said. "We hire good guys. We know what type of person we are looking for."
The Apprentice competition consisted of five events: Apprentice Written Test, Sidewalk Guy, Transformer Jumper, Hurt Man Rescue, and Pole Climb. It not only tested the participants' skills, but also their intelligence. BWP's sole apprentice team, consisting of Ryan Reid and Cody Cessna, came back from the event with several awards including first place in the Sidewalk Guy and Transformer Jumper events, second place in the Pole Climb event, third place in the Hurt Man Rescue event, and they topped it off when they were awarded first place in the overall category.
"I was excited that's for sure," said Reid, who has won the overall Apprentice title the last two years. "I had an idea because we were doing well throughout the day. There is a ton of pride and we love our jobs. We wanted to bring it home for BWP."
In the Journeyman competition, teams of three Journeymen (two people on the pole, one on the ground) participated in five challenging events including Dead-end Change, Crossarm Change, Switch Change, Emergency Response Hurtman Rescue, and Pole Climb. BWP had two Journeyman teams in the competition.
Both teams performed at a consistent high level throughout the individual events resulting in a second place overall finish by the team of Howard Hull, Tim Pedersen, and Adam Lewis while their counterparts Kris Bomdahl, Edison Rosas, and Jason Edwards placed fourth overall. Both teams received perfect scores for the entire competition resulting in tiebreaker ranking via their overall accumulated times.
"We are successful because of the way we run our apprentice program," Wilke explained. "Everything we do is under the supervision of journeyman. We've been doing this for some time now."
LADWP employee Ted L. Dario founded the Lineman's Rodeo in 1991 to provide a forum where linemen could receive recognition for their technical craft skills. It also presents the opportunity for linemen to focus on the importance of safety and safe work practices.
Each year, the winning teams of local rodeos are given the opportunity to participate in the International Lineman's Rodeo competition held in Kansas City, Missouri, on October 13. Teams from the United States, England, Australia, Canada and Jamaica compete for the honor of world's greatest lineman. The Rodeo has grown to over 200 teams and 250 apprentices.
"I would like to go," Reid, 25, said. "I want to represent my utility and show how good Burbank is."