By Dick Dornan
MyBurbank Sports Editor
Behind a 27-point second quarter outburst and a tremendous individual performance from James Williams, the Burbank High football team made a loud statement to the Pacific League with a resounding 50-12 victory against visiting Inglewood on Friday night at Memorial Field.
Burbank is averaging 49.3 points per game and allowing a modest 11 ppg through its first three contests of the year. They have put 115 points on the board the last two weeks while giving up just 19.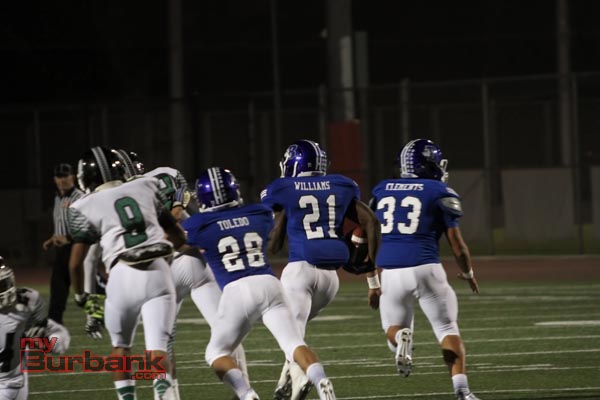 Williams accounted for 274 all-purpose yards and four touchdowns as the Bulldogs finished non-league with a 3-0 mark.
The sleek-footed junior scored twice on the ground, once on a reception and brought the crowd to its feet on a school-record 99-yard kick-off return for a TD. Three of his touchdowns occurred during a memorable second quarter.
"Our guys came in and stayed focused. They backed it up today," Burbank coach Hector Valencia said. "Our defense bent a little but never broke. They had a great attitude and they hit hard all game. And I was proud of our running game. It was a good effort all around."
On its first possession of the game, Burbank drove 61 yards in six plays highlighted by a 39-yard scoring strike from quarterback Ryan Meredith to Martin Caro. The extra point was missed leaving BHS with a 6-0 lead only three-and-a-half minutes into the game.
The Bulldogs defense, which caused three turnovers on the evening, held the Sentinels in check throughout the first quarter forcing three punts.
Burbank began the second period on its own 45 and quickly went to work. On third and 12, Meredith completed an 18-yard pass to Williams. After an unsportsmanlike penalty against Inglewood, Meredith connected with Oharjee Brown who made a nice grab over the head of a defender.
Williams then scored his first touchdown of the evening on a 4-yard scamper. The 2-point attempt failed and the score remained 12-0.
Inglewood followed with a three-and-out series punting the ball back to Burbank for a fourth consecutive time.
The Bulldogs faced third-and-six from the Sentinel 26 when Meredith threw a pass to Williams who out-jumped two other defenders for a touchdown. The 2-point conversion was good and Burbank extended its lead to 20-0 with 7:52 left in the first half.
The Sentinels found the end zone on a 2-yard quarterback sneak at the 4:46 mark. The 20-6 deficit lasted just a few seconds when Williams took the kick-off and sprinted up the middle and saw nothing but green turf in front of him for a 99-yard jaunt into the history books.
"My whole plan was just to go through the middle. And I wasn't slowing down. I was thinking green and I'm gone," said Williams.
With the crowd still buzzing following Williams' electrifying run, the Bulldogs defense rose to the occasion again intercepting an errant Inglewood pass. The pick gave Burbank great field position and moments later James Pendleton scored easily on a 2-yard run. The Bulldogs went into halftime with an insurmountable 33-6 lead.
Burbank began the second half where it left off driving 93 yards in seven plays and making it 40-6 on a 4-yard run by Caro.
Williams capped off a phenomenal ball game when he busted loose for a 49-yard run to pay dirt and a 50-6 advantage. He rushed for 93 yards on 11 carries and caught three passes for 67 yards.
"My effort was good but I think I have a lot of room for improvement," Williams said. "Our blockers have really improved in three weeks. They did most of the work and I just have to find my way through it."
Meredith completed eight of 17 passes for 176 yards and two touchdowns. Pendleton pounded away for 67 yards on 12 carries.
Burbank begins Pacific League action on Friday at Arcadia at 7 p.m. The Bulldogs appear to be a frontrunner for a league title after dismantling their first three opponents on the season.
"We are definitely ready for league. The whole purpose of the pre-season was to match up with teams we might see during league," Valencia said. "I thought we did an outstanding job of hopefully getting us ready."