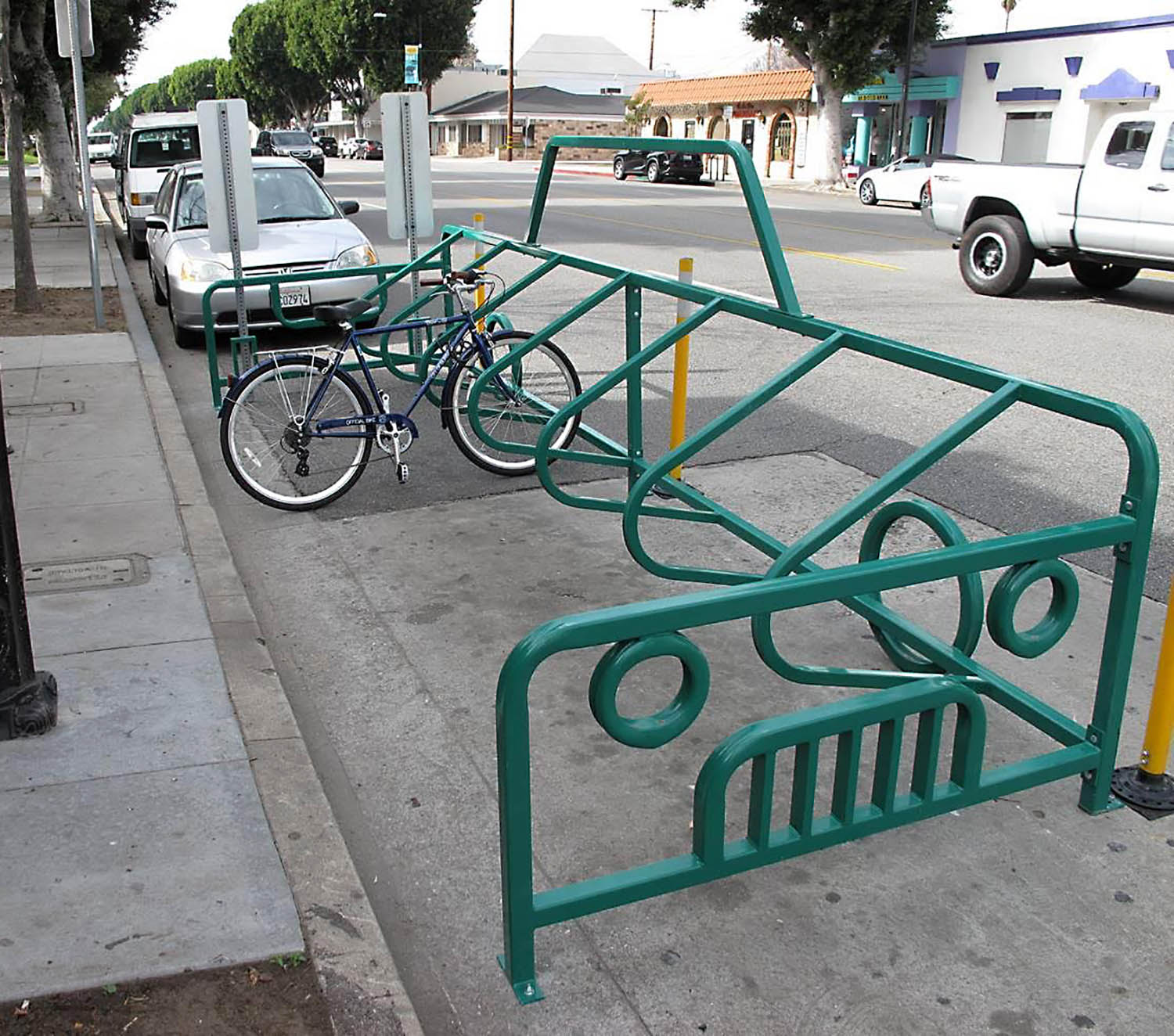 Looking much like a green four-door sedan parking along the 1700 block of West Magnolia, this one is noticeably different because it also contains a dozen or so neatly parked bicycles within it. Closer examination, however, reveals it's not an actual car at all, but a new bicycle parking corral recently installed by the City of Burbank as a trial pilot program.
Bike corrals are a new type of efficient on-street bicycle parking facility that can accommodate up to about 16 bicycles in the same area as a single vehicle parking space. They work best where sidewalks aren't capable of accommodating additional bicycle racks and in areas with both high levels of people bicycling and demand for bicycle parking.
When placed near street corners and transit stops, bike parking corrals can also increase visibility while creating an additional buffer between people walking or waiting for the bus, and people driving. This first pilot corral installation in Burbank was carefully and smartly planned to coincide with the busy Metro 183 bus stop on Magnolia at Reese Place. This stretch of Magnolia is surrounded by local residential neighborhoods and many adjacent restaurants, including unique retail and specialty shops, a costume shop and tailor, a dog groomer, a pet shop, insurance agencies and a very popular local craft-brew pub. This area can be defined as an ideal local bicycle-friendly location, one that is sure to benefit from 15 additional parking spots a bike corral creates.
More customers bicycling means stronger connections between local businesses and the surrounding neighborhoods. According to the Los Angeles Department of Transportation, customers on bikes are likely to travel shorter distances and visit storefronts more frequently. Because bicyclists travel at a slower pace they are more inclined to notice small establishments than someone who is speeding by in a car.
Although this new bike corral pilot program is a recent first for Burbank, bike corrals have been around for many years and are also a successful part of LADOT's toolkit for safer streets. Once this program becomes implemented locally throughout Burbank, placement and ownership of the corrals will be the primary responsibility of the City of Burbank, but interested merchants will then also be able to request parking corrals for their particular area.
"The purpose of the bicycle corral pilot is to determine if there is a demand for these types of bicycle parking facilities and to see how they operate in the real world along our commercial corridors. While bicycle corrals won't solve all our parking problems here, providing different ways to travel to businesses on these parking-impacted streets is certainly one part of the solution. If the test is successful, the City will consider developing criteria for installing these in other neighborhoods throughout the City," explains David Kriske, Deputy Director of Community Development, Transportation.
If a business or commercial area thinks a bicycle corral might be appropriate for their business or businesses, or if they are interested in the outcome of this pilot parking program, they are encouraged to contact the City of Burbank Community Development Department Transportation Division and will be included on a specific interest list for further information and specific parking corral program results.
Streets that are more bicycle-friendly make it possible to get around one's community without starting up a car or needing a full-size parking space. Bicycle-friendly business districts not only make it cheap and convenient for people who choose to bike, but they also make life easier for those who still need to drive by reducing the number of cars on the streets and auto parking spaces needed. By encouraging people to bicycle for short neighborhood trips, these types of municipal amenities, such as convenient and safe bicycle access makes their streets more pleasant and convivial places to be.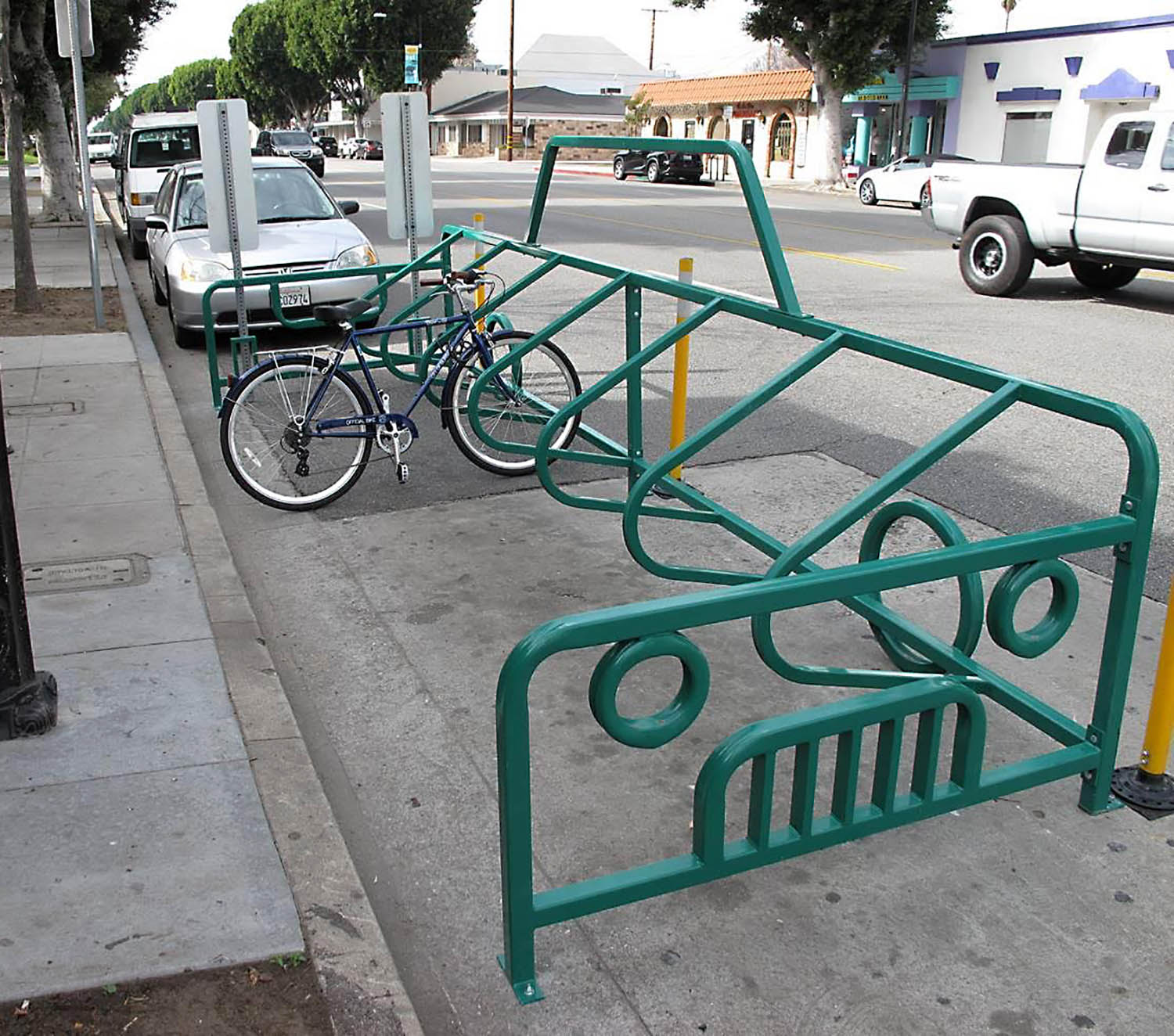 The City of Burbank continues to support active transportation alternatives and programs that benefit everyone in Burbank. Continued municipal support of alternate ways to travel to businesses everywhere throughout the city is a fundamental part of the solution. This is a positive step towards an integrated solution of alternative transportation choices for Burbank.