By Jim Riggio
There aren't many that have made it to the Major Leagues from Burbank and Burroughs highs. In fact, there are five total between the two schools.
Both schools lost one of their former major leaguers recently as former Bulldog Frank Sullivan died at 85 in Hawaii on Jan. 19. Less than a week later, Burroughs lost one of its best baseball players ever as Ron Stillwell died Jan. 25 after a bout with cancer.
"As it is for all USC Trojans, Dad's mantra was Fight On!, and he did so up until the very end," Stillwell's family said in a prepared statement.
A starting pitcher, Sullivan spent much of his 11-year Major League career with the Boston Red Sox, who elected him into their Hall of Fame in 2008. In 1955, he was selected to the All-Star team and led the American League in wins, starts and innings pitched going 18-13 with a 2.91 earned run average. He was also a member of the American All-Star team in 1956.
Stillwell was a middle infielder who played in parts of the 1961 and 1962 seasons with the Washington Senators.
A right handed pitcher, Sullivan finished his career in 1963 with the Minnesota Twins. He had a 97-100 career record and earned 18 saves. His career ERA was 3.60.
Sullivan, who served in the Army during the Korean War in 1951 and 1952, lived on the Hawaiian island of Kauai for more than 50 years and worked as a director of golf for a number of courses after his retirement from baseball.
He is also known for being depicted in a Norman Rockwell painting called "The Rookie" that sold for more than $22 million in a 2014 auction.
Born in 1930 in Hollywood, he grew up in Burbank and credited his father for his success in a Society for American Baseball Research article.
"I grew up during the Depression, but my father always had a good job and he was always encouraging me to play sports," Sullivan said of his dad who worked for a cannery in Glendale. "He had been a pretty good athlete and he wanted me to compete."
Sullivan is survived by his wife Marilyn, son Mike (Leihina), grandson Kapono, and granddaughter Kea, son Mark and granddaughters Summer and Lauren.
Stillwell had 38 at-bats in his career and had eight hits, driving in three runs.
At Burroughs, Stillwell was the Study Body President and a member of the baseball and basketball teams.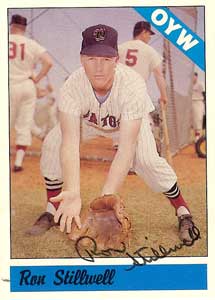 He moved on to USC, where he was the starting shortstop, team captain and a Pac-8 Conference selection in helping the Trojans win the 1961 National Championship under legendary coach and longtime Glendale resident Rod Dedeaux.
Following his playing days, Stillwell earned a Master's Degree, moved to the Thousand Oaks area and spent 34 years teaching and coaching in the Conejo Valley Unified School District.
He also coached at the collegiate level, serving as head baseball coach at California Lutheran University, known then as California Lutheran College and Moorpark Junior College. Stillwell was also a coach with the United States National Team.
He achieved a prestigious distinction in the 1980s when his son Kurt became the second in the family to reach the Major Leagues, doing so with the Cincinnati Reds.
Ron is survived by his wife of 55 years, Jan, and their three sons Scott (Teresa), Kurt (Angie), and Rod (Valerie), 5 granddaughters and 2 grandsons. He also leaves behind his younger brother Randy.