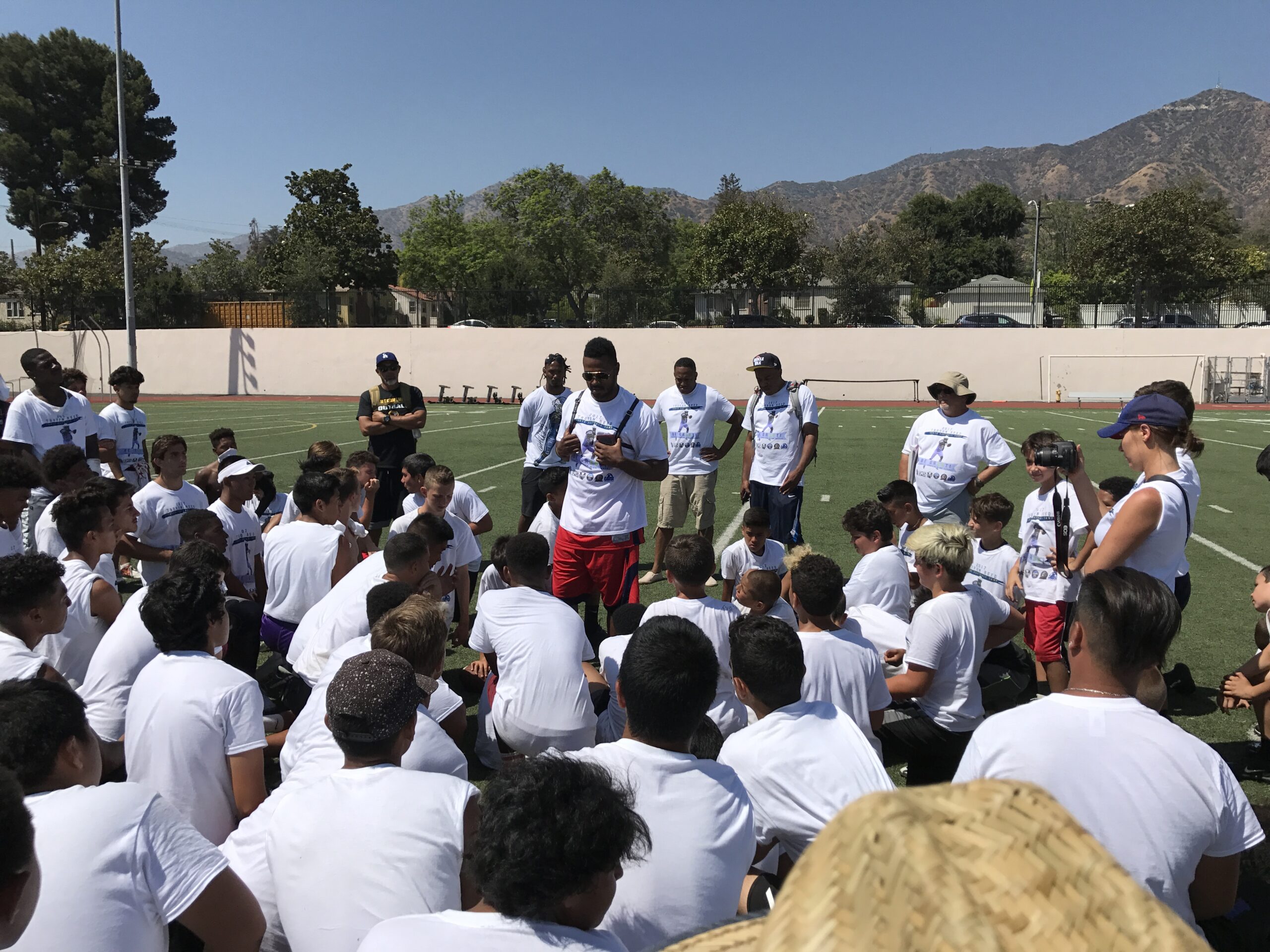 Some people travel far and spend lots of money on football camps. Several Burbank and Burroughs football players took advantage of the fact that they didn't have to do either of that Saturday.
Los Angeles Chargers defensive back Trovon Reed held a free football camp at Hoover High in Glendale.
"I got a lot of good work," Burroughs David Lennstrom said.
Burroughs defensive back Evan Osegueda said he liked the advice Reed gave.
"He said keep working hard and believe in yourself," said Osegueda, who said he was able to work on his footwork.
Burbank High receiver/linebacker Drew Pendleton also attended.
"It was cool. I had fun. There was good competition," Pendleton said.
At the conclusion of the event, Reed spoke to the group of well over 100 players and encouraged them to be stayed focused. Reed, who played at Auburn University, had a rough upbringing and had been released five times before having a career breakthrough at the end of last season.
Reed, who was in high school when his mother died, said he made her a promise.
"I could have easily said I'm going to do what everybody else is doing and go sell drugs, break into cars and join gangs. I had a vision before my mom passed," Reed told the campers. "Before my mom passed I was like a 2.0 student. She told me, 'Son do something with your life.' As a kid I was like Cs are good enough, I'm passing. (After) my mom passed, I graduated college in three years with a 3.7. I was able to play whole senior year without having to go to one class. I put everything I had into football."
Reed's breakthrough came when he had interceptions in back-to-back games.
One of the interceptions came against his college teammate and former Heisman Trophy winner Cam Newton. He intercepted Raiders quarterback Derek Carr the following week.
Reed became a defensive back late in his college career after starting as a receiver. He was a quarterback in high school.
"I believe it starts with believing in your parents. Listen to your coaches," Reed said. "If he tells you to tackle somebody, tackle him. If he tells you to right in class, do right. If he didn't do right in class, he wouldn't be your coach, he wouldn't have an education."
Reed also encouraged the campers to never give up their dreams.
"I've been cut five times from the NFL. I could have gave up then. I was at a point where I got cut a fifth time and I was like should I give this up," Reed said. "I could either make $40,000 a year or make $40,000 a week. Right then I snapped up and said I can't give up -$40,000 a week. It doesn't get any better than that. To play something I love. I'd play for free. It's not about the money, it is about the love. You have to love this game."