The Burbank High School Drama Department presents Crush, a science fiction comedy drama, live via Zoom on Friday and Saturday, April 2 and 3. A second weekend of shows will also be performed on Friday and Saturday, April 9 and 10.
Written by Stephen Gregg, Crush is set in a small California town and focuses on the final production for a high school drama department. Young Bark Melon becomes convinced his audition for a role is thwarted by the new kid, who, he discovers is actually part of an advance team of aliens prepping for an alien invasion. No one believes Bark and he takes it upon himself to try and stop the impending invasion.
"Last semester, Play-Pro created our sketch comedy show, Kids Offstage," commented Drama teacher Donovan Glover. "We all wrote, designed, directed, and edited the show."
"That was a difficult experience, not ever actually seeing one another in person, but it came out great. We're super proud of it," Glover continued. "That being said, everyone was craving again to do something live. It is tough for anything to replace that nerve-wracking thrill when something is happening now before an audience."
Burbank High Drama has been in production for Crush since mid-January, conducting rehearsals on Zoom during weekday afternoons.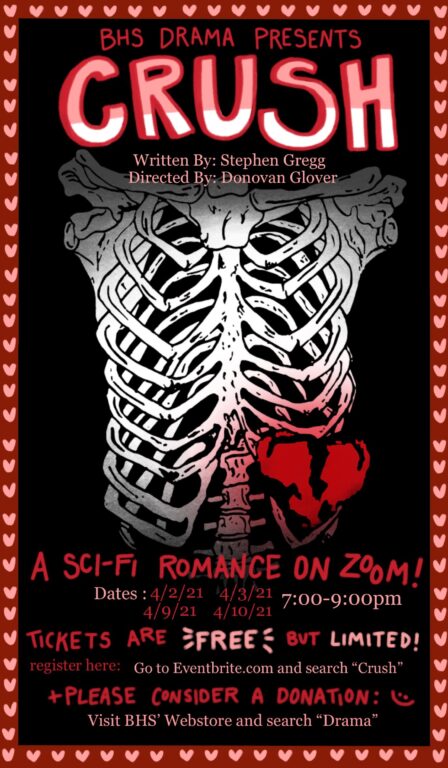 Twenty-seven students from Burbank High are involved in the show, with the majority from Glover's Play Production class. Two students from Intermediate Drama class are involved with makeup and costume crews.
The lead roles are doubled, Glover explained and all students have two major duties for the production with the actors also handling the digital playbill, poster design and promotion, set and lighting (backdrop and Zoom lighting), costumes, makeup and sound.
"We are running sounds off a digital sound board system that I purchased. I've a student stage manager who is borrowing a computer of mine, and running this tech from her home," Glover said as he discussed some of the challenges putting on a live performance via Zoom.
"It's all so weird though, Zoom only picks up the single loudest sound at the time. So we can have no music/sound and actors speaking… no talking over each other, etc."
Because all four shows of Crush will be streamed live on Zoom, with a capped capacity of 100, and 27 of the spots are taken up by the cast, only 73 spots are available for each performance.
"When folks reserve one of those 73 spots with Eventbrite, they receive a confirmation. Then, the day before their show, they get an email with our digital program and the link/password to the show," Glover added. "Of course, I'm keeping all toes and fingers crossed that this works! At any point, actors may freeze and/or cut out. Mics stop working. All this and more have happened during rehearsals."
"All we can do is pay homage to the spirit of Thespis and trust that our audiences will understand," he also said. "Though I've directed theater for thirty years, I've never done anything like this. This is a totally new experience for all involved."
The shows begin at 7:00 p.m. PDT and run for approximately two hours on April 2, 3, 9 and 10. Those interested in reserving a spot may do so via this Eventbrite link. The show is free but a suggested donation of $15 is recommended and can be made via the Burbank High online webstore.