Next time you are walking down an aisle at Walmart, don't be surprised to see a small robot also wandering down the aisle beside you.
Walmart officials have expanded a pilot program that started in Pennsylvania three years ago into Burbank that is designed to handle the repeatable, predictable and manual task of scanning shelves for out-of-stock items, incorrect prices, and wrong or missing labels.
Burbank has been chosen as one of four Southern California stores to undergo the test.
The automated unit, produced by Bossa Nova Robotics in California, uses artificial intelligence to find products that have sold out on the shelf, may be out of place or make sure products have the right prices attached.
At first, the robot travels the aisle of the store (at this time only doing dry goods) and 'maps' out different sections. "Once the robot is activated from its charging station, it is able to travel up and down isles'" said Martin Hitch of Bossa Nova. "Once the robot is activated it will travel up and down the aisles scanning the shelves. If the robot comes to an aisle that looks crowded with customers, it will automatically skip that aisle, move onto another and come back when that aisle is less crowded".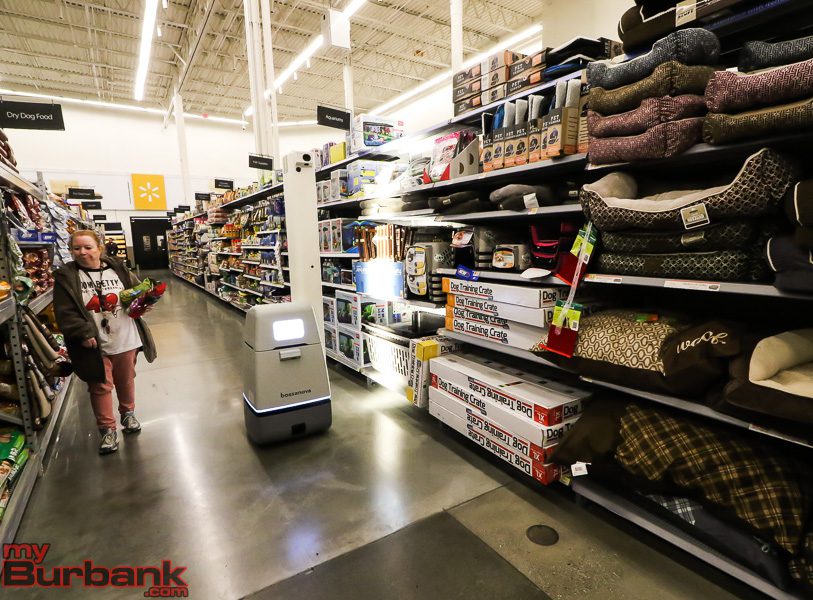 If you are wondering why they just do not deploy the robot during hours the store is closed to make it easier for the robot, Hitch explained, "If you scan the shelves during the time the store is open and customer are purchasing items, you will be able to tell quicker if an item is out of stock and the software will notify the store so the item can be restocked immediately."
According to Tiffany Wilson, Director of Communications for Walmart, the robot is not designed to replace humans.
"While this is more efficient we are not looking to replace our workers. In fact, it will open up new jobs for people to read the data the robot sends in." If there are any redundancies, workers will be retrained in the new technology. "This new shelf-scanning technology provides near real-time views of what areas of the store need the most attention and frees up associates to focus on serving customers."
The robot travels about one-half mile per hour so it does not come up on an unsuspecting shopper without warning. It also admits a subtle sound so people will know when it is nearby.
The robot can run up to three hours at a time before automatically returning to its charger.