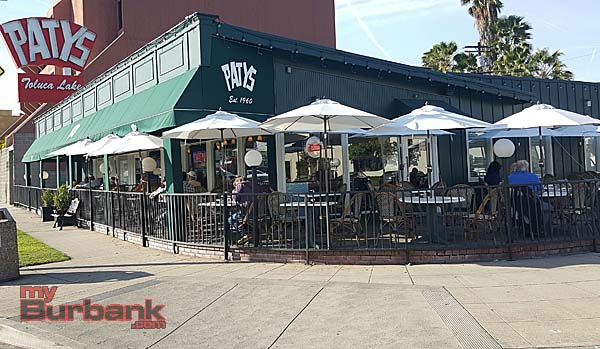 While it may not be exactly in Burbank, No restaurant can be closer with Patys being on the corner of Clybourn and Riverside Drive.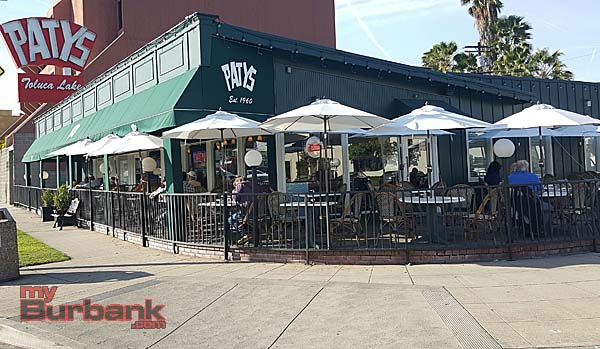 Patys has been there since the golden age of Toluca Lake and many times you can see some of Hollywood's elite there. While most of the food is very well and prepared there, we are after the burger.
We decided to go after the Build Your Own Burger for $10.49. I went with the only real meat offering, the half pound ground chuck and picked the brioche bun. For 50 cents more I added cheddar cheese and avocado cost an extra $1.
Once the burger came it looked as ordered. It was cooked medium rare per my instructions but there was not really anything that stood out about it.  Everything was to order, but the cheddar cheese did not look plentiful although the avocado was.
While the bun was slightly toasted, the patty was laying on the bottom bun which is always a scary thing but during the entire time did not self destruct.  The disappointing thing was the bun was dry and only ketchup and mustard was available on the table. We asked for a side of thousand island just to add some flavor.
Overall the burger was good, but not great. I just felt that I was eating an ordinary burger that was just another item on the menu. Nothing special about the taste. Everything tasted fresh, the bun was nice and soft and the patty cooked the way I liked but it was just above average only. I liked it, just did not love it.
Side Notes: Tried the Cheese Quesadilla which was excellent. The cole slaw was also good. The shoestring fries were well done and I enjoyed them.  The real highlight of the day was the dessert which consisted of their coconut cake. One thing about Patys is that they bake their own cakes right there. While some of the other desserts are brought in from the outside, the cakes are not and taste fresh and moist.  Make sure you ask your server which ones were made that day for the ultimate cake experience and you should also order that glass of cold milk to go with it.
Patys is located at 10001 Riverside Drive, Toluca Lake– 818 761-0041. Open Monday through Sunday 7 am to 10 pm
Patys receives: On the Marquee

myBurbank Ratings:
Tops In Town (Outstanding)
On The Marquee (Really Good)
Could Use A Rewrite (Average or Slightly Below)
Don't Quit Your Day Job (Poor)
If you would like us to consider a location for a review – let us know HERE