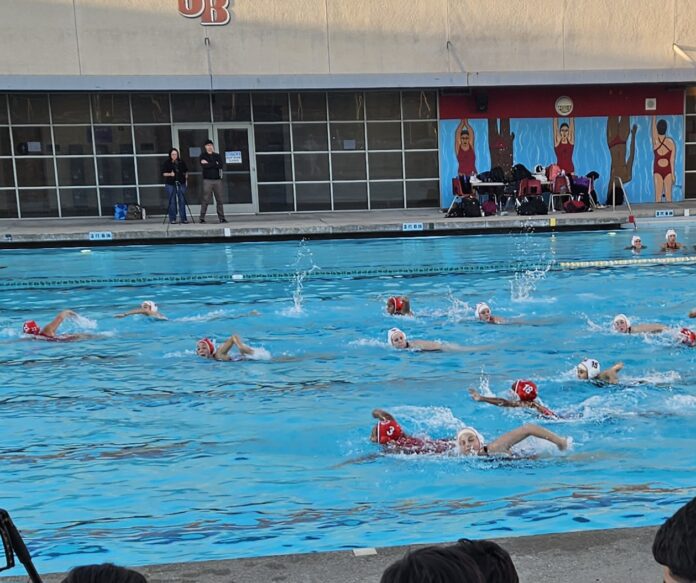 By Rick Assad
It looked dire because it was, and the odds were clearly stacked against scoring a goal with just three seconds left in the nonleague girls' water polo match between host Burroughs High and South Pasadena on Tuesday afternoon.
Throw the odds out the window because Ava Tomlinson found a way to get off a 25-yard bullet past the goalie and into the net as time expired and handed the Bears an incredible 8-7 win in the season opener for both teams.
Then again, Tomlinson came into the last few seconds having scored four goals and delivered the clincher when it mattered the most.
"Ava stepped up big for us when we needed that last goal," Burroughs co-head coach Martin Ortega Jennison said of his most polished scorer. "She will be a key to our future with this team."
Tomlinson scored in the first, third and fourth periods and was responsible for a match-high five goals.
South Pasadena's Ruby Meyer accounted for four goals including two tallies in the third frame.
The match was tied 2-2 after the first period, 3-3 at halftime and 6-5 in favor of the Bears (1-0) through three periods.
"We had a lot of goal-scoring opportunities through the center and some younger girls stepped up into roles as needed," Ortega Jennison said. "It's a rocky first start to the season but with a lot more games ahead of us we should be looking a little more in sync with one another."
Tomlinson's five-yarder with 5:29 left in the third made it 4-3 in favor of Burroughs, which outshot the Tigers 32-28 in the match and 16-15 at the intermission.
The Tigers (0-1) were about to roar as Meyer knocked in back-to-back goals and they came with 3:59 left on a seven-yarder that evened it at 4-4 and thirty-four seconds later Meyer canned a five-yarder for a 5-4 South Pasadena advantage.
Tomlinson came to the rescue with a nine-yard tally and 1:36 showing in the frame to level it at 5-5.
Ana Zubkoff hammered in a five-yarder for the Bears with 42 seconds left on the clock for a 6-5 lead.
Tomlinson's 12-yarder and 4:00 left increased the margin to 7-5 but the Tigers were not about to close shop as Hayun Lee's 11-yard toss and 3:32 left sliced the margin to 7-6 and Meyer's five-yarder evened it at 7-7 with 2:02 left on the ticker.
Tomlinson kicked off the scoring with a 10-yarder as 6:40 remained in the opening frame for a 1-0 lead and the Bears' Audrey Willett knocked in a winner from seven yards with 5:05 left for a 2-0 lead.
Amaya Mahler answered for the Tigers with a five-yarder and 2:15 left in the first quarter that trimmed the lead to 2-1 and Meyer's four-yarder with 1:26 showing evened it at 2-2.
Only two goals were scored in the second period and they came from Gigi Jancezski on a five-yarder for the Bears and 6:09 left for a 3-2 lead.
South Pasadena's Cora Bild then launched a 12-yarder with 25 seconds on the clock that tied it at 3-3.