By Dick Dornan
BurbankNBeyond Sports Editor 
After winning a third consecutive league title a year ago, the Burroughs Indians softball team faces its toughest challenge in 2013. In order to "4-peat" and remain champions of the city, Burroughs must hold off a determined and talented Burbank squad as well as Crescenta Valley and Arcadia.
Defending its title will not be easy. But for Coach Doug Nicol, he wouldn't have it any other way.
"We've kind of set a standard really high that it would be an insult to the girls who participate in this program if we don't think about winning a fourth league title in a row," Nicol said. "Until someone knocks us off, then they are going to have to come and beat us to get it. We are not going to give it to them. My expectation is to win a league title again."
Nicol, who took over the program in 2011 for Jose Valle, has all the pieces to the puzzle to defend the throne. It's just a matter of making them fit smoothly and most importantly, cohesively.
Referring to this year's squad as "very deep," Nicol will rely on a plethora of young talent to overcome the graduation of its top pitcher and catcher from last season.
"We have great depth. That is our strength," Nicol said. "We literally have two or three kids at any position that are capable of starting for almost any team in our league."
Burroughs returns eight lettermen including four starters from a 2012 team that went 24-4 overall and 13-1 in the Pacific League. Replacing All-League pitcher Haley Schulman and All-League catcher Shannon Trujillo are the first priorities of business for Nicol.
The lone senior on JBHS, Brice Edrington, and junior Cheyenne Steward, will compete for the No. 1 spot in the rotation.
"Neither of them have been the number one for us before. Until you turn the lights on and they pitch against the really good teams in our non-league games, you don't know how it will turn out," Nicol explained. "It's a matter of us as coaches being able to develop them into the pitchers we need. If we get the pitching, then the rest will follow."
Edrington, the team's captain, will have the opportunity to take the mound for the Indians despite not having pitched since the eighth grade.
"It means a lot actually. I decided to take on that role," said Edrington, a three-year varsity player. "I'm excited because I am the only senior on the team and it's going to be cool to bond with the younger girls. I've taken on the leadership role and I hope to lead them to victory."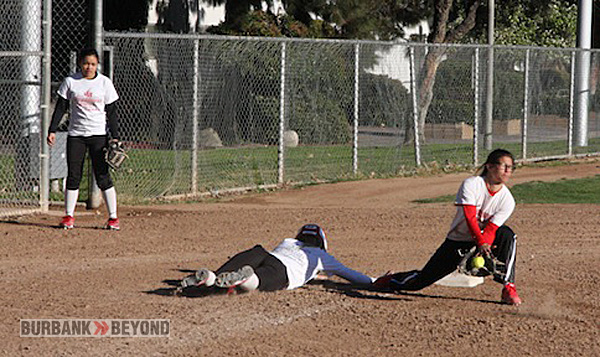 Her battery mate will be sophomore Michelle Santiago, a first-team all-league selection last season.
"She is a special player. She has all the talent in the world to be the best hitter in the league," Nicol said.
Junior Aimee Rodriguez, who will see time at first and third base, junior outfielders Sidney Ortega and Jessica Little, sophomore second baseman Delaney Nicol, sophomore shortstop Kailanie Oasay, and freshman Kaitlin Okimoto will also be counted on to contribute right away.
"We have a lot of talent out here. We need to stay strong mentally on the field, having the confidence out there and being able to take discipline," Edrington said.
Burroughs begins its season on Saturday against Westlake in the Simi Valley Tournament. The Indians will also participate in the "Duds by Dudes" Tournament in La Jolla during spring break.
The quest to win four league titles in a row starts on March 14 at Arcadia at 3:30 p.m.
"I'm super excited. We've won three straight league titles. And for the first time in a long time we are not the one with the bull's eye on our back," Nicol said. "Now everyone is talking about Burbank and Crescenta Valley. So I think it takes a little pressure off our kids because we've been the hunted. I'm excited because I think we have just a good a chance as anybody."
[nggallery id=96]