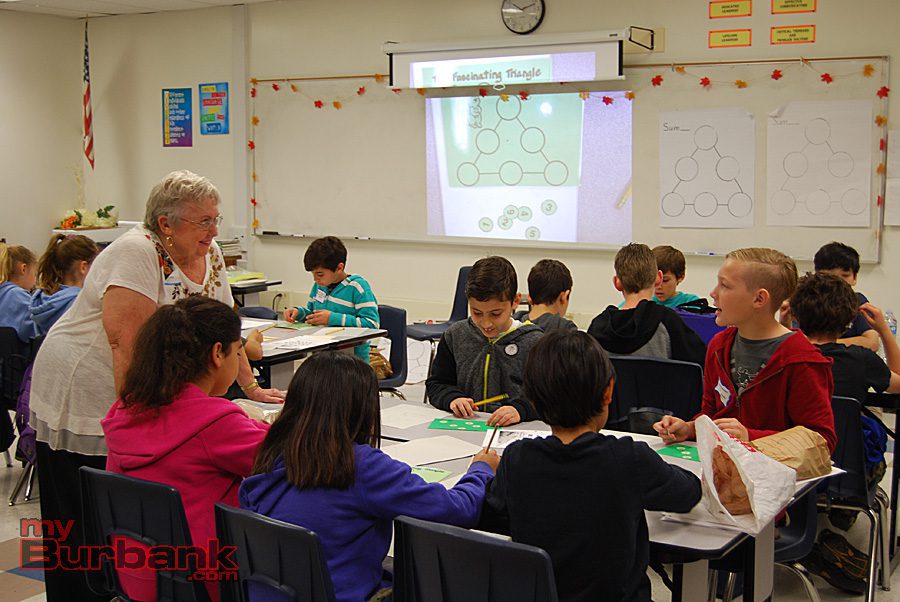 Elementary students in Burbank Unified's Gifted and Talented Education (GATE) program attended a day-long History of Math event recently at the Burbank Adult School. The fourth- and fifth-graders learned about three figures in the world of mathematics and got the chance to try out some brain-teasers and challenging puzzles as well.
Organized by Jill Johnson, Curriculum Specialist at Bret Harte Elementary and curriculum specialists from all of the elementary schools, the BUSD GATE History of Math program received many thumbs-up from students and parents. Joaquin Miller Elementary fifth-grade teacher Jennifer Almer compiled the materials used for the program.
"Our History of Math GATE event for fourth- and fifth-graders in BUSD was a huge success!" commented Johnson. "A high level of student engagement and energy was felt throughout the day."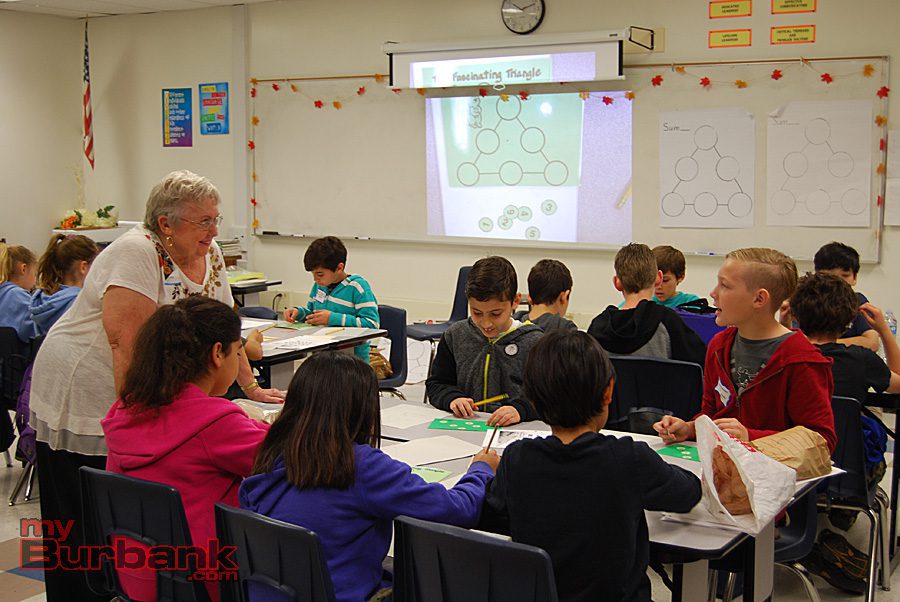 "Expert retired BUSD math teachers, parent volunteers, teachers and curriculum specialists worked together with our fantastic students to create a day of rigorous but fun learning!" she added.
"We structured the day for students to get to enjoy four sessions at their grade level with GATE students from other sites as well as their own," explained Johnson.
Students learned about Thales of Miletus, Benjamin Banneker and Ada Lovelace. Fourth graders worked on brain-teasers and fifth-graders were challenged with the Fascinating Triangle.
Thales, an ancient Greek philosopher and mathematician, is credited with five basics theorems of Geometry, which led to him to accurately predict a solar eclipse and disprove the sun was only a foot in diameter.
Banneker, a free African-American tobacco farmer in Maryland during the 1700s, overcame many hardships and inadequate education to create almanacs compiled of thousands of difficult calculations to accurately describe the daily positions of the sun, moon and stars. Almanacs provided information on the tides, sunrise and sunset and aided navigation and weather forecasting.
Lovelace, a woman living during the 1800s, has been called the first computer programmer. The daughter of the famous poet Lord Byron, Lovelace was an educated, accomplished and active young woman. Her work as a mathematician became the premise for computer language, the binary code.
A lunchtime dance session provided by Burbank's Exceleration Studios and coordinated by a Jefferson Elementary parent, Caroline Solberg, brought in music, rhythm and beat to add dimension to the math day and provide exercise.
After lunch, students returned to the classroom for a writing activity to express the things they learned earlier. At the end of the day, all students returned to the auditorium and paticipated in a team mathematics problem-solving competition.
"I never really enjoyed math before but I felt different about it at the end of the day," commented Nova McNally, a fifth-grader at Roosevelt Elementary. "I learned that anything is possible if you set your mind to it. I enjoyed learning about Ada Lovelace and also about Banneker's almanacs."
"Based on feedback from the students and staff who attended this event, it was highly successful," said Dr. Tom Kissinger, Assistant Superintendent of Instructional Services. "We are now in the process of planning our third and final elementary GATE pull-out event of the year, which will be a day focused on environmental awareness."
More GATE-supported learning has been introduced into the schools this year, with twice-weekly meetings during specialized reading group time at the elementary level and three pull-out days annually. In addition to the History of Math and Environmental Awareness days this semester, a Shakespeare GATE event was held last fall, which expanded upon the success of the first Shakespeare GATE pull-out day held in the spring of 2014.
Additional attention to middle school GATE programs are also in the works, including a focus on technology at the Tech Academy pull-out day in February for sixth-graders. More information on the BUSD GATE program can be found here.