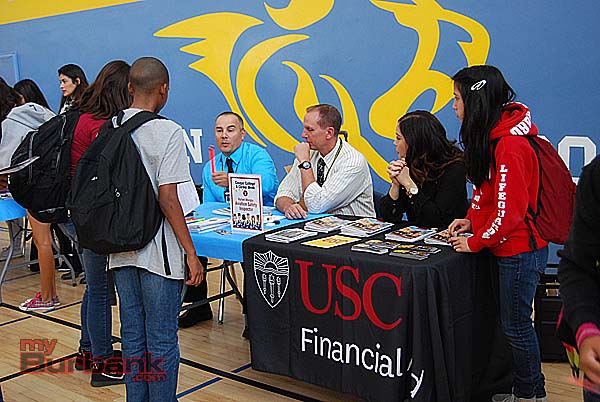 Jordan Middle School has held a College and Career Fair this week, from November 4 – 8. Speakers from a host of professions and schools attended the lunchtime events throughout the week so that the 6th, 7th and 8th graders could find out more about opportunities for their future. On Monday, November 4, the biggest event of the week was held with more than 20 speakers and tables set up around the Cougar gymnasium. Most of the school's 1100 students filtered through the gymnasium during their lunch period and talked about careers with the representatives.
"The goal is to support a college-going culture in our learning community! We want to inform and empower our students so that they have awareness about their interests and abilities and about how to prepare for high school and college," commented Jordan Middle School guidance counselor Hallie Fleishman.
"We want them to know that what they are working on now in middle school directly relates to where they are going in the future. Our students are building their foundational skills and habits for the next level of learning to come."
Animation artist, director and producer Robert Hughes and his wife, Jennifer Hughes, a voice-over artist and photographer, set up shop at with examples of some of their artwork. Mr. Hughes directs and produces Phineas & Ferb and other Disney titles, in addition to running his own animation company.
"My aunt took me to Michigan State campus when I was very young. I came from a very poor neighborhood and seeing how people dressed and behaved at the Michigan State campus made me want to go to college," explained Mr. Hughes about his motivation for participating in Jordan's College and Career Week.
"We want to give a kid that spark," added Mrs. Hughes. "You never know what might inspire a kid to do more with their lives."
All of the tables and speakers were hugely popular. Kids lined up 30 deep for Gracie Barra's roulette-wheel game, at which free lessons and other perks could be won. The Aviation Safety Inspectors wowed kids with discussion about flying planes. Officer Kristiana Sanchez-Suarez held groups of kids in rapt attention. Middle-schoolers were fascinated by the chiropractic and the Armed Forces tables. Moon Young Ko from Rep. Mike Gatto's office handed out candy and talked about government. High school ambassadors from Burroughs High School were also on hand to talk with students.
"We want them to look around and notice all of the interesting jobs and careers there are. To ask questions about what people did to be in their line of work… where they went to school, the skills and abilities they utilize on the job," continued Ms. Fleishman. "I feel passionate about our students developing their awareness of college and career planning."
Career and college planning literature were available at the Counseling department table, along with information from FIDM, the Fashion Institute of Design and Merchandising.
After Monday's big lunchtime event, in-depth programs feature speakers and demonstrations throughout the rest of the week in the library or the gymnasium. Officer Sanchez-Suarez returned, along with Dr. Jennifer Hunt of the Department of Mental Health, to discuss working with people in need of mental health services.
Also scheduled to speak during the remainder of the week's lunchtime programs were Mike Graceffo and Sean Armendariz from Burbank Parks and Recreation Department and Jonathan Devlin, the district manager for Starbucks. Donald Flowers and Alberto Crane from Gracie Barra Martial Arts hold a demonstration in the gym today, Thursday, November 7, and animal care teacher Denise Fleck is scheduled to stop by on Friday, November 8.
"We believe in equity in access to information and opportunity and that education and learning provide that opportunity," concluded Ms. Fleishman. "We want to do whatever we can do to offer our students the information to make informed choices."