On the morning of November 3, the Burbank Coordinating Council hosted their second annual luncheon at Burbank Presbyterian Church, in which City Councilman Bob Frutos was honored along with the Burbank Police Department.
During the luncheon, funds were collected for holiday baskets to donate to needy families. Last year, they collected enough to donate over 500 baskets, and they hope to give even more this Christmas season.
"The selfless efforts and generosity of the honorees give us an outstanding example of the spirit of generosity that made America strong — and that continues to thrive in Burbank," said Marsha Ramos, MC for the event.
"Bob and the honorable men and women of the Burbank Police Department have dedicated their lives to public service seeking to protect and improve the lives of children and families in our community."
Councilman Frutos, a Burbank resident of 25 years, has dedicated his life to public service. Beginning at a young age as a police cadet and later becoming a police community liaison officer, he continues in retirement to serve as a reserve officer. Frutos has been on the Burbank City Council for six years, serving one year as mayor.
"He is a generous spirit that stands out, he attracts good, inspires many and seeks to unite us. He generously offers his time, talent and treasure in support of many worthy causes such as youth and senior services, our public schools, and many community-based organizations and charitable efforts here in Burbank," said Ramos.
Councilman Frutos was awarded the "Spirit of Giving Award" by the Khalifeh family, on behalf of the BCC. He then said a few words, humbly thanking the community.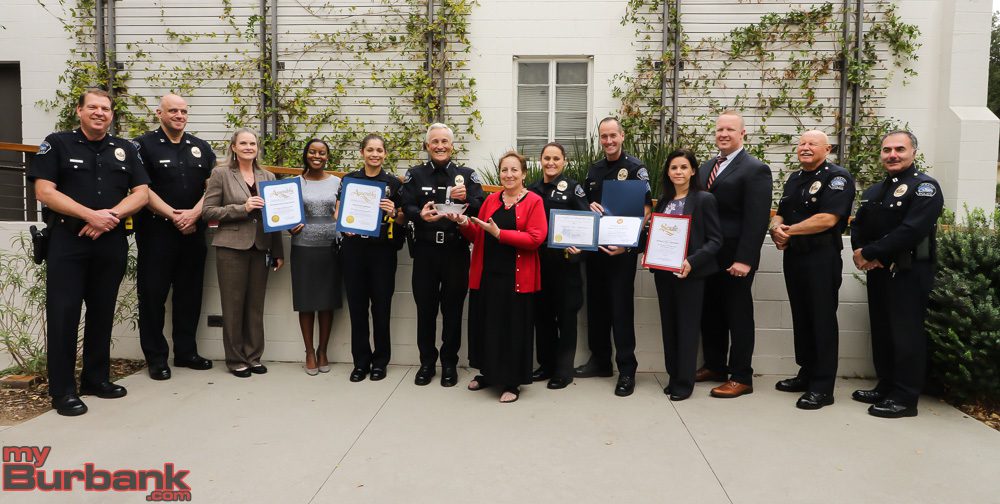 The BPD also received the same award this year. Following the BCC's recognition of Frutos' life-long communal service, Ramos spoke about the police department's positive impact on Burbank residents.
"The men and women in our police department selflessly service the public with courage, honor, and excellence. From responses to residential house calls to the extraordinary coordination of efforts in response to the LA Tuna Fire, the commitment of BPD to preserve life and property is demonstrated every day, 24-7 and an utmost professional way."
Throughout the year, the BPD is involved with several programs to grow in their interactions with the community. Around Christmastime, officers make phone calls to schedule holiday basket deliveries, collecting food among other gifts, and giving the baskets to families in-person.
For 22 years, they have also participated in "Operation Chill," a program that rewards kids with free 7-11 Slurpee coupons for good behavior and abiding by the law. Over 19 million coupons have been given out since the program began.
Ramos listed several other communal activities the BPD have put on, including "Shop With A Cop" and "Coffee With A Cop," both allowing residents to spend time and have conversations with local law enforcement.
During this time of year, officers partner with the Salvation Army to provide Thanksgiving Meals to families who can't afford to celebrate on their own. BPD has also raised funds for the Boys & Girls Club, Arts for All, and the National Police Officers Memorial.
"It has been said that a hero is someone who is selfless, who is generous in spirit, who gives as much as possible to help people. The men and women of The BPD fit the description, an exact match for this definition of a hero," said Ramos.
A few of the sponsors who helped put on the luncheon include Capes4Cures, Cartoon Network, Burbank Water and Power, Burbank Federal Credit Union, and Handy Market.