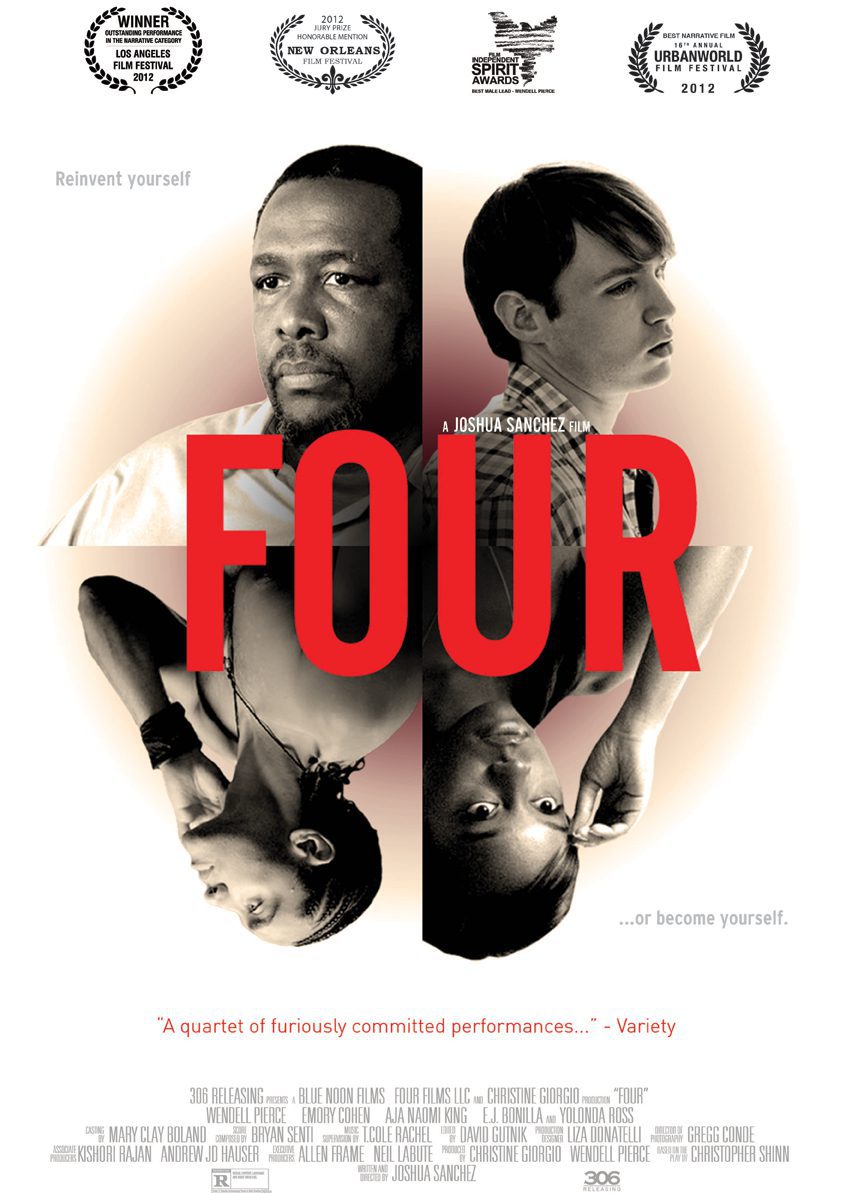 "Four," an independent film directed by Joshua Sanchez and based on the play by Christopher Shinn, is a complex and captivating story which delves deep into concepts such as homosexuality, love, responsibility and internal struggle.
The film, which has been released in six major cities, opened in Chicago and Pasadena on Sept. 20, and will run for roughly one more week.
"Four" follows the story of four characters: Joe (Wendell Pierce), June (Emory Cohen), Abigayle (Aja Naomi King), Dexter (E.J. Bonilla) and their struggle to discover the truth within themselves.
Joe is a middle-aged married man with an ill wife and a teenage daughter. He leaves his family one night to meet up with June, a teenage boy trying to find his sexual identity. At the same time, Joe's daughter is with Dexter, a seemingly good-for-nothing high school graduate with no further career aspirations.
Each couple's journey parallels one another. Joe, while trying to have a sexual relationship with June, is also attempting to understand his fears and internal pain at the same time. Emory is brilliant in his role as June. His nervous tension and boyish innocence make him seem so delicate and vulnerable. June struggles with his homosexuality and has yet to come out to his family. At the same time, Joe, while dealing with his own dark past, is the more stable of the two. Yet, even through his strength, there is an air of sadness to him in knowing that his cycle of dishonesty will never end.
The scenes with Joe and June are hard to watch. Not only are they participating in a secret relationship, but also a significant and inappropriate age difference exists between the two. However, their affair isn't the most provocative aspect of the film. The dark secrets that exist deep within each other's soul, however, are the truly heartbreaking and shocking aspects of this story. It is easy to identify with them because pain is universal. Their relationship is not distasteful in nature; it becomes symbiotic, as both characters struggle with their own identity.
The most poignant scenes within the film, however, exist between Abigayle and Dexter. Abigayle is struggling with her tense and exhausting family life and remains closed off to all who try and become close to her. Her heart is heavy and she is so worn that it seems she may crack at any second. While on the outside she seems mature, intelligent and in control, it is really Dexter who holds the strength. He is searching for truth in Abigayle.
While Dexter's compassion and curiosity make him an easily loveable character, he is a "kid who will never see his own potential," according to actor E.J. Bonilla.
Close-up shots of the actors allowed the film to be truly character driven with less focus on extraneous visual effects. As a result, their agony is palpable. These characters have struggles we can relate to. "Four" highlights the hidden demons that we all experience in life, yet portrays the immense pain and suffering that some experience when their true identity is hidden.
"Four" achieves a brilliance that most high budget Hollywood films do not. The cinematic subtlety creates a truly authentic environment for the story to unfold.
As an independent, low budget film, its run will be short. The message, however, will stay with you for some time. This is a must see for those who appreciate well acted, character driven films.
"Four" is showing at the Laemmle Playhouse 7, in Pasadena. You can follow the film on @fourthemovie on twitter.