The north-central part of Arizona may not be as well-known as other parts of the state, but there's plenty to do in the area around the town of Page, with Lake Powell, Glen Canyon Dam and National Recreation Area, Horseshoe Bend, the Navajo Nation, Vermilion Cliffs and Grand Staircase-Escalante National Monument all within a few minutes to an hour's drive.
The southern edge of Grand Staircase-Escalante National Monument runs along the Arizona border. The Grand Staircase takes its name from the five different colors of layered rock visible in the area's weathered formations: pink, gray, white, vermilion and chocolate. Each color corresponds to an era of the Earth's geological history, identified in the 1870's by geologist Clarence Dutton.
Apart from intense colors of the landscape and desert scenery created by nature, humans have also made some amazing places in the Page area: Lake Powell and Glen Canyon Dam. Although water levels have receded significantly in Lake Powell, it continues to be a boater and vacationer's paradise.
Glen Canyon Dam was completed in 1966 and made Lake Powell, a reservoir which stretches 186 miles long and 25 miles wide across Utah and Arizona, from the Colorado River.
Wahweap Marina is a nice place to stop off and visit Lake Powell and the Glen Canyon National Monument. Show your National Parks annual or lifetime pass to avoid the $30 per vehicle parking fee.
The Lake Powell Resort offers several restaurants with view of the water, including the Driftwood Lounge. Their food and drink menus have something for everyone. We enjoyed the prime rib melt and salmon avocado sandwich there along with prickly pear martinis and red rock rye.
Lots of people rent houseboats or rooms at the lakeside resorts, particularly in the summer when it is super hot and very sunny. Don't forget sunscreen. All manner of water activities including swimming, boating and fishing are available at different parts of massive Lake Powell. Camping and hiking in the areas around Lake Powell is also very popular. One can really get off the grid here.
From Wahweap Marina, the Carl Hayden Visitors' Center sits next to the Glen Canyon Dam just before crossing the Colorado River and entering Page. Visitors get an up close view of the dam and learn about the history of the area and the building of the dam.
Plenty of hotels abound in Page, with most catering to vacationers who are enjoying water activities or hiking in the area. Restaurants are a bit limited in the small town, but we found a terrific Mexican spot, El Tapatio.
They serve very good cocktel de camarones, fajitas and carnitas de pollo. For those familiar with authentic Mexican food, this place is a must for good homestyle cooking. Plus, El Tapatio offers fishbowl-sized margaritas in a host of flavors and colors, along with dozens of different kinds of tequila.
From Page, visitors can visit Rainbow Bridge and Antelope Canyon, which are located on Navajo Nation land. Navajo Nation lands cover approximately 27,000 square miles through Arizona, Utah and New Mexico. The tribe offers guided tours to the popular Antelope Canyon slot canyon and other sites on their lands.
Just south of town lies Horseshoe Bend, which is accessible via a half-mile slog through sand to the well-known curve in the Colorado River. Parking is a challenge, so try to visit off-peak times and pack your patience.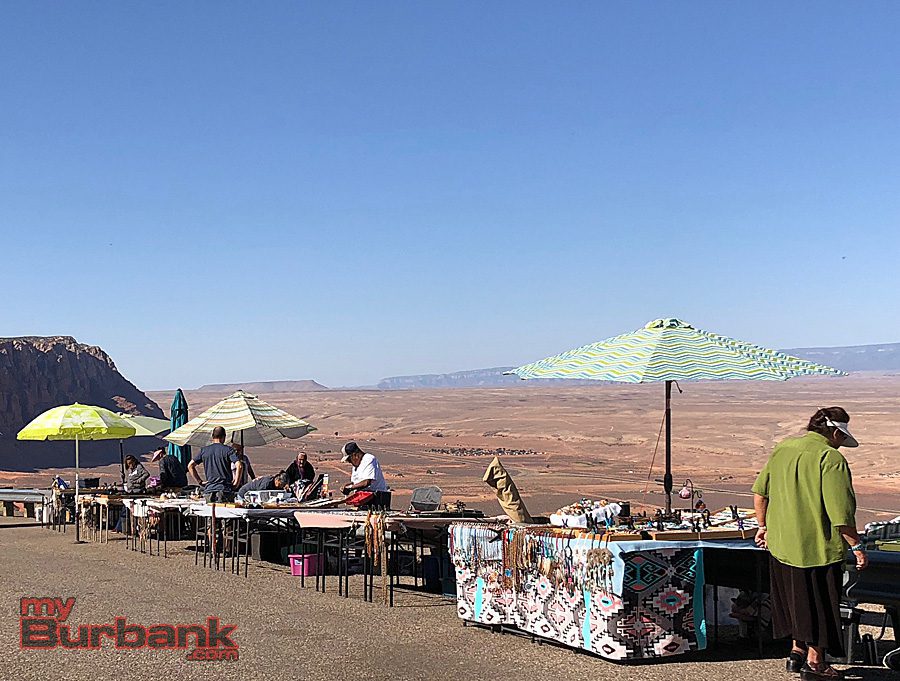 As one leaves Page and heads west towards the North Rim of the Grand Canyon, there's a lot to explore along the way including Marble Canyon, the Navajo Bridge, Paria Canyon, Vermilion Cliffs, Cliff Dwellers, Coyote Buttes and more.
One of the trailheads to The Wave sandstone rock formation is located in Coyote Buttes area, but only about 30 people are allowed to access the formation daily, as permitted by the Bureau of Land Management.
Page is about 8 1/2 hours drive north-east from Burbank, through Las Vegas and southern Utah. It takes about 9 hours to get there if one heads directly east through Kingman, Arizona, passing the southern side of the Grand Canyon. From Page, the North Rim of the Grand Canyon is just a few hours drive west.
It's very easy to add on a visit to Page and north-central Arizona if you're already planning to visit the Grand Canyon or Las Vegas. So, get out of town and see the amazing desert of northern Arizona.
Editor's Note: While there's always a lot going on in Burbank, myBurbank's "Get Out Of Town!" highlights some of our favorite activities and events outside the town borders.