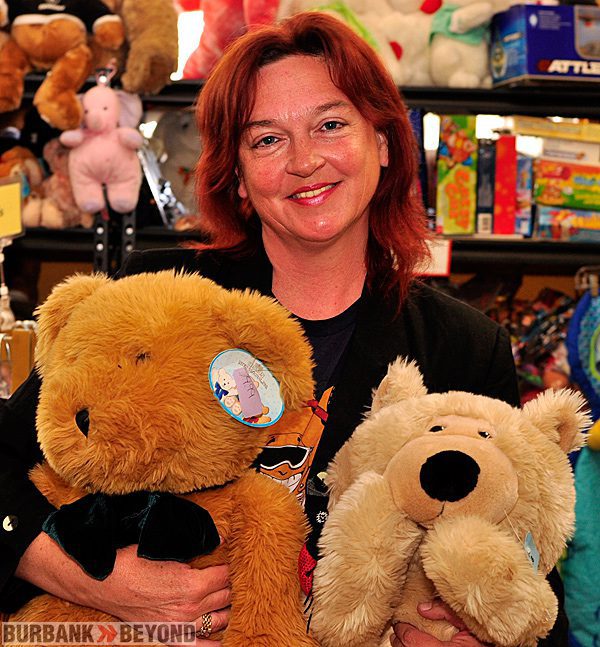 The greatness of a nation can be judged by the way its animals are treated.
  Mahatma Gandhi
 By Deborah Dodge
BurbankNBeyond
While running errands around Beautiful Downtown Burbank, a brightly-painted yellow cinderblock building that sits at 2800 W. Burbank Blvd, caught my eye.   As a lover of thrift stores and always on the search for out-of-print books and antique purses, I was thrilled to find another second-hand store in Burbank.  I was especially intrigued after reading, "Helping Hands for Animals" on the outside of the building.  I parked my car.  A thrift store that helps animals?  Two of my favorite things all wrapped up in to one.  What more could I ask for?
As I walked through the sparkling window-paned doors, I was pleasantly surprised to find how organized, clean and charmingly decorated the shop was.  It's the luck of the draw to find thrift stores that are so immaculate.   With the ding of the bell on the door, I was greeted by an adorable redhead named, Stefanie.  I would later meet the other spunky redhead, Simone when I conducted my interview.   Leather jackets, evening gowns, business suits, and even several pristine, contemporary wedding dresses were hung on the stainless steel clothing
racks.  The front room also had baskets of ties, belts, baubles, and purses in all shapes and styles.  It was like being a kid in a candy store for me.  Shelves lined the walls and held all types of knickknacks, picture frames, luggage, baby clothes and collectibles.  Everything was in great shape.  To my pleasant surprise, I spotted Max, a sleeping pink-bellied, white Bull Terrier who was oblivious to the fact that half of his body had slid off of his dog bed and was now resting comfortably on the carpet.  Judging by his state of slumber, you'd think he was sleeping on a Tempurpedic.  Ah, a dog's life.  Stefanie keeps Max safely in the office where only she and her business partner, Simone are allowed to venture in.  The half-door allows visitors to take a peek at this precious little guy if they'd like to without disturbing him.
Helping Hands is owned by best friends and animal advocates, Stefanie and Simone, both local residents.  Ironically, even though both ladies were born and raised in  Germany, they were strangers until they met in Los Angeles ten years ago, through mutual friends in the dog rescue world.
Stefanie, a life-long professional dog trainer, arrived in Burbank 19 years ago from Europe and lives here with her family.  Simone, also a local resident, moved to Burbank 21 years ago, had a family and now runs Helping Hands as well as being the co-owner of Café Valentino (Olive & Riverside) with her sister-in-law.  After developing a great friendship over the past decade, the two energetic entrepreneurs decided to start at thrift store that not only sold interesting cool fashion finds, furniture, glassware, electronics and other treasures, but they're also helping animals in-need.
DD:  Who came up with the idea to start a thrift store that helps animals?
Stefanie:  It was Simone's idea.  We have both been in animal rescue for a very long time and we know how much rescue groups struggle for money.   I used to foster dogs for rescue and put some training in to them.  The training made them have a better chance of getting adopted.  I would foster litters of puppies, so I know how much it costs.  Not only the food, but the vet and getting them cleaned up.  Simone came up with the great idea of raising money to help other rescue groups.
DD:  So, how do the donations for animal rescue groups work here?
Simone:  We wanted everyone to get a piece of the pie, basically.  So, we are not just
benefiting one rescue, we actually choose a different rescue or animal organization every month.   This month's charity is, "Addison's Dogs".  The money goes to help people pay their vet bills for dogs with Addison's disease.  It's a disease that affects dogs' organs from functioning properly. 
Stefanie:  Last month we helped, The Wildlife Waystation.  We actually helped them two months in a row because they're so large and they needed a little bit more help.   We hope other stores follow our plan to help the animals because there are so many that are in-need.
DD:  What was the reaction from all of the animal groups when you offered to help them?
Simone:  Oh, they loved it.  We have a list of people who want to be next in line for help.  It's a little scary because we are not at the point where we are making a profit.  Sometimes the expectations are a little higher than what we can provide, but we're hoping to build up and do a little better.  Rescue groups don't have to do anything except contact us and ask to be on the list.
DD:  I see there is a doggy here.  Who does he belong to?
Stefanie:  That's my old guy, Max.  He just had a birthday.
DD:  Is Max a rescue?
Stephanie:  Yes, he is a rescue.  He came from a backyard breeder.  He was born deaf and was supposed to be put down because of that.  I love him.
DD:  Do either of you other have pets at home?
Simone:  Oh yes, I have cats and at this point in my life, I have German Shepherds. 
DD:  Why German Shepherds?
Simone:   I have had dogs all of my life and back in 2004, I was going to animal shelters to promote my business and I always brought cookies to the dogs.  Well, I was at the East Valley Shelter and there was this dog in a cage.   I looked at him and it
was love at first sight.  I cannot explain it.  He's ten years old now.   I got him when he was just two.  He's one of the dogs you get in a lifetime that's just like your very own, "Lassie"; your soul mate.   Later, another German Shepherd came along from the same shelter, his name was Milo.  I had him for five years and unfortunately he passed away recently from liver and kidney failure.   Then, I got Max (another shepherd) who was 12 when I got him.  He was in a cage with a couple of pit bulls and was all the way in the back corner of the cage.  He was so skinny,
about 68 lbs.  I took him home and he got up to 120 lbs and I had him for two years before he passed away.  Max was 14 when he passed away.
DD:  It's such a kind and heroic thing to do for that dog.  You have him two really good, solid, safe, secure, loving years before he died.   Senior dogs make the best dogs, don't they?
Stefanie:  Senior dogs are the way to go because they have no chance in the shelters.  They're so easy going.  They're out of their 'puppy' stage and are perfect animals.  You don't have to do the potty training or go through the chewing stage.  They just want to be loved and be on the couch with you. (Smiles)  They're very easy going.  I got Max (the Bull Terrier) as a senior and he's perfect. 
DD:  What made you both pick Burbank as your location?
Stefanie:  Burbank is very special. 
DD:  Do any celebrities come in here?
Stefanie:  We get a lot of actresses and actors coming in here.  A lot of people from the studios stop by. 
DD:  How is business?
Stefanie:  We know that times are bad times for everybody, but we're hanging in there.
Simone:  We are on Burbank Blvd and most of the second-hand stores are on Magnolia, so people confuse us with Magnolia a lot.
DD:  What are your hours?
Simone:  We are open 7 days a week, 10am – 7pm every day except Sundays from 11am – 4pm.
DD:  Can people drop off donations?
Stefanie:  Absolutely. During business hours, anyone can donate.
Simone:  We also do pick-ups.
DD:  The store is so cute.   It doesn't really look like a thrift store.  It's more like a little boutique you would see in the 1940's.
Stefanie:  We wanted our store to be different from the typical second-hand store.
Simone:  We wanted people to have a nice feeling when they walk in.    We wanted people to have a really pleasant feeling when they stop by and shop.  We clean everything that gets donated and make sure it's perfect for our customers.  What doesn't sell here we re-donate and send to Africa and South America.
DD:  Wow!  You two are just doing good stuff all around.
Stefanie:  We also have sales!  Sundays we 25% off of everything, Wednesdays are 50% of clothes and shoes.  Every day we have a different color tag sale.
DD:  What's the next group you're going to help?
Simone: Fix Nation – It's a non-profit that offers free spay/neutering for homeless and feral cats.  They also help people with low-income who can't afford to have their cats fixed.
DD:  Name some other groups you two have helped.
Simone:  Besides the ones we've mentioned, we have helped, The German Shepherd
Rescue of Orange County, Milo Sanctuary – A place that helps special needs cats, The Bull Terrier Rescue…
Stefanie: The Forgotten Dog Foundation of Santa Monica, Angels in Fur…. and many more to come.  We want to eventually expand and have our own adoption center in one of our stores.  We want people to be able to drop off the dog that's up for adoption in the morning and pick him/her up at night if they don't get adopted.  That way the animals can have more exposure than just being in the shelters.  Some rescues only do once-a-week adoption days, and some only have them once a month.  We'd like to do it every day.
DD:  This building is much bigger than it looks from the outside.  It's wonderful!  You can't miss the yellow cinderblocks.
Stefanie:  No, you can't.  (Laughs)
Simone:  Shoppers are always surprised how large our store is when the first visit.  The location is very deceiving for people.  They don't realize how long the building is.  We have 4,500 square feet of merchandise.  We want it to be a pleasant experience for people to come in and browse.  People don't expect for dogs to be here, either.  They think it's really cool.  The last time I saw a dog in a shop was in Big Bear.  Our dogs are really friendly.  Everyone loves them.
As I was wrapping up the interview, long-time Burbank resident and fellow animal lover, Hector Marin was purchasing a CD.  We struck up a conversation as we were both leaving the store and as
he opened his car door, a shiny thick-coated black Cocker Spaniel bounded out of the car.  Of course I had to stop and inquire about this sweet tail-wagging dog.  Turns out, Hector rescued Roscoe from a non-profit charity called, "Dogs Without Boarders" back in September.  Roscoe joins two other dogs in the Marin household, with all three being rescues.  Hector admitted that his number one reason for visiting Helping Hands is because it helps homeless and unwanted animals.  Not only is he a frequent customer, but he and his wife, Colleen donate goods to help out the store. Burbank is full of some pretty amazing people.  Even the smallest effort can make the biggest difference.
Helping Hands Thrift Store will be celebrating its first anniversary this summer.
Please visit Helping Hands at:
http://helpinghandsforanimals.com/
Or stop on in for some shopping and meet Stefanie & Simone (and maybe Max, too.)
Helping Hands
2800 West Burbank Blvd.
Burbank, CA  91505
 877- 763-9685