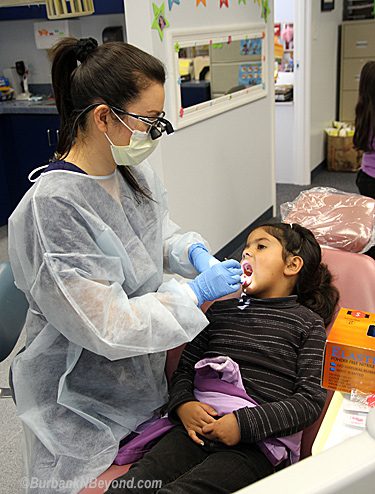 Every Tuesday morning in February 2011, over 400 McKinley Elementary School children will receive free dental services including oral hygiene education, flossing practice, brushing instruction, nutrition discussions, free dental screenings, free fluoride treatments, and certificates to return with parents for sealants to protect teeth.  McKinley Elementary School, a Title I school, will send students next door to the Kids' Community Dental Clinic, for "a walking field trip" to learn how to have a clean mouth and a healthy smile as part of national Give Kids A Smile® day during National Children's Dental Health Month.  On February 1, Mayor Anja Reinke proclaimed February 2011 as National Children's Dental Health Month encouraging citizens of Burbank to take their children to the dentist on a regular basis to prevent dental disease.
McKinley Elementary School students are right next door to the Clinic and students will be able to learn about dental decay and how it affects overall health.  Roberta Kavanaugh, Principal is "…delighted to have this opportunity to partner with the Kids' Community Dental Clinic for this free program."
In addition to the McKinley Elementary School Project, the Clinic offers free walk-in screenings every Monday in February between 8am to 5pm for the general public.  This Monday program again drives the message of oral health wellness and was designed to help parents with State required Oral Health Assessment forms required for children to enter school.  The estimated value for both programs is over $100 per child.
Last year, more than 44,650 dental team members nationwide participated in Give Kids A Smile®, a program first held in 2003 by the American Dental Association (ADA) to provide care and raise awareness of the importance of access to dental care for poor children.
"It's heartbreaking to see a child's smile destroyed by severe tooth decay," said Dr. Frank Pita, DMD MSD and Dental Director of the Clinic. "Imagine not being able to eat, sleep and pay attention in school because you have a mouthful of toothaches," Dr. Pita said. "Some children have reached the point where the only alternative is a mouth full of crowns or pulling the teeth that can't be saved. It's tragic. Our state needs to do more to help children get the dental care they need."
Nearly 1 in 4 children, aged 2 to 11 years, has untreated cavities in their baby teeth, according to the Centers for Disease Control and Prevention (CDC). While poor diet and oral hygiene certainly play a role, cavities are actually caused by a disease called caries, which is five times more common than asthma.
The National Institutes of Health report that 80 percent of tooth decay is found in just 25 percent of children, primarily from low-income families. Public health programs such as Medicaid and the State Children's Health Insurance Program (SCHIP) are supposed to help underserved children, but utilization rates are low.
The Kids' Community Dental Clinic was originally created to fill a crucial gap in oral health care services for children of low-income working families.  A children's dental clinic existed in Burbank for about 30 years through the generosity of the Sisters of Providence, St Joseph Medical Center.  When the hospital dental clinic closed in 1997, many parents had a difficult time finding low cost dental care.  In 2001, with strong support from the City of Burbank, it re-opened to the community by a previous volunteer, Carole Nese, founder.  In addition to impacting thousands of children with dental treatments, the Clinic is a teaching site for 2 college dental hygiene programs.  The Clinic has built a reputation for 3 strong programs including; in-clinic dental treatments, free school screenings (teaching kids to prevent cavities); and public health fair event screenings.
"Dentists can't do this alone," Dr. Pita said. "With Give Kids A Smile, we can help some children get the dental care they need, but a one-day event will never be enough. Fortunately, the community of Burbank has this Clinic to help!"