Dominic Margarino isn't any different than most kids in that he tried playing several sports growing up.
He tried baseball for several years. He had success in club volleyball and also had success in club water polo.
But the 5-foot-10 Burbank resident and soon-to-be senior at Notre Dame High in Sherman Oaks realized before his sophomore year that he needed to abandon the ball sports and focus on his true calling — swimming.
Fast forward a few years and the decision was certainly the right one.
"I've put a lot of work in and trained really hard for it. It is nice to see it paying off," Margarino said of his success.
While playing water polo he was often asked to be the swimmer to go after the loose ball in the middle of the pool, to start a match because of his speed.
He translated that speed into being a full-time swimmer.
"Going into my sophomore year I was going to play polo again but I decided not to because I had a really good swimming season over the summer and I just wanted to swim. I just thought it would be better for the future," said Margarino, who practices regularly at the McCambridge and Verdugo Park pools. "I knew swimming was the right choice because I wasn't 7 foot."
A member of the Burbank Los Angeles Swim Team, also known as BLAST Sharks, Margarino is now focusing on putting together a fine summer before his senior year.
He has already drawn interest from a number of colleges including USC, UC Berkeley and Arizona State.
This week he will compete in the Los Angeles Invitational at USC and he will compete in the U.S. Junior National Championships at the end of the month in Irvine.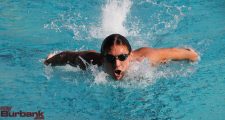 During the high school season, he finished seventh in the CIF Southern Section Division 1 final in the 200-yard freestyle in 1 minute, 39.76 seconds. His personal best is 1:38.58, a Notre Dame school record.
He finished fifth in the Division 1 final in the 500 free in 4:33.5 after going 4:31.01 in the prelims.
"Both of those times I went almost a second slower. I was sick," Margarino said.
With plans to swim in the 100, 200 and 400-meter freestyle events in Irvine, Margarino is still working on qualifying in the 200-meter individual medley.
"We train all strokes," he said. "It is good to be rounded so you aren't dependent on one stroke. Colleges are looking to see guys who can swim four events."
This summer Margarino has nine practices a week, swimming six days a week.
He said he enjoys swimming on the longer pools that are measured in meters in length as opposed to swimming on pools that are measured in yards.
"It is less turning. I got my cut for junior nationals doing meters," he said.
While he realizes making the Olympics is nearly impossible when competing for the United States, Margarino hasn't let that deter him from reaching lofty goals.
"I'm trying to get the cut for the Olympic trials in the 200 or 400," he said.
With the focus and determination, he has put forth, Dominic Margarino should be a name to remember in American swimming circles for years to come.