Joaquin Miller Elementary fourth grade students performed Pirates of Perchance at the school on Thursday, December 3, and Friday, December 4. Students put on an evening show along with two shows during the school day so parents and fellow students could see the culmination of several months of rehearsals.
Written and directed by fourth grade teacher John Ossiff, the play follows the adventures of a pirate crew without a ship.
Tryouts for parts were held in September.  With a cast of 31, a backstage crew of seven, two students operating lights, one student running sound and seven additional students who helped paint scenery, the Pirates of Perchance was a fairly large production for the school.
Ossiff saw the play as a way to include all interested fourth-graders, "We have students from each fourth grade class, English Language Learners and students receiving other special services."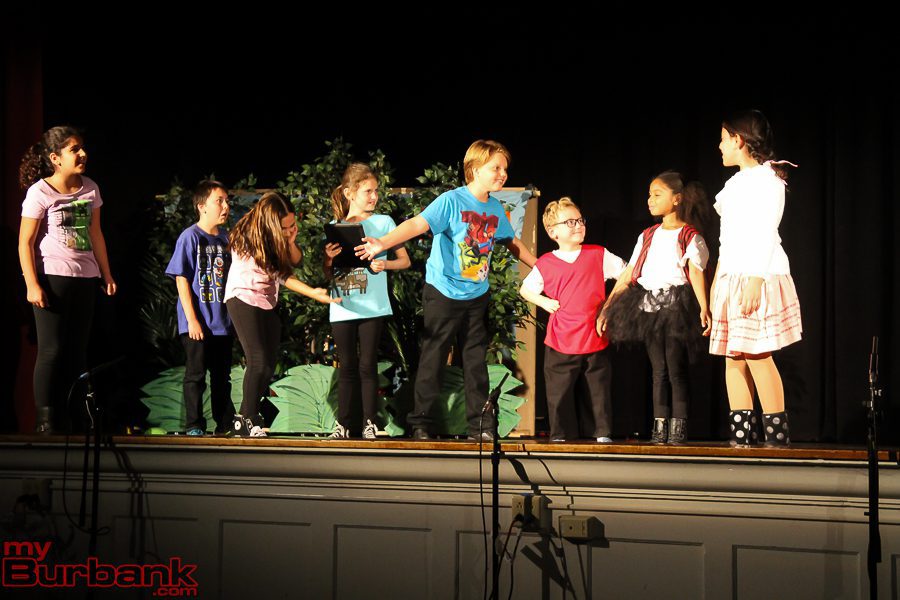 "The crew moved sets, operated some equipment and appeared as the customers in the last bistro scene," he added.
Play rehearsals were held at lunch time for the entire months of October and November. Other teachers at Miller adjusted their schedules to allow time for extra rehearsals during the school day in late November and early December, added Ossif.
The production received additional help from parents, parents of former students and former staff creating background art, setting up lights and setting up the sound system.
Pirates of Perchance was filmed as part of a Burbank Arts For All Foundation (BAFA)-funded grant to help establish a digital media program at Miller Elementary.
"BAFA has been very supportive of our theater program," Ossiff also said.
Approximately 700 people saw the show during several performances last week. A fifth-grade play is being planned by teacher Melissa Pamperin for Miller Elementary in the spring.