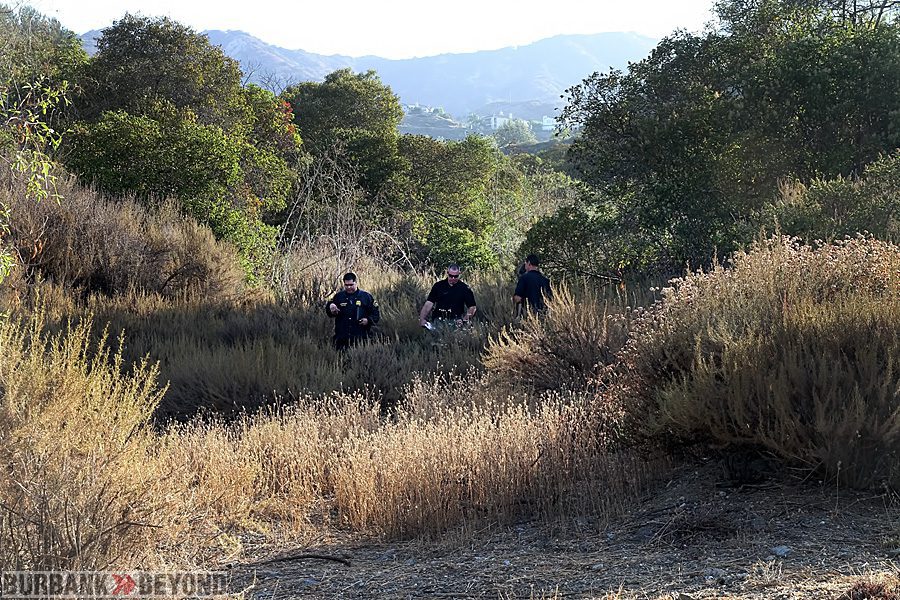 BurbankNBeyond.com Exclusive
By Craig Sherwood and Stan Lynch, with Photos By Ross A. Benson
The mysterious disappearance of FBI Agent Stephen Ivens has possibly been solved.  His decomposing body was found Monday evening, July 30, less than 2 miles from his home. The 81-day ordeal for the Ivens family has finally come to an end.
A body, believed to be that of  Stephen Ivens, was found by two hikers on Monday evening in brush, several yards above the Mother Cabrini Chapel that is located in the back parking lot of St. Francis Xavier Church and School, 3801 N. Scott Rd.  A paved, gated access road, Scott Way, winds up the hillside nearby.  Police believe the body has been at that location since he went missing on May 11.  It is in an area with dense brush, and nott easily visible from the road, the nearby Villa Cabrini townhomes, or from the church parking lot.  Police recovered a firearm at the scene, believed to be Ivens' FBI issued service weapon.
Burbank Police did not publicly reveal the discovery of the body until today, to allow time for Iven's family to be notified of the possible find.  His wife and 2 year-old son live in Burbank, and his mother lives in Massachusetts.
Ivens was last seen alive on May 10, by his wife, Thea Ivens, at their apartment in the 1700 block of Scott Road.  She called police to report that her husband was missing, the following morning.  She told police that he was depressed and possibly suicidal.  His FBI issued handgun was missing from their apartment.  Her call to police set off a massive search by local police officers, sheriff's deputies, search and rescue groups, and FBI agents.  After 12 days of intense activity, the search went to a "lead-driven" status.
Because Ivens was a runner and hiker, authorities considered that he might have walked into the Verdugo Mountains.   Dogs had tracked his scent to the trailhead at the Stough Canyon Nature Center.   Initially, authorities had requested that the public stay out of the hills above Burbank.  However the next day, in a joint news conference with the Burbank Police Department, L.A. Sheriff's Department, and FBI, they asked the public to be on the lookout for Ivens.
Speculation mounted during the second day of the search, when paramilitary-looking heavily armed men wearing body armor were seen in Wildwood Canyon.  One of our staff members was ordered to leave the area and not photograph the men.  Unsubstantiated reports circulated on the internet that Ivens might be involved in some international intrigue.  However, the agent in charge of the FBI's Los Angeles office stated that Ivens was not involved in any criminal activity.   Stephen Ivens, 35, had been an FBI agent for 3 years, and prior to that had been a Los Angeles Police officer for 8 years.
On May 16, Iven's wife, mother, and uncle held a tearful news conference on the steps of the Burbank Police and Fire Headquarters, in which they pleaded for the public's help in finding the missing agent.  They created a web page, and a Facebook page. On June 13, Iven's wife and uncle held a news conference in front of the Stough Canyon Nature Center, where she shed some light onto case.
"My husband was depressed about something at work," said Thea Ivens, "but it was not about his actual job as an FBI agent," adding, "He loved his job."  She declined to elaborate further.
As the search stretched past it's second month, police unofficially speculated that Iven's body was probably somewhere in the mountains surrounding Burbank.  They noted that sometimes bodies go undiscovered for years in the hills adjacent to populated areas.
Note: Video shot this morning is now up for viewing. Just go to the Front Page and click on the video.