By Lisa Paredes
Associate Editor
Nickelodeon Animation Studio in Burbank has developed quite the rapport with the Burbank High School Animation program since last year's inaugural relationship. BHS Animation instructor Jonelle Pickett and Carson Smith, Nickelodeon Human Resources Manager, were introduced by BUSD Arts Coordinator Peggy Flynn in the summer of 2012. Ms. Pickett, Ms. Flynn and Mr. Smith worked out a partnership in which Nickelodeon artists and professionals teach classes several times every year to reinforce major topics of the Animation program. Now in its second year, the relationship has evolved to not only include in-class workshops but also a mentoring program for 10 top students.
"The partnership with BHS seemed a natural fit for an animation studio filled with talented artists with an eagerness to share their knowledge," reflected Mr. Smith. On two separate occasions this month, storyboard director Tuck Tucker and background designer Randol Eagles III presented master classes in their respective fields to two of Ms. Pickett's Animation program classes.
Mr. Tucker, storyboard director for Nickelodeon's ubiquitous hit Spongebob Squarepants, visited with two classes on November 15, to work on storyboarding and presentation while the classes were developing storyboards for their own stop-action projects. He explained the process of creating shows and then showed an animatic – an uncolorized, rough sketch of the show with dialogue and sound effects. Mr. Tucker then asked the students to work in their groups and finish the last 12 panels of the storyboard, concluding the story.
Students then conferred with Mr. Tucker, ultimately presenting their ideas to the class. Mr. Tucker gave constructive tips on how take the presentation to the next level, adding sounds and delaying the reveal, or resolution of the story.
Mr. Tucker's take on how to end a story: "Start at the end and then work backward to the starting point," he advised. When storyboarding, "work fast, keep drawing and keep moving and make your presentation exciting with sound effects!"
Background designer Mr. Eagles, whose most recent credits include Fairly Odd Parents and The Simpsons Movie, stopped by on November 21, to discuss background design while students had started to work on colorizing their own scanned background designs in Photoshop using the classroom's Cintiq tablets/work stations. He brought in some examples of his work and gave a lesson on perspective and composition. Mr. Eagles showed an episode from the Fairly Odd Parents, in which background scenes range from The Matrix, to Lord Of The Rings, to Harry Potter and The Terminator.
"I have a seen a real difference in student output as their learning is inspired by the advice from professional and experienced artists," commented Ms. Pickett. "These special classes reinforce what I am teaching them and they are all working towards creating their own animated short which we will show at the big BASH event at the end of the year."
The BASH event, Best Animated Shorts Festival, is the culminating event of the Animation program at Burbank High, put on in conjunction with BAFA (Burbank Arts For All Foundation.) During the school year, Ms. Pickett teaches 12 principles of animation and students are challenged at all levels between beginners and advanced, with creating "the magical illusion of animated life in their own short films," explained Ms. Pickett. In May 2013, at the end of the previous school year, 15 students presented their shorts to an audience of over 100 fellow students, teachers, administrators and industry professionals at the BASH Festival.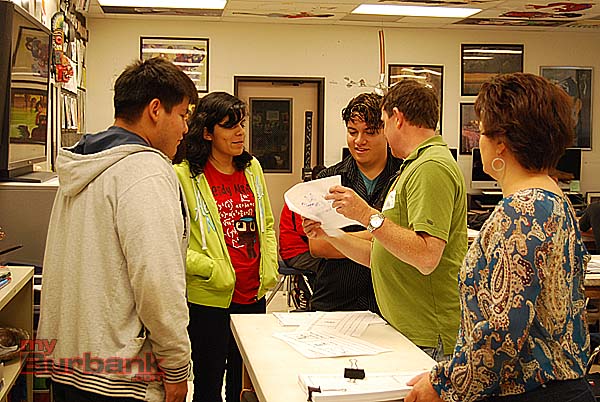 "It's okay to have fear," Mr. Eagles told the class. "The more you challenge what you haven't done, the more progress you will make. That's artistry, making that journey."
"I get some of my best design ideas from being out surfing, from nature," added Mr. Eagles. "Lighting sequences… it will all just occur to me. When you're building worlds, there's a lot of visualization going on."
Students in both classes were engaged and excited and presented creative ideas. Both Mr. Tucker and Mr. Eagles remained after their respective classes to answer questions, along with Mr. Smith, from eager students. Most students asked about the best colleges and art schools in California for study to become a working animation professional. Mr. Tucker, Mr. Eagles and Mr. Smith offered basic advice, such as taking standard art courses first. "You have to know the rules to break them," commented Mr. Smith.
The guiding principle behind the Animation program's focus on the BASH Festival, according to Ms. Pickett, "is sponsoring a healthy competitive spirit and helping to push students to create high level animations. The entire experience is giving students an understanding of the Animation industry, the hard work and education it involves, and the possibilities it provides as a career choice."