By Greg Simay
BurbankNBeyond
NORMAND LATOURELLE, one of the founders of the famed Cirque du Soleil, is creating a magical world. On the outside, it's disguised as the Big White Top, 127 feet tall and big enough to enclose a football field.  But within, the world awaits: African savannahs and deserts, the Northern Lights, rolling hills, enchanted forests and the majestic American Southwest.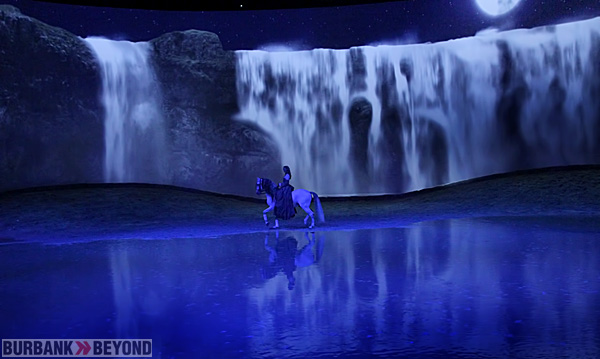 Oh, and horses. Up to thirty-two horses will run free across an unencumbered stage as wide as the IMAX skies behind it. Magnificent horses will splash through an 80,000-gallon lake that suddenly appears.
Acrobatic displays from around the world will soar above the stage and seamlessly mesh with dazzling equestrian numbers. Everything from jumping and dressage to breath-catching stunt riding will celebrate the connection between humans and horses.
Welcome to Cavalia's Odysseo. If you were blown away by Normand's Cavalia in Burbank two years ago, you'll be blown out of the galaxy by Odysseo, debuting in Burbank February 27.
"It took me eight years to develop Odysseo," Normand said. "I wanted to take advantage of all today's technical capabilities. Odysseo is as cutting edge as it gets for a touring show".
Normand Latourelle recently sat down with BNB and shared his own odyssey from Cirque du Soleil to his visionary world of Odysseo.
The "Circus of the Sun" was born in bad weather. "We were street performers traveling throughout the province of Quebec," relates Normand. "We had a government grant to celebrating Quebec's 450th anniversary. But many times it was raining."  So the shoestring troupe looked for the cheapest tent they could find. They found a circus tent.
When Normand came to the Cirque in the late 1980's as one of its first Artistic Directors, the Cirque was a modest affair. There was a ringmaster, some jugglers and clowns, a few other acts. But the grant money had run out, and bankruptcy loomed.
"I'm more from the music world," Normand said. "So one afternoon I said to them that maybe we should buy a synthesizer. Maybe we should make it more theatrical."
They did. They saw the results. In 1987, the Cirque came to LA. They conquered.
But Normand's journey to Odysseo was just beginning. For a long time he "knew nothing about horses." But years ago in Canada, he noticed how one lone horse, "just an extra", stole the show from the 120 human performers on stage. "Hmm," he thought to himself.  Normand decided more horses would be a good idea. So the next show had six horses. The audience loved them.
Normand decided to learn more about horses, and in the process pioneered a whole new approach to relating with them. For Odysseo (as well as the earlier Cavalia) the bond forged between the trainer and horse "gives the animal the time they need to adapt to the show. They come to feel that the humans are there to support them, not threaten them."
And that is perhaps the ultimate magic of Odysseo: a world of mutual trust and respect all too rare among humans, never mind humans and their fellow creatures.
It's said that a genius is "someone who looks at what everyone else looked at, but sees what no one else saw." When Normand saw that lone horse on that Canadian stage years ago, something very wonderful awakened. Go under the Big White Top and see for yourself.
Odysseo  opened on Wednesday, February. Tickets range from $34.50 to $149.50, with Rendez-Vous VIP packages available. Go to www.cavalia.net for more information or call 1-866-999-8111.