On Tuesday, October 3, the Burbank Police Department (BPD) and Wrapix Imaging unveiled the pink-wrapped Ford Explorer police cruiser in honor of October's Breast Cancer Awareness Month. The pink vehicle's purpose is to draw attention and encourage regular screening for early cancer detection.
Wrapix Imaging, a family-owned Burbank business, offers fleet graphics, vehicle wraps, banners and graphic design. They have partnered with BPD for the last six years to sponsor the pink cruiser wrap.
"It is with great pleasure that we get to continue to build awareness for such a great cause," said Adam Sumner, Owner of Wrapix Imaging. "We all know someone affected by this disease, so it's important to us that we help in raising awareness and money for research. Teaming up with the Burbank Police Department and the City of Hope has become a project we look forward to each year."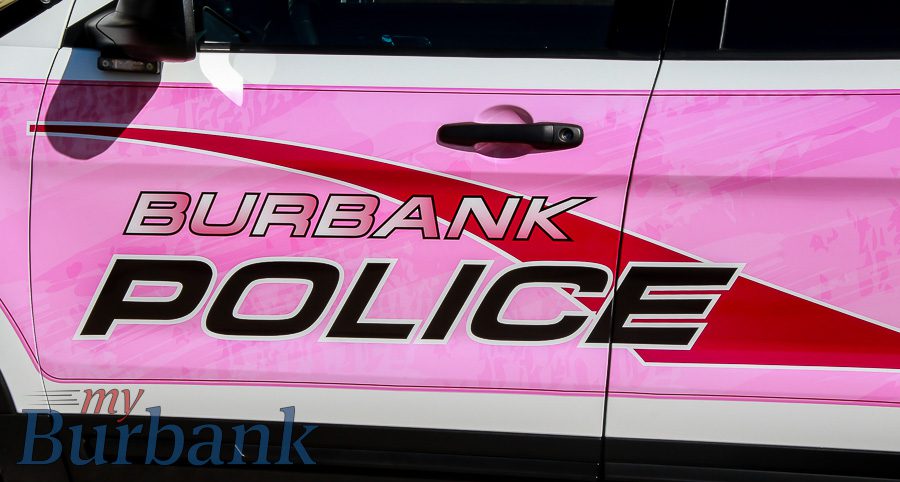 The Vehicle is on display outside of the department at 200 N. Third St. and will make appearances at various community events throughout the month of October. Assemblymember Laura Friedman and Vice Mayor Nick Shultz attended the unveiling, as well as the BPD command staff, Assistant City Manager Judie Wilke, and Burbank Police Commissioner Romik Hacobian.
"It is small what we do, but it's really, really important because breast cancer impacts everyone, every family," said Burbank Police Chief Michael Albanese at the unveiling event. "We have folks here in this group that have been through that medical journey, so whatever we can do to encourage and support, that's what we're gonna do."
The BPD has also joined the Pink Patch Project, a public awareness campaign to bring attention to the fight against breast cancer. Officer's uniform patches have been switched to the pink BPD patch this month in support of City of Hope and cancer research. The patches are available for purchase to the public at the station, and the proceeds from the patches will be donated to City of Hope.