On Sunday, September 3, 2023, at approximately 2:15 p.m., Burbank's Police and Burbank Fire Departments were dispatched to Victory Boulevard and Magnolia Boulevard intersection due to a severe vehicular accident involving two cars. After arriving on the scene, it was determined that a full rescue response was needed, with one person still trapped in a vehicle.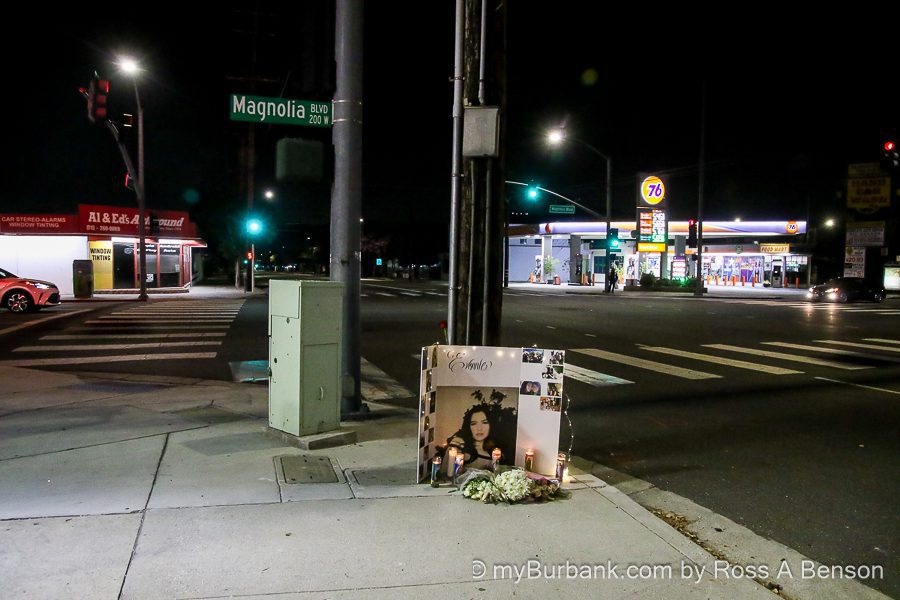 Upon arrival, officers discovered a gravely injured female in the passenger seat of a white Dodge Challenger. The victim, later identified as 24-year-old Evonnie Nicole Caceres from Saugus, CA, was immediately rushed to Holy Cross Medical Center, where, regrettably, she was declared deceased. The unidentified man driving the Dodge sustained injuries of a moderate nature and was transported to a nearby hospital; his injuries are not deemed life-threatening. The vehicle had no other passengers.
The driver of the black Nissan SUV, also involved in the mishap, was unharmed and remained at the scene. He is actively assisting with ongoing inquiries.
According to Sgt. Stephen Turner of the Burbank Police Department, "Witnesses near the scene reported seeing the Dodge sedan accelerate through the intersection just as the Nissan was completing a left eastbound turn, causing a collision. As a result of the collision, the driver of the Dodge lost control of his vehicle and collided with the curb, traffic signal pole, and power pole on the northeast corner of Victory Boulevard and Magnolia Boulevard."
Additionally, a bystander in close proximity was hit by debris from the crash. He was taken to a nearby hospital and is being treated for non-critical injuries.
It remains uncertain if substances such as drugs or alcohol were contributing factors in this tragic event.
Friends and family have traveled to the scene and placed a memorial at the intersection to remember the life of Caceres. They said she was looking forward to her upcoming birthday on October 1.
Anyone who might have further insights or witnessed the incident is urged to reach out to Detective Ryan Murphy at 818-238-3103.