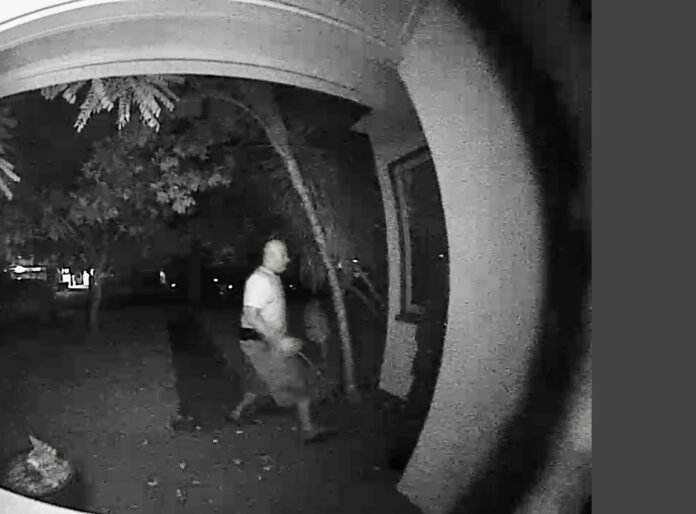 A Burbank resident informed myBurbank of two alleged incidents of a 'peeping tom' that took place at their home in July and August.

According to the resident, a man was first seen on July 24, peering into their daughter's bedroom in the 600 block of Kenwood off and on for over two hours between 2 and 4 a.m. The incident was caught on a Ring security camera, but the resident had their phone on silent when the incidents occurred and did not know about it until the following morning and immediately checked to make sure their daughter was okay. Their daughter slept through the entire incident.
According to the resident in an email sent to myBurbank, "We installed two new motion sensor cameras, and we didn't see the guy again UNTIL he came back early Saturday morning (at 4 a.m.). He tried to approach my daughter's window again (on August 19 at 4:45 a.m.), but our floodlight/camera went off, and it spooked him. But the fact that he came back is deeply concerning."
Immediately after the first incident, the resident contacted Burbank Police, who responded to take a report and dust the window area for fingerprints.
myBurbank contacted the Burbank Police Department about the incidents. Burbank Police Department's Public Information Officer, Sergeant Stephen Turner, said in an email, "The detectives are actively investigating the incidents.  The suspect is unknown at this time. They are asking the public if anyone has additional information to please contact the Detective Bureau (818-238-3210)."
He also said that there have been no other incidents reported as of yet, but if caught, the suspect could be arrested for 647(i) PC – Who, while loitering, prowling, or wandering upon the private property of another, at any time, peeks in the door or window of any inhabited building or structure, without visible or lawful business with the owner or occupant.  
In the meantime, the resident wanted to make sure the word got out and let others in the neighborhood know of the situation so they could be on the lookout for the suspect, "the fact that he came back is deeply concerning. He only was interested in her bedroom, not other parts of the house.